Inspired by the series, Great Black Heroes, this is the third in a series of posts meant to honor Black History Month. Through this series we will cover some of the great, and not so well know contributions of blacks and African-Americans. This third book is, Great Black Heroes: 5 Brave Black Explorers.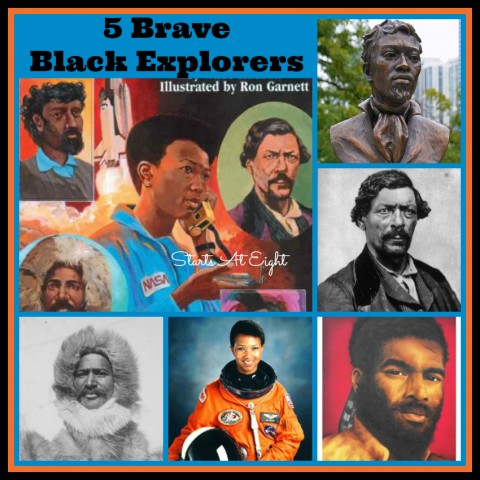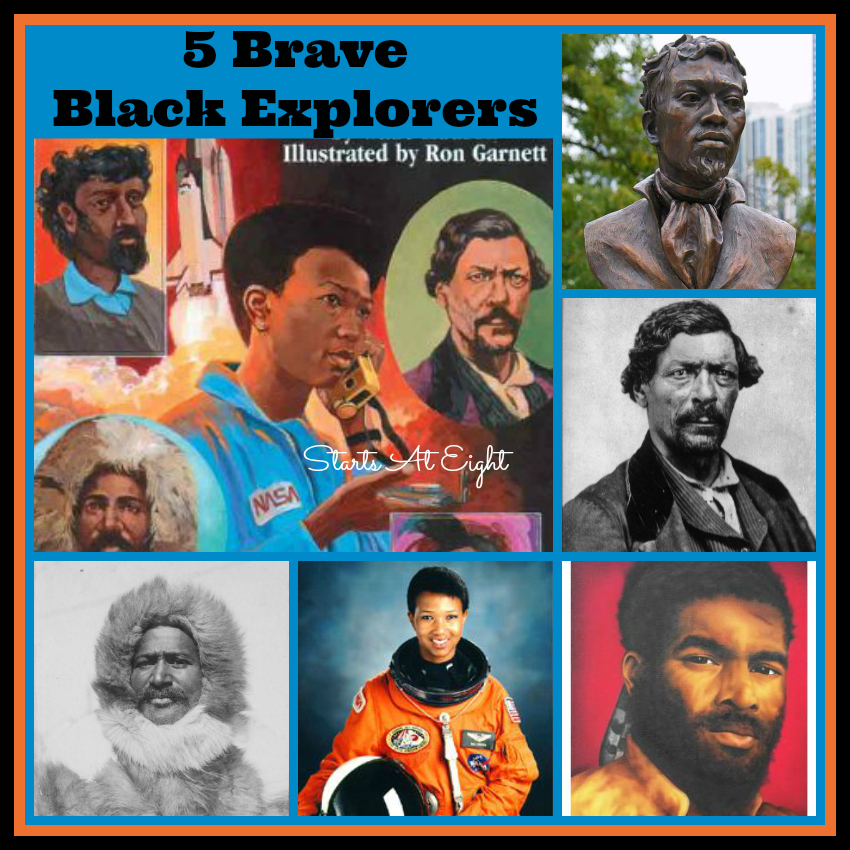 1. Mae Jemison
Mae Jemison is an astronaut, a doctor, an art collector, a dancer…. In fact she was the first black woman astronaut.
In college Mae earned a degree in chemical engineering and African studies. She then went on to become a medical doctor.
In 1987, Mae was accepted into NASA's astronaut program. She trained in Texas, learning about space exploration. She worked for NASA, and waited for a shuttle assignment.
When the space shuttle Endeavour launched into orbit in 1992, Mae became the first African-American woman to orbit the earth.
See her give a TED Talk on Teaching arts and sciences together.
2. Esteban
The first enslaved African to arrive in Florida whom we can document by name was a black man named Esteban or Estevanico (c. 1500–1539) who was a Moroccan from sub-saharan origins. He is known by many different names, commonly known as Esteban de Dorantes, Estebanico and Esteban the Moor. And, long before the explorers Lewis and Clark crossed the continent, he would traverse the land that later became the United States, through the Southwest, to the Pacific Ocean.
In 1539, he headed an expedition that discovered Arizona and New Mexico, opening up the Southwest and states west of Florida, as far as the Pacific.
3. James Beckwourth
Jim Beckwourth was an African American who played a major role in the early exploration and settlement of the American West. Although there were people of many races and nationalities on the frontier, Beckwourth was the only African American who recorded his life story, and his adventures took him from the everglades of Florida to the Pacific Ocean and from southern Canada to northern Mexico.
He dictated his autobiography in 1854-55. The Life and Adventures of James P. Beckwourth, Mountaineer, Scout, and Pioneer, and Chief of the Crow Nation of Indians was finally published in 1856.
4. Jean Baptiste Pointe du Sable

Jean Baptiste Pointe du Sable was the founder of the city of Chicago. By 1788 he had established a farm in Chicago and lived there with his wife, and children. In the years he was there, their family provided stability to the area.
5. Matthew Henson
Matthew Henson was the first African American to reach the North Pole. In 1909 during an expedition to Greenland, Henson accompanied an associate, Robert Peary  and a small party to what was recognized as the North Pole.
This fact was later disputed by Wally Herbert in 1989. While this overturning of events has been widely accepted, some still dispute the conclusion.
Other Great Black Heroes