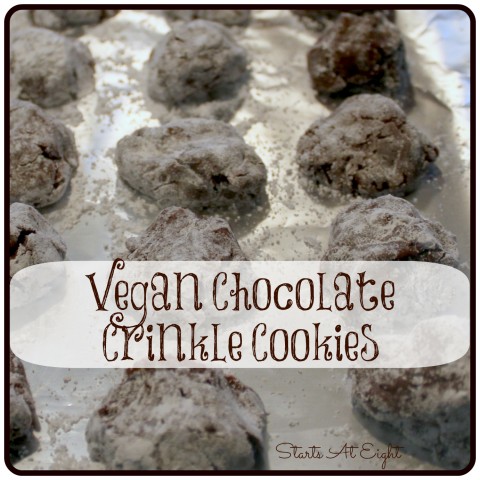 Vegan Chocolate Crinkle Cookies
Serving Size: makes 2 dozen cookies
For Rolling Cookies:
1 1/2 cups powdered sugar
1/3 cup sugar
For The Dough:
3/4 cup sugar
1/3 cup canola oil
2 tablespoons dark corn syrup*
1 teaspoon pure vanilla extract
1/3 cup nondairy milk
1 tablespoon ground flax seeds
4 oz (about 1/2 cup) chocolate chips, melted
1 1/4 cups plus 2 tablespoons all-purpose flour
2 tablespoons black cocoa powder or natural cocoa powder
3/4 teaspoon baking powder
1/4 teaspoon salt
*the corn syrup gives exceptional spreading power and helps form the pretty cracks. You can substitute for brown rice syrup and just know that the spreading result won't be as good.
Directions:
1. Preheat oven to 325 degrees. Line two baking sheets with parchment paper.
2. Sift the powdered sugar that will be used for rolling the cookies onto a large plate, preferably one with a raised edge. Pour the sugar for rolling into a small separate bowl. Set these aside.
3. In a large bowl, mix together sugar, oil, corn syrup*, vanilla, nondairy milk, flax seeds, and melted chocolate until smooth. Sift in flour, black cocoa powder, baking powder, and salt. Mix until a moist, thick dough forms.
You can bake it as is, or for easier handling of the dough, chill it for 15 to 20 minutes.
4. For each cookie, scoop a generous tablespoon of dough and roll it into a ball.
5. Then roll each both in both the granulated and powdered sugars. Don't be stingy with rolling in both the granulated and powdered sugars.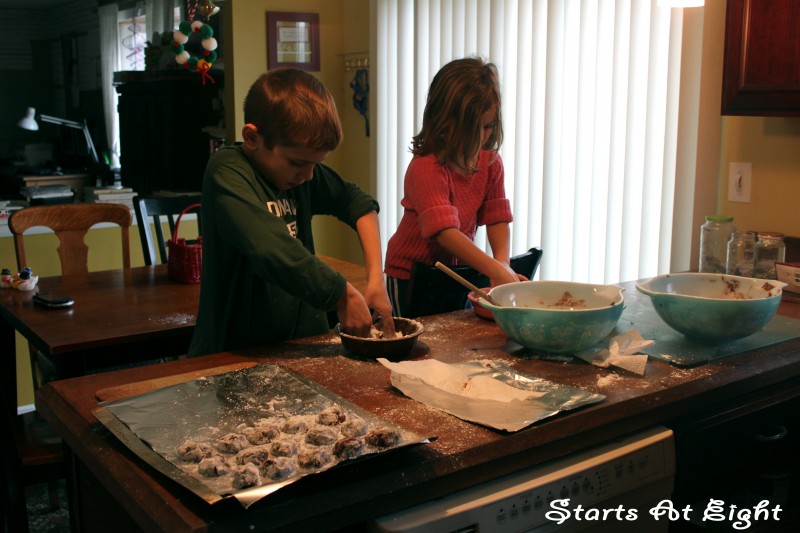 6. Place the balls of dough at least 2 inches apart on the lined baking sheets to account for the spreading of each cookie. Bake for 14 minutes until cookies are puffed and cracks have formed on the surface.
7. Remove the cookies from the oven and let them cool on the baking sheet for 5 minutes. Then remove them to wire racks to finish cooling.