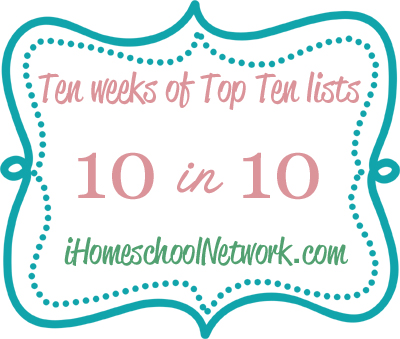 This is Week #4 of
ihomeschoolnetworks 10 in 10
. That is 10 Top 10 Lists in 10 weeks!
Week #3 – was
Top 10 Reasons My Kids Like Being Homeschooled
Week #2 – was
Top 10 Must Have Homeschool Items
Week #1 – was
Top 10 Favorite Homeschooling Sites
We have so many books that are on our love list here in this house, but not all of them would make for a great read aloud. So I will share some of our favorites that I think would fit in this read aloud category. Some (most) are for younger kids (picture books), and some longer and more in depth for the older set. My youngest will be 6 this month and I know that some books, even read a chapter at a time, just don't hold her interest.
Top 10 Favorite Read Alouds
All the books in this list that include a link are links to posts on my blog where I have written about these books. When I asked the kids about read alouds the number one, right out of their mouth pick was The Rattletrap Car so I put it first on the list. My Many Colored Days happens to be right up there with The Rattletrap Car, other than that there is no specific order to the list.
1. The Rattletrap Car "it doesn't go fast and it doesn't go far". Takes a family from a farm where everyone is "hot, hot, hot" in an old car to the lake where everyone gets "cool, cool, cool". This book was one we received as part of a mail order book club I was in when Chloe (now almost 13) was a baby. The descriptive, silly sound words are so much fun. I had to purchase a second copy of this book because it was so much loved by Chloe that some of the pages got torn by mistake and she did not want to give it up so we needed a new one to share with the other kids.
2. My Many Colored Days This story is a great way to introduce both colors and feelings to young children. The rhyme is incredibly catchy as you can read here. This is one of those books I would easily add to every baby shower gift as a must have for little ones!
3. The Pout Pout Fish This is a book that makes you laugh out loud and smile. It's any easy book to read aloud and have little ones join in as I talk about in a post about enjoying this book at story time.
4. Wide Mouth Frog This book was so much fun, and can easily be enhanced more with a puppet of a frog to go along with the story. There is a great animated video of the story as well.
5. 5 Little Monkeys Is a classic song/rhyme/story, but only Ava really took to loving it. She has a treasure of 5 Little Monkeys stories that she has just loved. The are fun and silly and a joy to share together. Here is a post where I share our favorite story time version.
6. Ella the Elegant Elephant Ella was a favorite of Jayden's when he was young. He took to a light blue Carter's brand elephant as a baby and when he was a toddler I found the Ella books. This is one of the books I had included in a previous list of Read Alouds. That list also includes a few that are not on this list that we love as well.
7. Pete the Cat – I Love My White Shoes This is another great book we were introduced to at story time a few years back. I can still hear the sing song tune of Mike who does story time in my head…"I love my white shoes, I love my white shoes."
The following 3 books are one I have recently read to Ava (who will be 6 this month) for our Mother/Daughter Book Club. We loved them all for different reasons. Pipi Longstocking is fun and fanciful, The Doll People has fantastic illustrations, and Betsy-Tacy is such a great story of childhood friendship.
8. Pipi Longstocking
9. The Doll People
10. Betsy-Tacy
---
The Big Book of Homeschooling
To get tons of great advice, and move beyond the basics of academics, pick up a copy of The Big Book of Homeschool Ideas. Some topics included are things like active learning, learning with video games, helping teens/tween become independent learners (one of my chapters), teaching on the road, learning with movies, high school literature (one of my chapters), and gardening.
This book can carry you through all your years of homeschooling, covering the stages your children will mature through: preschoolers, elementary grades, middle school, and high school. As your life situation changes, you will find new chapters that apply to you. You can view the full table of contents to see all 103 topics!