The Snowy Day by Ezra Jack Keats opens a door to so many winter fun crafts, stories and ideas. From snowmen, to snowflakes this unit is great for the cold winter months.
The Snowy Day involves a young boy's experience on a very snowy day. The magic and wonder of a lovely snowfall, as seen through the eyes of a child, is conveyed as we watch young Peter explore and enjoy the snow. As the day progresses, we find Peter finding new ways to enjoy the snow that has piled up all over the city streets.
Toward the end of the story, we find Peter saddened because the snowball he brought home in his pocket has disappeared. However, when Peter awakes the next morning, he discovers that the snow outdoors has not disappeared, and he calls to his friend across the hall to join him for another day of fun in the snow.
---
---
Watch it!
You can view both the Scholastic Reading of the book as well as a an Animated Retelling of the book on AmazonPrime Video!
Hands on Activities:
2. Snowman Snowman What Do You See?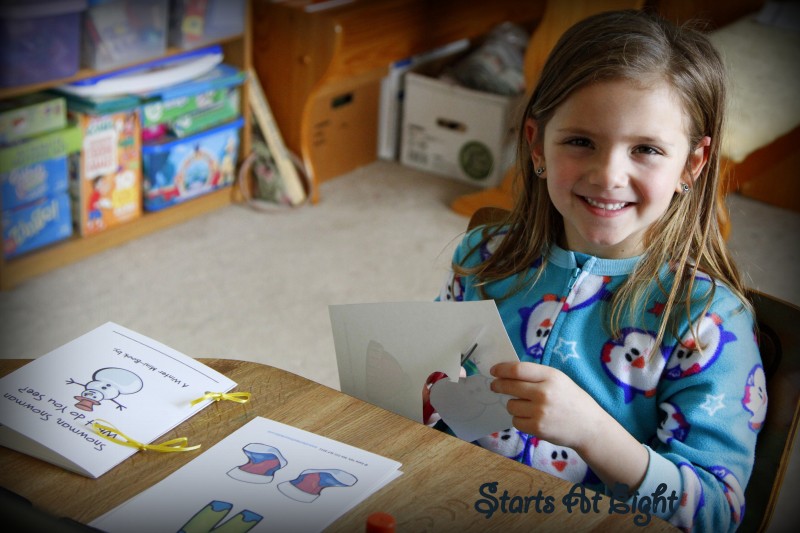 3. Homeschool Share Snowy Day Lapbook
We did not use this entire lapbook. I instead chose to just use the sequencing activity.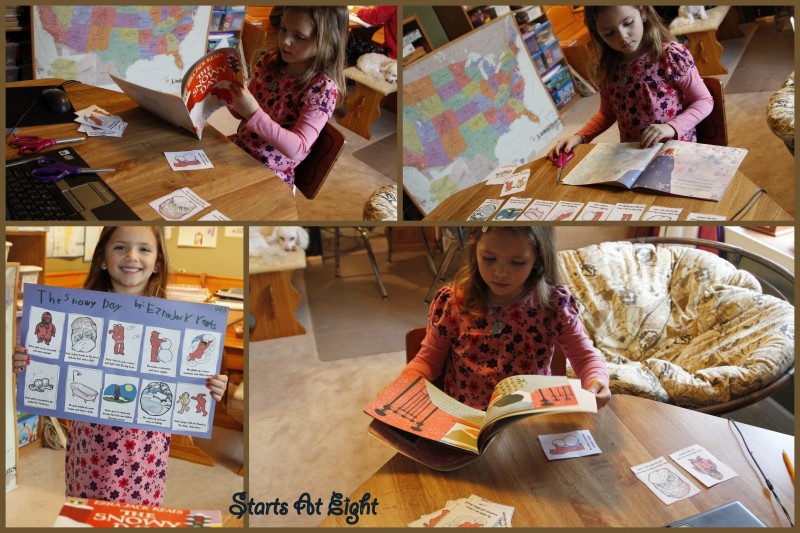 Have your child cut out all 10 sequencing cards and put them in order. If they are unsure they can open up the book to help them. After getting them in the correct order I had Ava glue them onto a large piece of construction paper and add the title/author information to the top.
Torn Paper Illustration Craft:
The books illustrations have a torn paper effect to them. This craft is geared toward this special feature.
Take colorful construction paper with plenty of white for the snow, and glue sticks.
1. Discuss the torn paper effect in the book's illustrations
2. Set out many colored sheets of construction paper
3. Let your child decide on a winter scene to create from their imagination or from the book.
4. Have your child tear papers by hand, and position them on a large blue piece of paper. After he/she is satisfied with the arrangement, they can glue-stick the picture together.
http://youtu.be/AEmBTYc7Ivo
A Winter Poem To Share:
SNOWFLAKES
by: Marian Kennedy
Whirling, swirling, rushing, twirling,
Sifting through the air
Snowflakes scurrying, scampering, hurrying,
Falling everywhere.
Gently, sliding, floating, gliding,
Making not a sound,
Lightly dancing, skipping, prancing,
Fluttering to the ground.
Whirling, swirling, rushing, twirling,
'Gainst the window pane;
Snowflakes scurrying, scampering, hurrying,
Winter's here again
Other FREE Resources & Printables:
The Snowy Day – Preschool Corner
A Snowy Day Lesson Plans
S is for Snowman Preschool Activities
Everything Winter:
Find lots of fun crafts, printables, science, activities and more on my Everything Winter page.