Many, many years ago when my teenager was just a tot, I stumbled upon a music cd called Multiplication Unplugged and fell in love.  Music is such an easy way to learn things and this has been the key in our house. Teaching Spanish with music never even occurred to me until I found some great resources by the same company, Sara Jordan Publishing.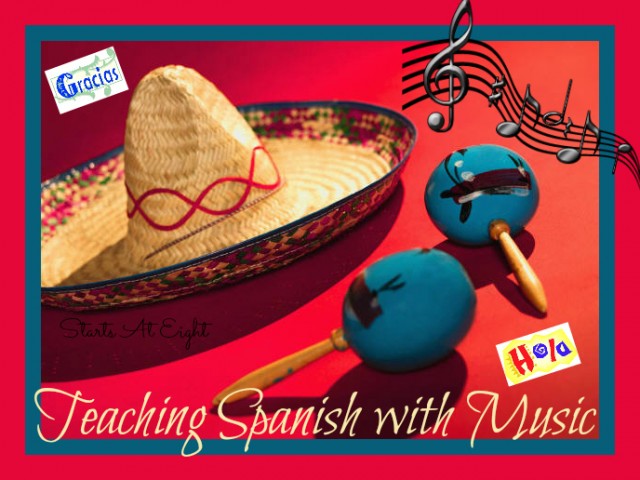 Teaching Spanish With Music
Teaching Spanish with music has been a fun way for me to encourage my seven year old who had been begging to learn Spanish.  I was kind of soured from my older child's experience with another Spanish program and was struggling to find something I could use with my little one given I speak no Spanish and have no drive to learn myself.
One of the ways I started teaching her was with these 3 Helps for Learning the Spanish Alphabet that I found and used together.  The FREE Printable Spanish Alphabet Pronunciation Chart along with the catchy Spanish Alphabet song made it easy for us to learn and practice the Spanish alphabet. Then while scouring the library and internet for resources I discovered that the same company who produced my super favorite Multiplication Unplugged, also has Spanish options!  Lucky for me our local library had a whole Homeschool Kit designated to the Sara Jordan Spanish resources.
Sara Jordan Resources

How We Use Music to Teach Spanish
Using these resources for teaching Spanish with music to my daughter has been a fun and easy process.  The music is easy to take on the go.  Whether in the car or on her iPod she can listen we can listen to them together or she can play them through her head set.  Just like with the multiplication songs, these Spanish music discs have become a hit in our house.  The songs are fun and catchy and thus help her to learn and retain the information – even if she has to sing the song to do it!
Along with the music cds are small books that contain both the lyrics to each song and a few small worksheet activities to go along with what is being learned.  Having the little book makes it easy to take along and follow along with the songs. This can both be useful to help learn the lyrics to the songs and for a visual to help learn to recognize and read the written Spanish word.  I find it very helpful to not only see how it is written, but to hear it spoken (or sung) in this case.
When not on the go we use the Bilingual Kids Reproducible Resource Books to help reinforce the words and concepts she has been learning from the music cds.  She loves to be able to show off what she is learning not only by speaking the words but in written form as well.  I love how the books use a variety of written worksheet activities to keep it interesting, and they give lots of help and clues (like word banks, or lines to indicate the number of letters in a word) so that it does not become too overwhelming.
Musical Matching Activity
We created a fun musical matching activity to go along with some of the songs. With the Clothing (La ropa) song we made up cards for each of the article of clothing, then while  playing the song she uses the cards to label the different pieces of clothing in Spanish. With the Colors (Los colores) song we made color cards.  Then we had her label things of a specific color in Spanish when that color came up in the song. You can do this with many of the songs from these Spanish cds.  It makes for a fun, active, learning game.  If you don't want to make the flashcards on your own, here is a site with FREE Printable Spanish Word Flash Cards that has many of the beginner words already done for you.
Other Things We Have Learned with Music
---