I was so pleasantly shocked and humbled to find that someone nominated Starts At Eight over at The Homeschool Post 10th Annual Blog Awards!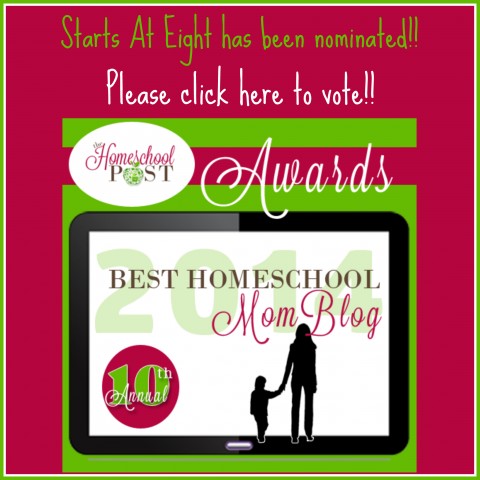 I want to start with a thank you for all of you out there reading! When I started blogging I never imagined it would turn into this! I so enjoy being here and sharing with everyone.  The amazing community of bloggers and homeschoolers I have met along the way is such a blessing in my life.
I have been nominated in the Best Homeschool Mom Blog category!!
There are 20 different categories of blogs with many fantastic nominees in each one! So consider heading over and checking out some of the amazing blogs! You might find a few you want to start following, and you can certainly show your support for the ones you already do by voting for them!
You can vote daily through Dec 29th, 2014.
You can find all 20 categories here.
You can head straight to the Best Homeschool Mom Blog category here.