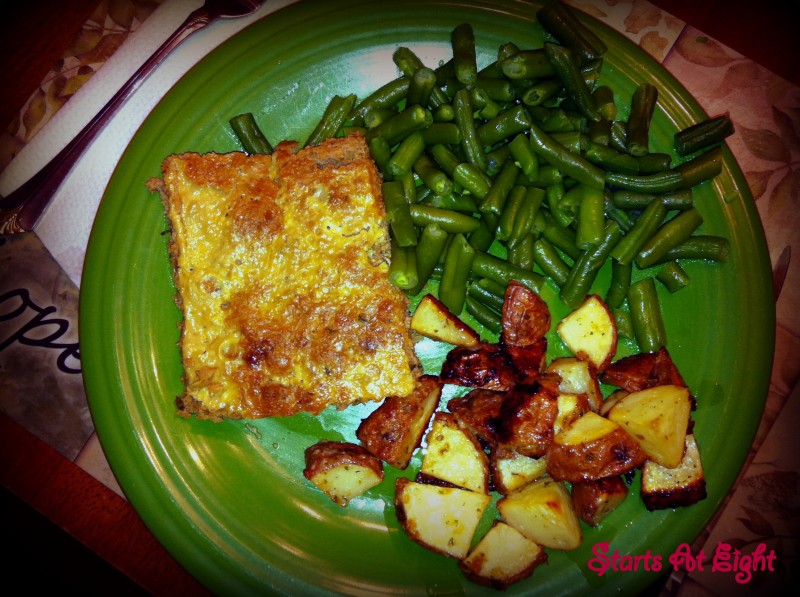 (*Note  –  The above cell phone photo does not do this meal justice)
Souperior-M Meatloaf
(seasoned with a soup packet and Super Moist!)
Ingredients:
1 envelope Onion Soup Mix (You can use Lipton Beefy Onion or any Onion Soup – we use one from Aldi's)
2 lbs. ground beef (we use ground turkey)
3/4 cup seasoned dry bread crumbs
2 eggs
3/4 cup water
1/3 cup ketchup
Directions:
1. Preheat oven to 350°.
2. Combine all ingredients in large bowl.
3. Shape into loaf in 13 x 9-inch baking or roasting pan.
4. Bake uncovered 45 minutes to 1 hour or until done. Let stand 10 minutes before serving.
Crock Pot Method: In a crock pot, arrange meat loaf. Cook covered on LOW 6 to 8 hours or HIGH 4 hours. (HELPFUL HINT…Place meat loaf on a piece of cheesecloth, then on a rack to help hold meat loaf together while lifting in and out of slow cooker.)