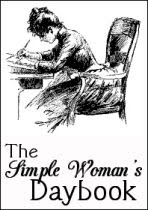 FOR TODAY:
Tuesday March 1st, 2011…
Outside my window… The sun is shining, the snow is melting, the "pond" is forming in our backyard.
I am thinking… that if I hear one more child speak I am going to explode!  Not half a second goes by and one is making unnecessary noises, talking about nothing, etc.  It is no wonder no morning work can get done….nobody, not even me, can think even one complete thought with all the extraneous noise!
I am thankful for…the three healthy children I have sitting near me, making all this extra noise. How quiet and boring life would be without them!
From the learning rooms…to see what is going on in our "Homeschool Room" check out all my Hip Homeschool Hop posts.
From the kitchen… the homemade Italian Wedding Soup (actual link to follow soon) is thawing.
I am creating… more things than I have time for!  I am helping Chloe with a fleece blanket project, I am working on learning how to crochet, I am working on knitting squares both for Chloe's blanket and for this year's Lap Blanket Project.  My blog is also expanding as well.  There are many updates on my theme that I have to go over and incorporate as well as working on the multiple new sections I have created:  Food Drive, From Our Kitchen, and the newest addition is StartsAtEight Photography.  Many irons in the fire, and not enough time for each!
I am reading… an Elm Creek Quilt Novel right now.  I have 3 others in the wings that will have to return to the library if I don't hurry up and get reading.  The three books in the wings are:  There's No Place Like Here by Cecelia Ahern, The Things That Keep us Here by Carla Buckley, and Fly Away Home by Jennifer Weiner
I am hoping… to do some catching up on my reading over the next few days. That of course will mean things like my blog will go by the wayside again. If I am lucky I will get this, Wordless Wednesday and my Project 365 done today so that I will be clear of blogging til Friday!
I am hearing… the music from Feeding Frenzy.  Ava often starts a game on the computer and then walks away from it.  Leaving us to listen to the sounds of it for what seems like an eternity until she comes back to it or one of us shuts it off.
Quote for the week… Stories communicate the idea that life is meaningful, that choices have consequences, and that each action a person makes takes him closer to being a hero or a villain.
A few plans for the rest of the week: Storytime with Mr. Mike and lunch with Poppy and Gommy, Homeschool Ice Skating, Zoo Class, taxi driver, Gymnastics competition this weekend
Here is the picture for thought I am sharing…
The Smith extension of the Ciravola Family!