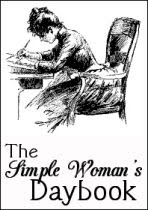 FOR TODAY:
Tuesday, April 19th, 2011…
Outside my window…blue sky, sunshine, sand, and the ocean surf. Life is rough! 😉
I am thinking…about all the things I need to do as the season of yard work is beginning, from raking the yard, to expanding the garden, and opening up the camper for the season.
I am thankful for…my husband of 13 years. Today is his 36th birthday. The kids and I are so lucky to have him in our lives.
From the learning rooms…to see what is going on in our "Homeschool Room" check out all my Hip Homeschool Hop posts!
I am creating…a whole lot of nothing, unless you count the book reviews for my blog.
I am going…to head back out into the sun in a little bit. I have to soak up every bit I can seeing as New York is officially the place of NO SUN!
I am reading…The Power of a Positive Mom, How to be God's Little Princess (of which I will be posting a review and giveaway on April 26th)
[image width="97″ height="150″ frame="simple" align="left"]http://www.startsateight.com/wp-content/uploads/2011/03/HowtobeGodsLittlePrincesssm.jpg[/image] I also just received
How To Bo God's Little Princess
by
Sheila Walsh
, because I was accepted as part of the blog tour to promote the book. Sheila Walsh is the creator of the award-winning Gigi, God's Little Princess brand which has sold over 1.5 million units. This is my first blog tour and I am excited to be a part of it! Look for my review post on April 26th as a part of the tour! I will also be doing a giveaway of the book along with my review. Plus I am including a special review of the book from my 11 year old daughter in my review post! She read the book in a short amount of time and is anxious to share her thoughts! I myself am anxious to see what she has to say for her first official review of a book!
I am hoping…to get in some more great reading time this week! I was able to finish The DMZ in very quick time. Check out my review and giveaway of it tomorrow!
I am hearing…The Chipettes sing Firework because Jayden is playing it on YouTube.
Quote for the week…Don't worry about tomorrow; today has enough cares of its own.
Here is the picture for thought I am sharing…