Black Friday is not just for holiday deals! We as homeschoolers can get some awesome Homeschool Black Friday Deals from some of our favorite curriculum and education sites.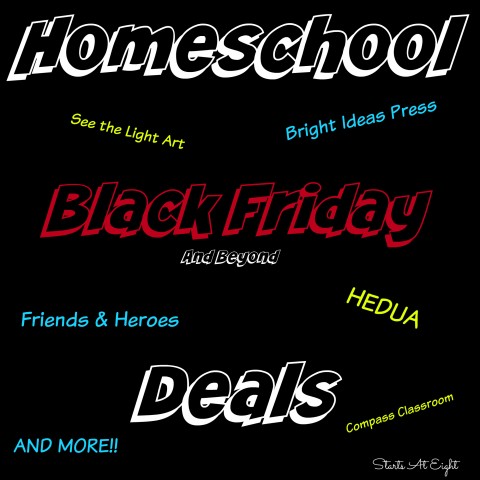 To help you get the best deals I have compiled a bunch of Homeschool Black Friday Deals from some of my favorite places! I will continue to update this post as I get more information from these and other retailers.
Compass Classroom
Black Friday (11/28) – Cyber Monday (12/1)
30-50% off storewide, with massive savings of 50% off our best selling Visual Latin. (Lowest price ever!)
Here are some of the awesome resources offered at Compass Classroom:
NEW WordUp! The Vocab Show – Zany new way to learn vocab & roots
Visual Latin – 50% off: lowest price EVER, with new Certificate of Completion
Fun Electives – Grammar of Poetry, Economics for Everybody & Filmmaking from the First Directors can be enjoyed at any time of the year!
Classical Unit Studies – Quarterly unit studies on classical Greek drama, literature, history, and philosophy
Bible Education – Story book, audio recordings, and free eBooks
Check it out at Compass Classroom!!
HEDUA
Cyber 5 Sale November 27th through December 1st
Save on things like:
the NEW Teen Magazine
Family Magazine
Well-Planned Day Planners
And Bundles!
See the HEDUA website for full details!\
Amazon

Amazon has tons of Black Friday deals that are going on even now! There are so many educational books, toys and resources to be found at Amazon and many things qualify for FREE SHIPPING if you spend $35 or more!
Check in on their Black Friday Deals
 from now through Cyber Monday!!
Friends & Heroes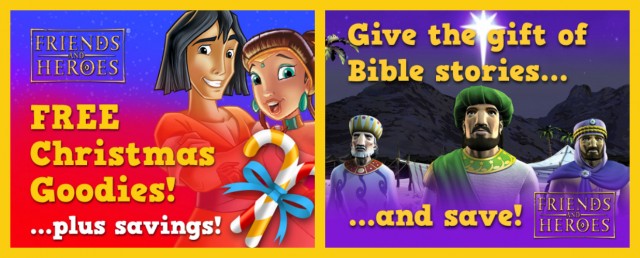 November 28th – Dec 20th
 FREE online advent calendar
FREE downloadable Christmas music video with free song activities
20% off DVD and music purchases of $100 or more
10% off DVD and music purchases of $25 or more
FREE USA shipping on orders of $25 or more
Check it out at the Friends and Heroes website
Currclick

This is one of my favorite sites for unit studies and thematic units. They usually have FREEBIES too!
Check out the deals at Currclick.com
Bright Ideas Press
This four day event begins 12:01 a.m. on Black Friday, November 28, 2014 and ends at 11:59 p.m. on Cyber Monday, December 1, 2014.
20% off is their deepest discount for the entire year, and this coupon will apply to everything in the store except bundles (such as All American History bundles and North Star Geography bundles).  (All times are eastern time zone.) The code gobblegobble can be used as many times as you want during the sale period, but it cannot be used in conjunction with other coupon codes.
Check it out at the Bright Ideas Press site
See The Light Art
See the Light is offering you the BIGGEST SALE of the year!
Here's how it works!
Purchase ART PROJECTS at 20% off and than take an additional 20% off on all other SEE THE LIGHT products on the same order. And to top it off …. There's FREE SHIPPING in the U.S. A.
Use Code: BLACKCYBER
Code expires at midnight PST, Monday, December 1
You can either use the ART PROJECTS DVDs as individual gifts or bless the socks of someone with the entire set. The DVD's also fit in stockings. Perfect, huh?
Get ahead start on your Christmas shopping today with ART PROJECTS and any other products at 20% off.
Unit Studies by Amanda Bennett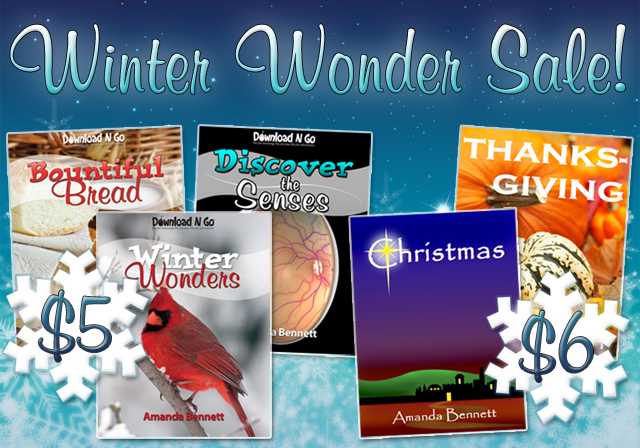 Sale prices end Sunday, November 30th at midnight MST
Snap up Thanksgiving or Christmas Unit Study Adventures for just $6 this week!
Or spend a week with Bountiful Bread, Winter Wonders or Discover the Senses Download N Go® studies for just $5.
And don't forget all of the free printables Amanda Bennett has to offer for Thanksgiving!
Head over to Unit Studies by Amanda Bennett to get these awesome deals!
*This post contains affiliate links. Please see my Disclosure Policy for more details.