After a much needed vacation, we are home and getting prepared to dig in again. But things are changing around here! We are throwing out some things and trying some new ones! For the past 3 years we have taken to planting seeds and gardening at this time of year. From April to September/October we have reasonable outdoor weather here in NY and after stumbling upon this gem of a book… the BIG Handbook of Nature Study by Anna Botsford Comstock, I decided we should take advantage of it!
While on vacation I spent some of my down time researching nature study/nature journals. From field guides (so many of which you can that are free of copyrights from sights like archive.org), to journal pages, and how to pages on drawing, journaling, etc. I dug, and found lots of goodies.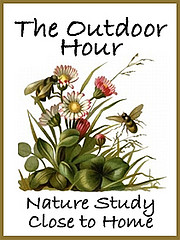 The Handbook of Nature Study blog is the home of the weekly Outdoor Hour Challenge which encourages families to enjoy the nature in their own backyards through simple activities and nature journals. A global community of families link up with the Outdoor Hour Challenge community in a monthly newsletter and blog carnival.
---
Outdoor Hour Challenge #1
Let's Get Started!
Nature Study Journals
1. Read pages 1-8 of the Handbook of Nature Study.
From page 1: "Nature-study cultivates the child's imagination, since there are so many wonderful and true stories that he may read with his own eyes, which affect his imagination as much as does fairy lore; at the same time nature-study cultivates in him a perception and a regard for what is true, and the power to express it."
2. "In nature-study the work begins with any plant or creature which chances to interest the pupil." So here is your challenge this week. Spend 10-15 minutes outdoors with your children….Take a walk around your yard or down your own street. Enjoy being outdoors.
We set out into our yard with the challenge of finding 4 signs of Spring. We didn't have to look very far to find them! We saw cherry and apple blossoms, birds making nests, butterflies flitting about, dandelions a plenty, tulips sprouting and daffodils smiling up at us.
Ava's Collage of Photos: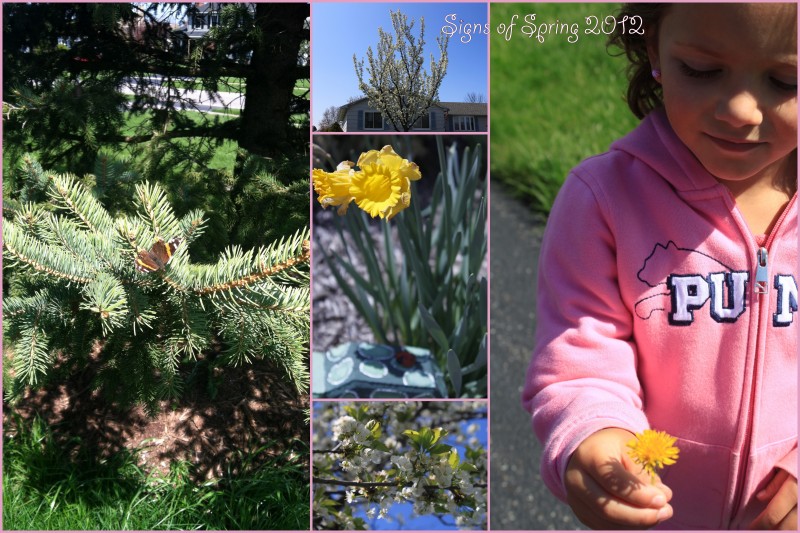 Jayden's Collage of Photos: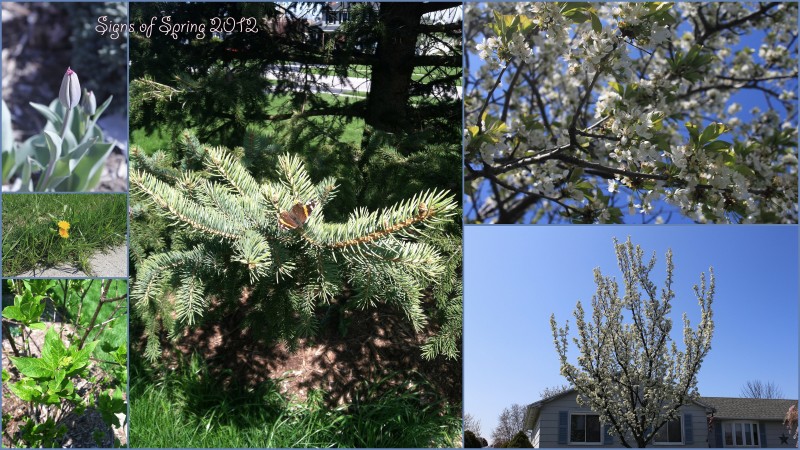 Chloe's Collage of Photos: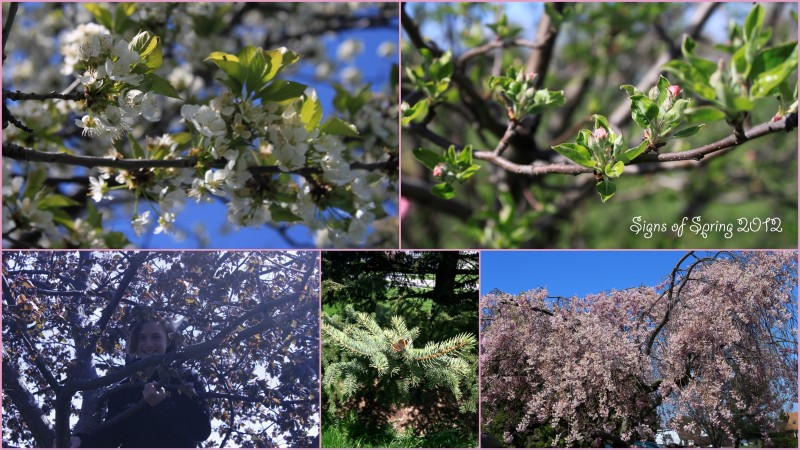 3. After your discussion, come up with two things to investigate further.
This year we are looking to plant 2 flowering trees in our front yard. Many of our neighbors (including one right next to us) have trees that we would like to consider. Unfortunately we don't know what their names are. One of our goals is to find out the names of two of the flowering trees.
The second thing we wanted to do was check out the daffodils closer. Which led us to another day of exploration.
4. After your nature study time with the children, pull out your Handbook of Nature Study and see if the item the children are interested in is listed in the index.
Daffodils were definitly in there, but we aren't sure about the trees. We are instead going to start with a book called, The American Horticultural Society – Northeast Smart Garden Regional Guide to see if we can visually match the trees to one there. Once we have their names then we can check the Handbook again.
Here are a couple of links to help get started with Nature Journals: