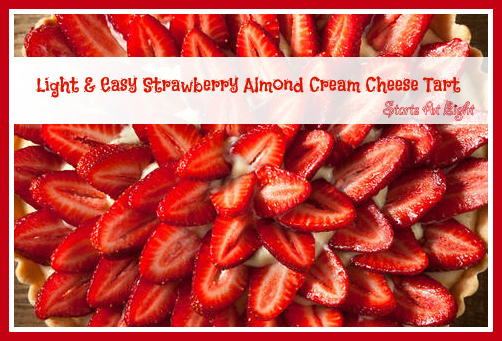 I love dessert, but sometimes you worry about your waistline. So I have tried to lighten things up a bit with this recipe inspired by the classic strawberry tart. With just a few ingredients and a store bought crust you can whip up this tasty treat in no time.
Ingredients:
1 low fat graham cracker pie crust
Topping:
2 pounds fresh strawberries
2/3 cup sugar
1 tablespoon corn starch
2 tablespoons sliced almonds, toasted
1 tablespoon lemon juice (optional)
Filling:
2/3 cup light cream cheese or Neufchatel cheese
1/4 cup sugar
½ teaspoon vanilla extract
¼ teaspoon almond extract
Makes approximately 6 servings
Directions:
Preheat the oven to 375 degrees.
Bake the pie shell for 5 minutes or according to directions on package. Remove from oven and let cool completely.
Take ½ pound of strawberries and remove their green caps. Place in a blender or food processor and puree. Pour the pureed strawberries in a small sauce pan. Add 2/3 cup sugar and cornstarch and mix thoroughly. Stirring constantly, heat until boiling and then turn down to a simmer and cook for one minute. Remove from heat and let cool to room temperature.
In a mixing bowl combine 2/3 cup of cream cheese, softened, ¼ cup sugar and the extracts. Blend until sugar is dissolved and texture is smooth. Spoon into cooled pie crust and spread into an even layer.
Clean the remaining 1½ pounds of strawberries. You can keep them whole or slice depending on the look you want for your pie. If you do not plan on serving immediately toss the sliced fruit in lemon juice to preserve it. Place the strawberries on top of the cream cheese mixture. Then pour the cooled glaze over the top and garnish with toasted almonds. You may have some strawberries and glaze left over.
Author Bio:
Paul Taylor started babysittingjobs.com which offers an aggregated look at those sites which help families find sitters as well as helping sitters find families easier than ever. He loves writing, with the help of his wife. He has contributed quality articles for various blogs & websites.
---
The voting is going on now and runs until June 13.  Please consider voting for
Starts At Eight
, and while you are there check out the other wonderful mommy bloggers and give them your love!