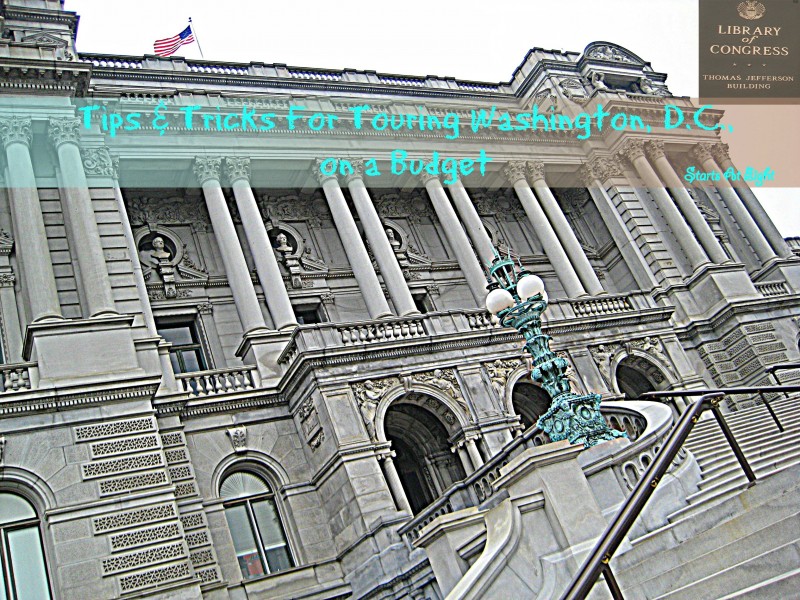 We have recently returned from a brief (4 day) trip to our nation's Capitol and not only did we learn a great deal about our country, but I was also able to learn some great ways to be budget conscious on our trip. Today over at Hip Homeschool Moms I am talking about Visiting Washington, D.C., on a Budget.  I cover topics like hotel accommodations, transportation, food and more, so be sure to head over and check out all the tips I have to offer there.  Here on my blog I wanted to spend a little more time and detail on a couple of ways in which we were able to keep our expenditures down.
One of the big ways we saved time, money and hassle was by choosing to ride the Metro instead of driving into the city each day.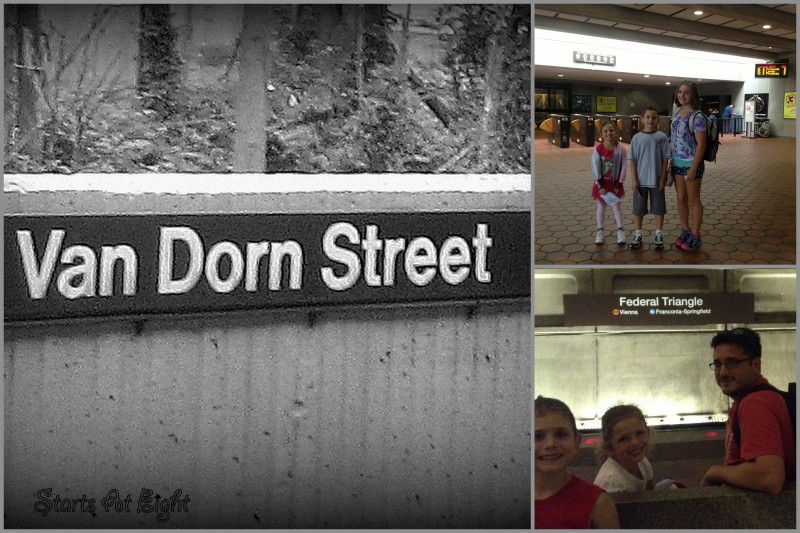 Both driving and parking is no walk in the park when it comes to a big, bustling city like Washington, D.C.  To avoid the stress of driving and the time and cost of finding parking we decided to ride the Metro.  Even the small number of times we rode the Metro turned into one of the largest costs of our trip so we made sure to find ways to keep it as cheap as possible.  One way to keep the cost down is to only travel at "off-peak" times.  That means we did not enter the Metro until after 9:30 am in the morning and did not enter to head back until after 7 pm in the evening.  When you are traveling with 5 people the money difference adds up!  The other thing we did to keep the Metro cost down was to only ride it into the city and back out.  We could have taken the Metro from stop to stop instead of walking, but that would have sent the cost way up!  Instead we walked all around the city and only used the Metro to get in and out.  On an end note though I have to say that despite all the practical reasons for riding the Metro, it was just plain fun for the kids. 🙂
When traveling with our children we have found that most often the biggest expense is food!  You may get great discount tickets for that big water park but then you have to foot the full price bill for their in house food.  Luckily our trip to D.C was not like that.  We planned ahead to find a hotel that had a full kitchen.  This offered us the opportunity to bring our food instead of buying on the go.  At Hawthorne Suites in Alexandria, Virginia we took advantage of some great amenities concerning food.  To start out our day we all ate from the plentiful continental breakfast that was included in the price of our suite.  For lunches we brought things to carry with us.
Upon arriving at our suite we were able to unload a large cooler full of food we had brought into the refrigerator, and cooler packs into the freezer.  Each morning we packed soft sided coolers into our backpacks that contained sandwiches, water bottles, protein meal bars, and snacks.  While we were out and about we would be sure to stop at bathrooms (like within the Smithsonian Buildings) to fill our water bottles.  The final thing we did concerning food was to plan ahead for dinners.  Since we would be arriving back late to save money on the Metro we wanted our meals ready to go.  Thus we pre-made things like Broccoli Chicken Alfredo, and brought homemade frozen soup to quickly heat up upon arriving back to our suite.  By planning ahead and using features of the hotel we chose to or advantage and putting some of our own time and effort in, we were able to avoid buying any high cost food while on our trip.
The last thing I want to touch on is the actual touring of the city.  We only had 2 full days in D.C. and thus could not see everything, nor could we spend as much time on everything as we would have liked.  One thing I was thrilled to find was that the people in each of the places we went totally understood that!  In fact, they would usually start a conversation with you by asking how much time you had to spend in that location and then geared what they directed you to based on that.  This made is so much easier for us to hit some highlights, and do a little of each thing.  In doing that I found many great free activities and resources, things we will definitely be expanding on when we head off to D.C. again in a few years for our son's, "8th Grade Washington Trip".
Here are a few FREE Points of Interest you will want to note for your trip:
1. The Library of Congress Thomas Jefferson Building has free tours for adults running throughout the day that are about an hour long.  Besides that they hand out these amazing Discovery Guide folders done in thick cardboard style with scavenger hunt type information sheets loaded with fun and information to help you scour the building on your own.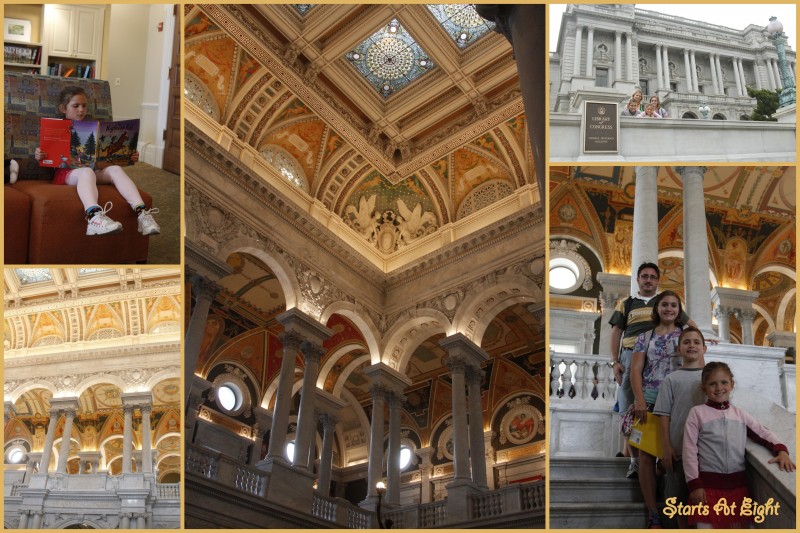 2. The Old Post Office was a surprise highlight for us.  We were not planning on going there but happened upon it due to the Metro stop we came out on the second day.  Not only is it a treasure trove of the souvenir shop stuff (in case you budgeted/wanted to spend a little on souvenirs), but it also has the impressive 315 foot clock tower to go up and get a scenic view of the city as well as being the home of the Bells of Congress.  Park Rangers hold free tours here everyday and there are little hanging laptops along with informational signs that run videos about your surroundings and the history there.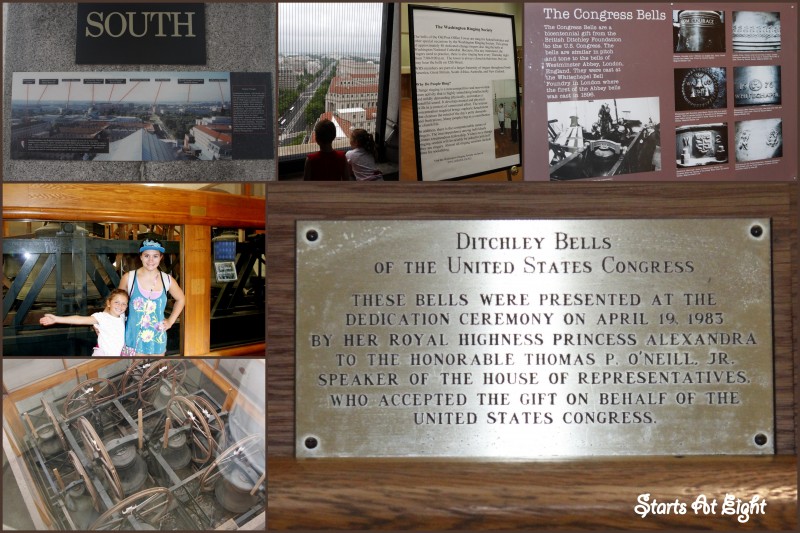 3. The U.S. Botanical Garden hands outs these great Family Field Journals and pencils.  There is a section in the journal for each of the sections in the garden.  It helped to give the kids something to look for which opened their eyes to so many other things along the way.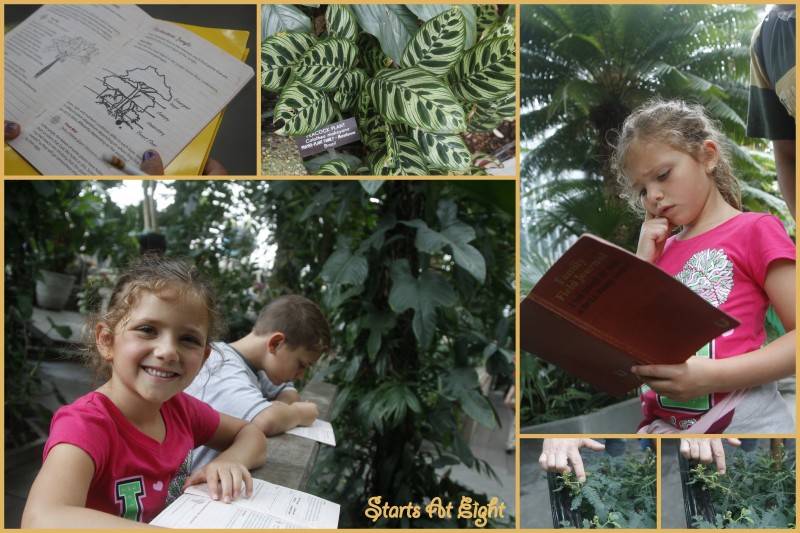 4. The White House was not currently offering tours while we were there.  So instead of actually walking the halls of the White House, we found these sites where you can take virtual tours instead; VisitingDC.com or  The White House blog (this was something we did before we headed out on our trip). While on location in D.C. you can visit the White House Visitor Center.  From there you can find lots of brochures of information, a video tour and history of the White House and Park Rangers who are running free tours outside the grounds of the White House.
Also Check These Out: