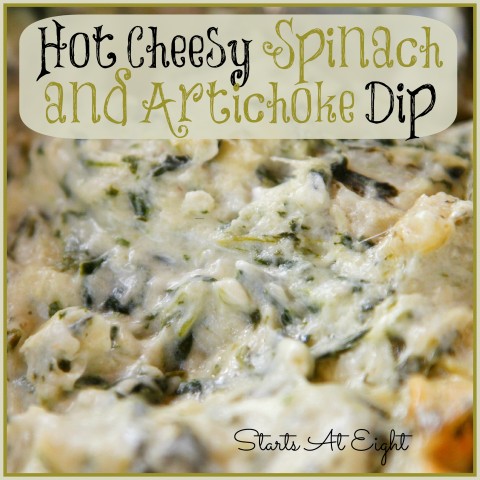 Hot Cheesy Spinach and Artichoke Dip
Ingredients:
2 1/2 cups shredded mozzarella-parmesan cheese blend (2 for mix and 1/2 for top)
10-16 oz. fresh baby spinach – remove large stems
2 (14 oz.) cans small artichoke hearts, drained and chopped
3 large garlic cloves – minced
8 oz. cream cheese
2/3 light sour cream
1/3 cup light mayonnaise
1/2 tsp. salt
2 Tbsp. olive oil
Directions:
Preheat oven to 400 degrees F
In a large frying pan saute minced garlic.  When garlic is slightly browned, add spinach and toss until wilted.
In a large bowl with an electric mixer, blend 2 cups of cheese, the spinach and garlic blend from above, and artichoke hearts until well combined.
Next add cream cheese, sour cream, mayonnaise and salt to the mixture and blend thoroughly.
Pour into casserole dish and top with the remaining 1/2 cup of cheese.
Bake for 25-30 minutes, or until cheese is golden and dip is bubbly.
Serve your Hot Cheesy Spinach and Artichoke Dip with crackers, chips, toasted bread, pretzels, or anything else you might enjoy!