[image width="250″ height="250″ frame="simple" align="right"]http://www.startsateight.com/wp-content/uploads/2012/04/HSV-Garden-Challenge-250-copy.jpg[/image]
Yay! I am so excited that the Homeschool Village is doing their Garden Challenge again this year! We participated last year, and it was so much fun not only gardening, but chronicling our progress too!

Here are their Participation Rules: since we are a homeschool community here to encourage homeschoolers we are asking that only current homeschooling families participate. Please always link your posts back to our site so your homeschool friends can participate too!

TODAY sponsored by Master Books: link up a blog post and let us know what your plans are for your garden.
(we define "garden" as any space where you are breaking ground and planting. So if you have a few herbs, a tomato bucket, or an acre of beans – just let us know).

The fun part of gardening is planning where, when, and what you'll plant. Do you have a lesson to go along with your garden? What books do you want to read together?

** Please know – your garden progresses when & how you want it to not by our schedule. **
[sep]
There is never really anything for us to report in March, and even April here in NY. Last year was a big year as we expanded our one 4×4 square foot garden into 2 4×8 raised bed gardens. Due to the increase in space, and a favorite book of Ava's, Pumpkin Jack, we decided to try and grow pumpkins on one side of our garden.

So after we were done with our pumpkins in November, we dumped them out in our garden with the hopes of growing pumpkins of our own. That is what I decided to take a photo of for our March posting here. I went out to the garden to check on our pumpkins. As you can see in the photo they have pretty much totally rotted away. Hopefully some of the seeds have found their way down into the soil so that they make take root and start growing!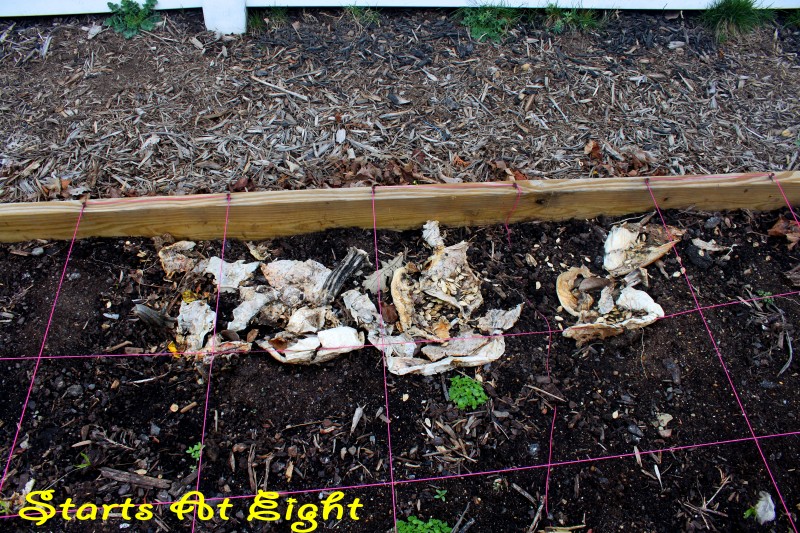 [sep]
The next link up is Thursday April 26th sponsored by Apologia. Link up & share your progress! Did you "break ground" or still growing starter plants? Are the kids excited, do you see any buds, or are you fighting army worms?