[image width="250″ height="250″ frame="simple" align="right"]http://www.startsateight.com/wp-content/uploads/2012/04/HSV-Garden-Challenge-250-copy.jpg[/image]
This is month number two of the Homeschool Village Garden Challenge. We participated last year, and it was so much fun not only gardening, but chronicling our progress too!

Here are their Participation Rules: since we are a homeschool community here to encourage homeschoolers we are asking that only current homeschooling families participate. Please always link your posts back to our site so your homeschool friends can participate too!

TODAY sponsored by Apologia: Link up & share your garden progress! Did you "break ground" or still growing starter plants? Are the kids excited, do you see any buds, or are you fighting army worms?
(we define "garden" as any space where you are breaking ground and planting. So if you have a few herbs, a tomato bucket, or an acre of beans – just let us know).

The fun part of gardening is planning where, when, and what you'll plant. Do you have a lesson to go along with your garden? What books do you want to read together?

** Please know – your garden progresses when & how you want it to not by our schedule. **
[sep]
As with last year, April in NY still leaves us with little to nothing to report. We did make a trip to the store to buy our seeds. We set out to buy lots of cucumber, green pepper, small tomatoes, and some wild flowers. We ended up purchasing close to $20 worth of seeds, including onions, and cantaloupe.

I really wanted grape tomatoes, but every packet I touched felt as if there were no seeds in them. I finally decided to open one because it seemed crazy to me that I couldn't find any sign of seeds in the entire stack of packets. Turns out, there were no seeds in the packet I opened! I think the entire lot of grape tomato seed packets that the store received we all empty! So I made sure to give them all to an employee in that department so they could contact the manufacturer. Unfortunately, there were no other brands of grape tomatoes so I ended up with some sort of strange hybrid.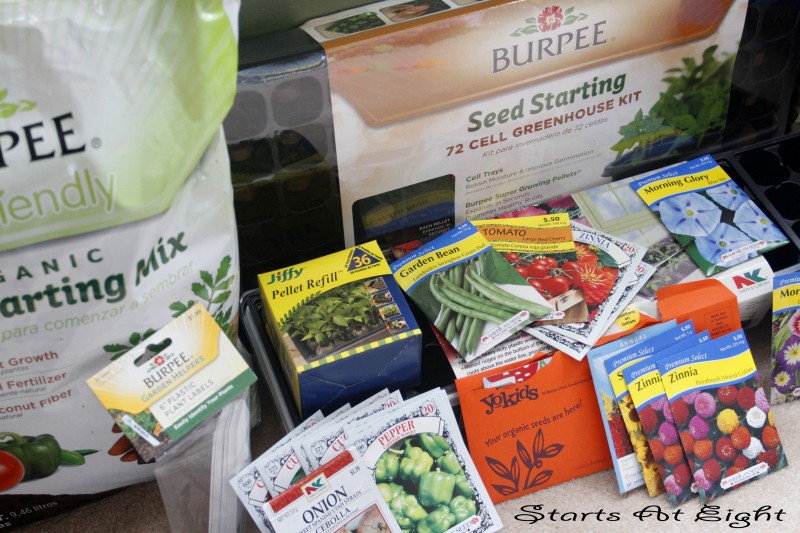 [sep]
The next link up is Thursday May 31st sponsored by Maestro Classics. Link up & share more progress! Are the plants taller than your kids, are you harvesting, what do your kids like best/worst about gardening? What are you reading to go along with this lesson? What is/was your favorite recipe from your garden?