Teaching a foreign language at home can be difficult, especially if you don't have anyone in your home that speaks the language you are learning. Spanish seems to be a popular second language choice here in the United States. Finding the right Homeschool Spanish Resources can be a task though.
There are so many books, cds, videos, live feeds, online classes, co-ops, and more! I have created a Mega List of Homeschool Spanish Resources (many recommended by homeschoolers themselves) for you to choose from.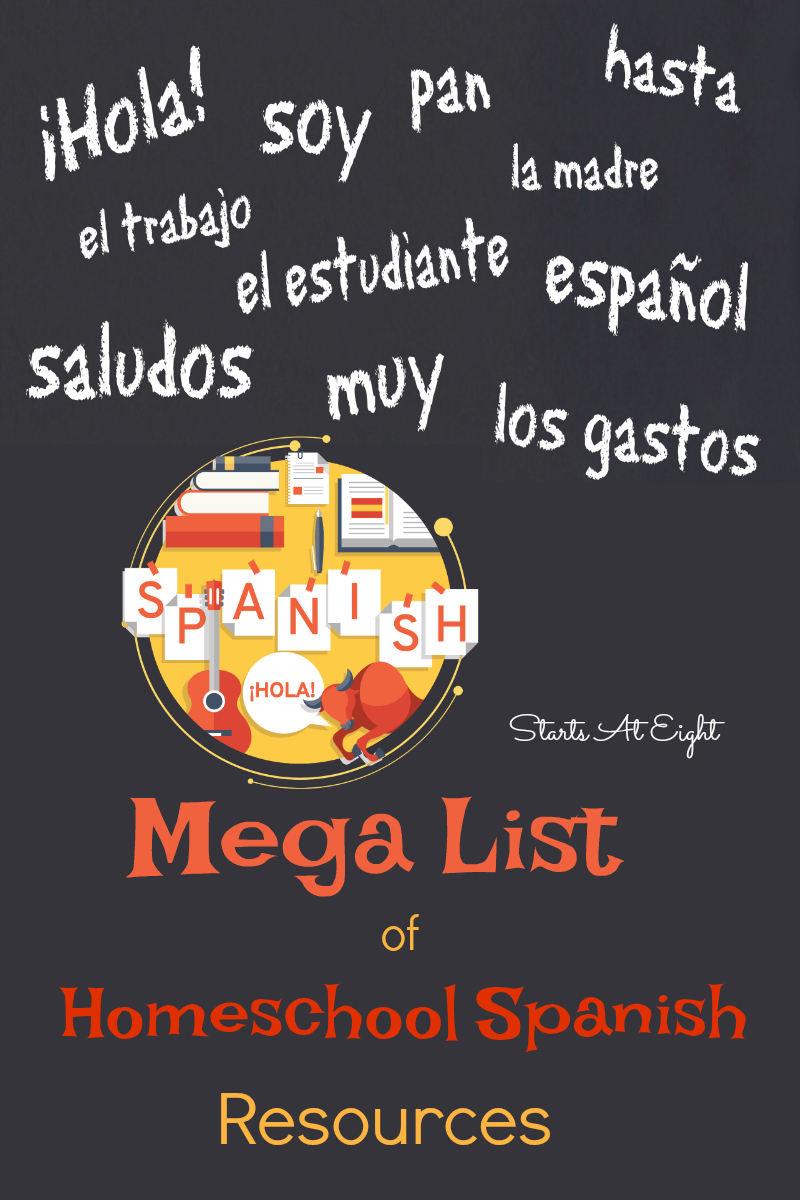 Homeschool Spanish Resources
I have scoured the Internet, asked in homeschool groups and forums, and come up with an extensive list of homeschool Spanish resources for you. There are online, live, textbooks, interactive and so many more types of homeschool Spanish resources here for all ages!
Full Text Curriculum
Spanish with a Mission – This is a Spanish textbook with a Christian platform. It teaches Spanish grammar and gives practical thematic vocabulary and exercises. The material is written from a Christian perspective, including religious words and phrases, mission vocabulary, cultural insights, and key Bible verses necessary for Christian outreach and leading someone to Christ. More over, this book contains many Christian choruses and praise songs that can be sung with children or adults.
Video/ Digital Curriculum
Breaking the Barrier – Breaking the Barrier offersboth in print and digital language learning options. Their digital textbooks work on Apple devices (iOS). They include hundreds of hours of embedded audio recorded by native speakers, stunning images, video, vocabulary flashcards, and engaging student exercises that provide immediate feedback to learners.
Destinos -This video instructional series for high school classrooms and adult learners teaches Spanish speaking and listening skills.
The Great Courses – Learning Spanish: How to Understand and Speak a New Language is comprised of video lecture with a corresponding course workbook.
The Learnables Spanish – The Learnables® is the original picture system of instruction that teaches foreign language instruction through the use of the comprehension method.
Spanish Geniuses – Weekly Video Lessons: each video lesson is approx 20-25min. (pause and repeat as much as you like); daily Spanish assignments should take about 20-30 minutes per day (four days per week); each Spanish Vocab Lab is approximately 5-7 minutes; plus included quizzes, reviews, and exams.
Apps
Babbel –
FabuLingua – Teaching kids Spanish through stories
Duolingo – Learn a Language. FREE. Forver. Duolingo is designed to feel like a game and scientifically proven to be effective. Has both web and app versions.
Memrise – Memrise is a language learning app that is the opposite of textbook learning – instead it offers real-life language. Their team of linguists are not only experts but also passionate about teaching you the language they speak themselves in everyday life. To add to the richness their courses are packed with thousands of video clips of native speakers speaking in their native language, in their hometown. So you can learn to understand authentic voices and accents, as well as taking in the scenery and getting a sense of the culture.
Interactive/Live Classes
Bilingual Pals – Bilingual Pals offers Spanish classes/tutoring for children,middle school students, high school students and adults. 
Seasons To Grow – 3 Full Spanish Courses offered in both live and recorded options.
Dreaming Spires Home Learning – Spanish I and II offered in a live online format for kids 12+
Rosetta Stone – Everything you need to learn Spanish in one box! Includes a Rosetta Stone lifetime subscription (access from the cloud. It syncs across desktop, mobile, and tablet for convenient learning). Barron's grammar Guide (learn essential grammar tips, such as verb agreements and sentence structure) and Barron's Dictionary (look up important definitions from this trusted source).
Home School Spanish Curriculum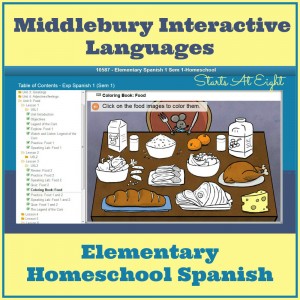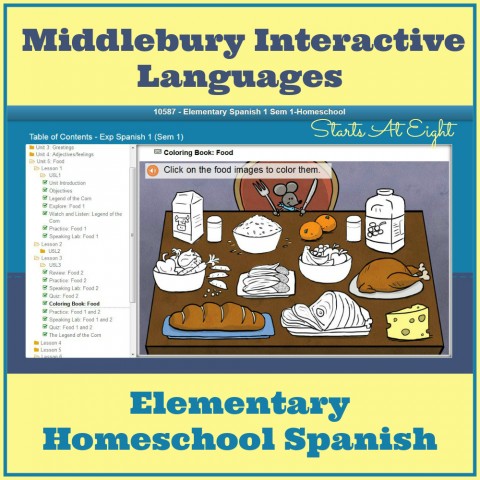 Other Spanish Resources
Easy Spanish Step by Step – Easy Spanish Step by Step proves that a solid grounding in grammar basics is the key to mastering a second language. Grammatical rules and concepts are clearly explained in order of importance, and more than 300 verbs and key terms are introduced on the basis of frequency. Numerous exercises and engaging readings help learners quickly build their Spanish speaking and comprehension prowess.
Sara Jordan – Music cds and workbooks for Teaching Spanish through Music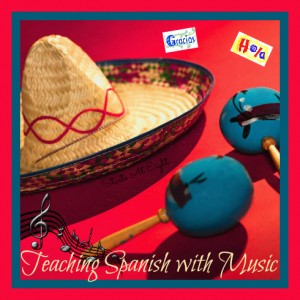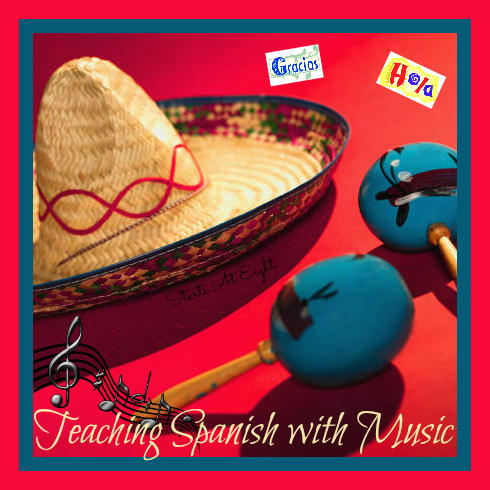 Easy Peasy High School Spanish – EP is a FREE online website that offers full courses for homeschoolers. "The base of this course is "Spanish 1" offered by Georgia Virtual Learning. Much of the wording and assignments come from there except that more activities have been added to it. The course was altered where necessary to make it usable at home with a parent/teacher who doesn't know Spanish."
Schoolhouse Teachers – All types of learning experiences and levels of courses offered.
Senor Jordan Videos – FREE Spanish Language Learning Videos organized by Year 1, Year 2, Year 3.
Practical Spanish – Learn Spanish FREE Online. This website teaches Latin American Spanish and the sound has been recorded by a native of Colombia.
Easy Spanish Reader –A three-part Reader for Beginning Students + 160 Minutes of Streaming Audio.
Spanish to English Translator – quick and easy results from 3 translators
3 Helps for Learning the Spanish Alphabet –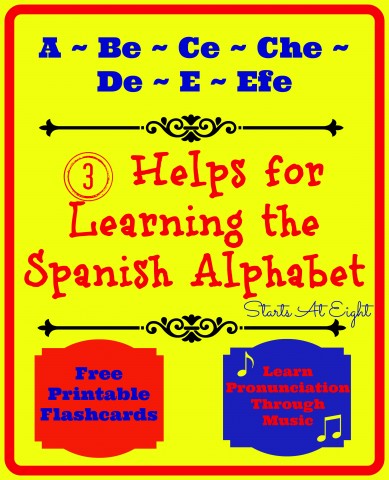 Please feel free to comment on this post with other Spanish resources you have found useful in your homeschool!