Ever since our children were little I have made their birthday cakes. It think it really started due to the amount of money it saved us, but it turned into a tradition that our children look forward to. There was one year I forgot to make our daughter's cake (she was probably around the age of 7) so I was going to rush out the night before and buy a cake. She was thoroughly upset so instead I had to go buy ingredients and make her cake at 10 pm the night before her party! This Homemade Ice Cream Cake is an easy one that an old friend of mine wrote down quickly on a piece of scrap paper one year for me.  It has been a hit ever since!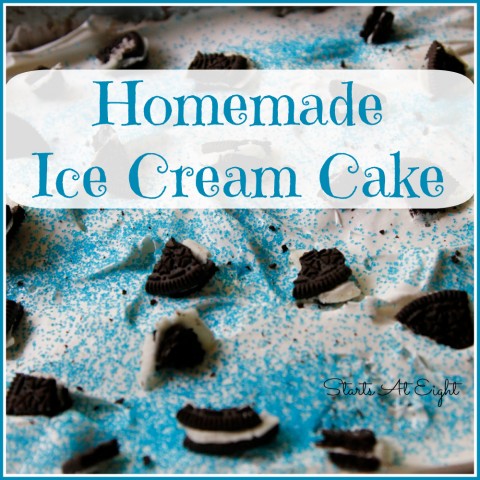 Homemade Ice Cream Cake
Ingredients
1/2 gallon of any ice cream or sherbet
Tub of Cool Whip
1/2 cup fudge or some flavor of  jam
Box of Teddy Graham crackers or bag or Oreo Cookies
1/2 to 1 cup of melted butter
Optional toppings such as nuts, sprinkles, chocolate chips, etc.
I think that an Oreo crust goes great with some type of ice cream (chocolate, vanilla, mint), and fudge. Then if you want a fruitier edge I would go with graham cracker crust, sherbet, and some sort of jam/jelly.
Directions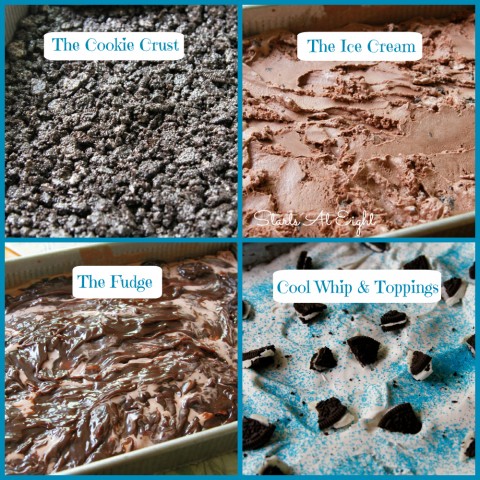 Place the 1/2 gallon of ice cream/sherbet out at room temperature to soften.
Grind down about 3/4 of the box of Teddy Grahams or 3/4 bag of Oreos and place in a bowl.
Combine melted butter with the ingredients from above step, mixing well.
Place cookie/butter mix in the bottom of a 13 x 9 pan and press down evenly.
Spread softened ice cream/sherbet over the flattened crust. (At this step I usually then freeze for a short time to re-harden the ice cream)
Spread fudge or jam evenly over the ice cream/sherbet (You can add nuts, chocolate chips, etc at this step).
Spread Cool Whip over the top.
Garnish with sprinkles, chopped up Oreos, nuts, group up graham or anything else you desire.
Freeze 2 hours before serving – to serve take out 15 minutes beforehand to soften enough for cutting.