In this classic tale, the Gingerbread Man escapes from the oven and has to outrun all the creatures that try to catch him! There are so many fun activities to go along with this story. From spelling and writing, to crafting and coloring your children can enjoy all the excitement of this story.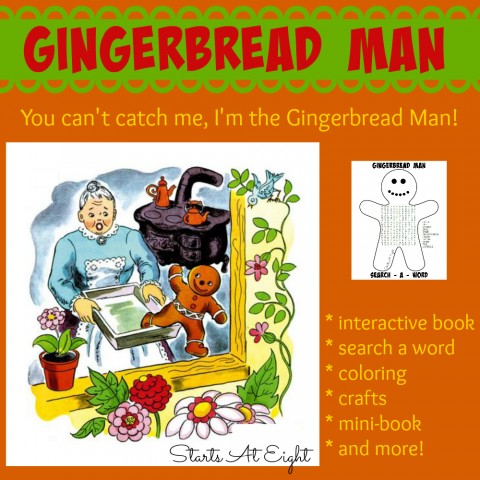 Run, run as fast as you can! You can't catch me, I'm the Gingerbread Man!
Your children will eagerly continue reading to see if he is able to avoid the clever fox or if he will end up as an afternoon snack for one of his chasers!
 Illustrated Story Version – This is an online, illustrated version of the story.
Gingerbread Man Printable Activities
Story Sequencing Cards – Free printable cards for your child to put the story in order.
Printable Mini-Book – Free printable mini-book of the Gingerbread Man. Print them in color, or in black and white so your child can color them.
Printables to decorate your own Gingerbread Man – they include many accessories as well as black and white to color yourself, or already print them in color for a quick and easy activity!
Tons of Printables –  Many great printable activities including spelling, sequencing, crafts, and more! (If you are homeschooling an elementary aged child Enchanted Learning is a fabulous and worthwhile resource.)
Search – A – Word Printable – Simply right click on image and "save as" to get your FREE Gingerbread Man Search A Word Printable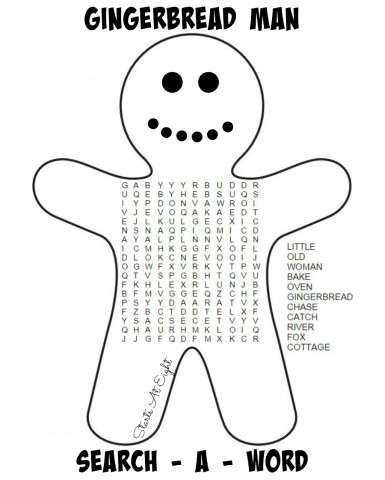 Interactive Gingerbread Man Fun
Talking Gingerbread Man App – Free iTunes App
Decorate Your Own – An online interactive decorating activity
Foam Craft – Create your own foam (or paper or felt) gingerbread man
More Holiday Book Fun