Teaching Money Management for Teens is a really important life skill that we should be sure to cover with our children before they graduate and move out on their own. It has also been a topic of interest here at Starts At Eight. Any time we get the chance to try out a product to help us in this en-devour to instill healthy money habits, we take it!  We have tried apps, read books, and scoured the net for help with teaching money management to our kids. Now we have the chance to share this game, CASHFLOW with you!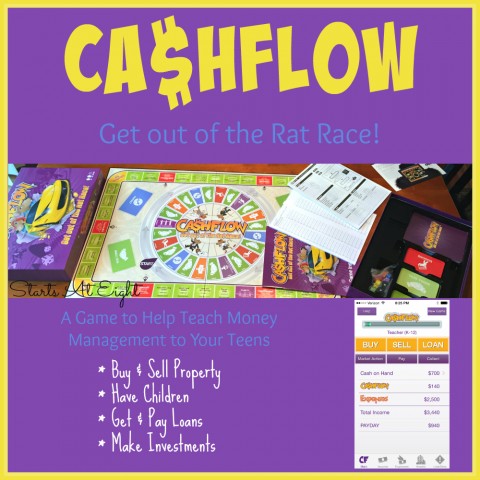 What is CASHFLOW?
CASHFLOW is an educational board game that teaches accounting, finance, and investing at the same time – and makes learning fun!
It was created by Robert Kiyosaki, the author of Rich Dad Poor Dad, the best selling personal finance book of all time and Kim Kiyosaki, author of It's Rising Time.
CASHFLOW is an educational board game that simulates real life financial strategies and situations. As a simulation, you learn valuable lessons and gain priceless insights into personal finance and investing without having to put your actual money at risk. CASHFLOW teaches you and your kids how to get out of the Rat Race and onto the Fast Track, how to make your money work for you – not the other way around.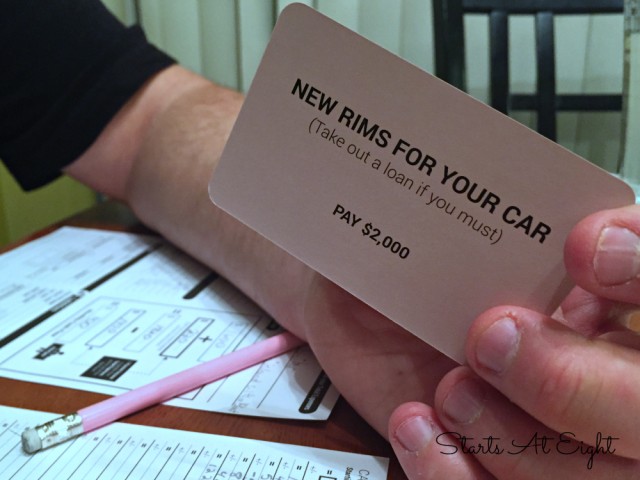 What makes CASHFLOW different from other financial resource games? CASHFLOW not only teaches you how to invest and acquire assets but most importantly how you behave within investing scenarios. You can test out strategies for building wealth you might NEVER try in real life. If you're a saver, try aggressive investing. If you're a risk-taker, try slow growth. Play, win and learn!
Using CASHFLOW to Teach Money Management for Teens
All our kids were super excited to get CASHFLOW open when it arrived! Not only do we have a teen who can benefit from this game, but our 12 year old tween loves Monopoly type games and was busting at the seams to get his hands on this one!
One of the things I love about this game is all the real life terminology it uses. They even provide you with a glossary at the end of the instructions in case you need  it!
The game takes a little bit to get set up with tasks like getting a profession and writing down all the details of your financial life like salary, mortgage, loans, savings, etc. For keeping track you have two options: you can keep track with the paper logs provided in the game, or if you have an iDevice you can download the app that calculates for you.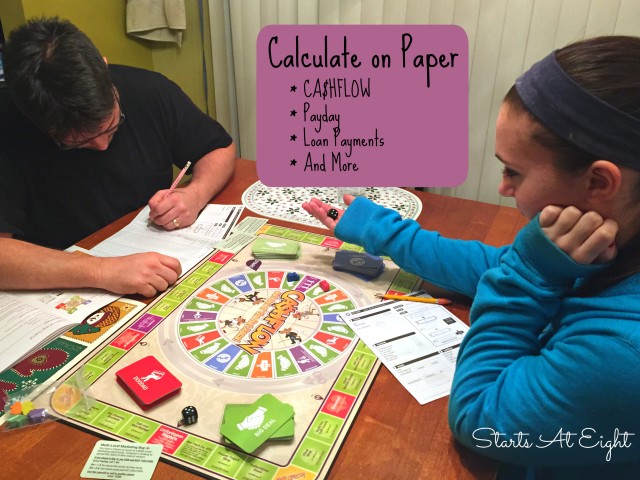 We actually chose to do it both ways to see what each method was like. While the paper way is more time consuming I believe there is more to be learned in the process of doing. The cool thing about the app is that for younger kids or kids who struggle in math it does the calculations for you. Plus what teen doesn't love the chance to use an app on their phone?

I highly recommend CASHFLOW to any family (even fun for adults) to add to their family game night options. It opens to many avenues for conversation. For instance my husband was a janitor and thus had a very small salary. It was very frustrating for him to try and get ahead because every time he saved a little money to pay something down, he would instead get a "Doodad" card and have to pay out money for things like new rims on the car, or a new cell phone.
The real life parallels between the Rat Race and the Fast Track are spot on. So many of us live in the Rat Race and CASHFLOW is a great portrayal of the real world of family finance.
Purchase CASHFLOW
Check out the CASHFLOW Board Game and start teaching money management for teens in your house!
You can even get 10% off the CASHFLOW game using the code CASHFLOW
Other Posts About Money Management for Teens

Disclosure: Many thanks to RichDad for sponsoring today's post and helping me to teach money management for teens to my children. See my full Disclosure Policy for more details.