I am an off the chart, type-A personality. I love schedules, plans, lists, boxes to check, etc. When I started homeschooling many moons ago I brought this rigidity with me (I was definitely not flexible homeschooling). I was hard and fast to follow curriculum and adhere to schedules, even if it meant stress and misery for myself and the kids.
As each year passes I learn to let go just a little bit more. Maybe I am tired, maybe I realized I don't have to be so rigid. Either way we get more flexible and more relaxed in our homeschooling each year… but let's be real, I am still REALLY scheduled compared to many!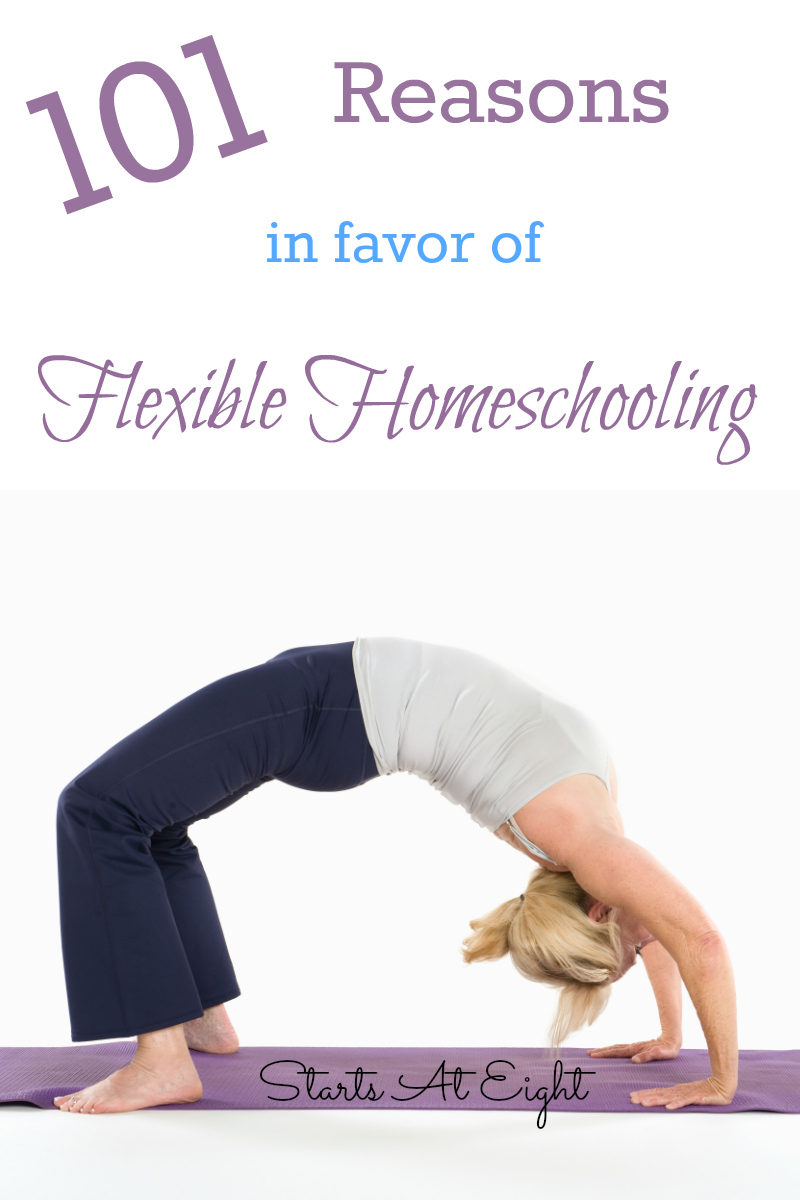 That being said, I have come across many reasons that are in favor of flexible homeschooling! Thus the reason I think I keep moving in that direction!
101 Reasons in Favor of Flexible Homeschooling
Here is a collection of reasons in favor of flexible homeschooling not only from me, but from my children, and some other fellow homeschool moms.
My Reasons
While I plan and schedule, through the years I have learned to be more flexible too. Not only by scheduling more free and flexible time into our schedule, but by being able to deviate from the plan in favor of being flexible.
The mere definition of flexibility – the ability to be easily modified; the willingness to change or compromise.
Ease of Days – The more flexible I get, the more smoothly our days goes.
Sickness -When someone is sick, we can take time off, move things around, or skip things to accommodate for it.
Change Curriculum – I remember being so rigid that I would continue a curriculum even if it was hurtful for us. Learning to be flexible enough to drop or change something that isn't working was a huge step in becoming more flexible. So here are my suggestions for What Happens When You Know A Curriculum Isn't Working?
Random Time Off – When unexpected things pop up like an illness, doctors appointments, Dad has the day off, nice weather, etc.
Field Trips – We don't plan for field trips for the most part. They just come up. Being flexible allows us to take some amazing field trips we would not have otherwise experienced. Check out some of my field trip tips and ideas in Homeschool Field Trip Ideas & Tips.
Life Skills – While I have created a course to include Life Skills as High School Electives, there are still many times that important life skills are not part of the curriculum. And I believe very strongly in raising our children to live and be competent out in the world. These means taking extra time when it arises to teach things like wall painting, landscaping, auto repair, etc.
NOT Starts At Eight – While we started out "Starting at Eight", now we start almost anytime that works for us.
Outside Classes – Sometimes new opportunities come up in the middle of the year. Being flexible means we can adjust accordingly.
Nature Study – When the weather is nice I just want to be outside. If we get the chance to take a walk, explore a forest, fish in a pond, etc.
Holidays – We often take more time off at various holidays. Depending on the family gatherings, possible vacations, etc. We can take more or less time as needed.
Just Need a Break – Some days we are fried. We just need a break to relax and not talk shop!
Movie Time – Whether educational or not sometimes we drop everything for a movie. Most recently I have been incorporating movies into our history studies. You can see how with Teaching History Through Movies
Love That Book – It's not just me! Even the kids sometimes get so wrapped up in a book they are reading that they just can't put it down.
Grandma Needs Help – We have multiple parents under our care. That means that sometimes we need to tend to their needs.
College Classes in High School – A big benefit of homeschooling is that they can earn college credit while still in high school. If attending a local college it can be a real adjustment to your schedule. Since our daughter wasn't old enough to drive, it meant that I had to drive her.
Art Class – Art is one of the things I have struggled to accomplish at home. While there are outside opportunities, sometimes they are few and far between. When they do pop up we try to jump at them. On the flip side we have also been lucky to come across some great art classes we can incorporate at home!
Planting a Garden – This is such a fun and engaging activity to do with kids. Taking the time out of your schedule to do this, at least one
Having a Baby – Adding a new member to the family can change everything. You don't know how things will change or how time consuming it will be. When I had our third child it took some adjustments to get us up and flowing again.
Moving – Packing up, cleaning up selling, searching for a new home, the act of moving, etc. can be overly time consuming. When we moved from our old house I had to adjust everything we did to accommodate house showings, box packing, and reestablishing a life in our new home.
Adding an Addition – 2 years ago we added on to our home. I never counted on "adding on" making such a disruption in our home.
Home Improvements – Sometimes once you start something, you just have to finish. Plus, when doing home improvements it's a great time to include the kids. Our 14 year old son was able to help us spackle and sand. Our 10 year old helped us with painting trim.
Playdates – It is such a joy as moms and kids to be able to spend extra time with our friends during the day.
Park Days – When the weather is nice our local homeschool group has park days where we all gather to socialize and play.
Book Club – One of the big joys of my homeschooling years has been the mother/daughter book clubs I have participated in with each one of my girls.
Power Outage – When the power goes out we have choices. We can do what we can, ditch it all, or do something completely different!
Animal Death – Time is needed when a favorite pet passes. It allows the kids to build a coffin, make a gravestone, etc.
Snow Storm – When the snow flies and road are blocked we can head out and play!
Shiny New Toy – Time for play with the new toy. Because the light in their eyes over their newly acquired toy will only last so long.
New Curriculum – So many options, so little time.
Fun Learning Opportunity – We can be open to try new things.
Extra Sleep – If we were in late from a gymnastics competition, or up late watching a movie marathon, or feeling run down, we have the option to sleep longer.
Volunteer Time – Daytime hours can be spent helping in the community. We have volunteered at animal shelters, made quilts for hospitals, run fun drives for local pantries, and more.
Spring Cleaning – Just this week my daughter dropped everything to deep clean her room. I didn't ask her, but she was self-motivated to do so. That is the best way to get things done…when THEY are motivated to do it. So we adjusted our schedule and plans accordingly.
Burnout – There have been time we have had to just drop it all and walk away. Either I am spent, or one of the kids have had enough. Sometimes being able to take a break is the best medicine.
Baking – When the mood strikes we can bake. Bake for the heck of it, bake a cake for a birthday or in our son's case cookies to share with his swim team.
Camping – Because there is nothing like leaving life behind for the great outdoors for a few days.
Vacation – We can schedule vacation when is best for us. For instance we are combining a conference with my, with our "8th grade" Washington trip for our son. Off time means less lines and cheaper rates.
Extended Vacations – We have been able to take 2+ weeks at a time when the situation became possible.
Cultivate a New Interest – My little one has always been more of a free spirit and learner. It has been a pleasure to be able to allow her to run with her current passion.
Board Games – Sometimes you just want to play games.
Gymnastics – Our oldest was a competitive gymnast. She often would rush from school to the gym, and then home later after practice when she was in still in school. Running herself ragged. Homeschooling allowed her to have more free time by allowing us to adjust her schedule accordingly.
Lunch Dates – Allows Mom and Dad to sneak in a little time during the day because we can always catch up at night!
Extended Time on a Subject – Sometimes kids need extra help, more time, with a subject. We can stay longer on a subject or topic that is difficult.
Jump Ahead – Our son has a much easier time with math than his sister's. We have the flexibility to let him jump ahead, moving faster through the topics as they are easier for him.
Dog Walking – Because we are home our kids have had the opportunity to earn some extra money by caring for a neighborhood dog during the day.
Time for Corrections – My son may be great in
Reading for Fun – When I was in school I did not have time to read for fun. In our homeschool I can choose to be sure our kids have time to read for fun.
Choosing What Your Kids Read – If they hate a book, I can choose to let them stop and try something new. I can direct their reading choices.
Curriculum Options – The school doesn't choose, I do. And even then I can change at anytime if needed.
Pajama Days – We can choose to get dressed or not to get dressed.
More Extra Curricular Time – Time and space for outside interests and activities.
Couch Schooling – Because I desk isn't the only place learning can happen.
Antsy Kid Accommodations – We had a kid that couldn't sit still. That meant jumping from couch to couch, sitting on an exercise ball, timed work sessions, trampoline time and more.
Movie Matinees – We can go to matinees and save money!
Parent/Teacher Meetings – or rather NO parent/teacher meetings. I can just talk to myself!
Chess Club – Our son has find joy in playing chess. When a local club time popped up we were able to switch things to he could participate.
Ice Skating – Ice skating days with homeschool friends in an empty ice rink have been some of our best spent afternoons.
Less Busy Museums – Daytime hours at the local museums and play places are quieter than weekends.
Ice Cream for Lunch – Just because we can!
Daylight Hours for Outdoor Activities – We can get our outdoor time in during the daylight and put off school to darker hours.
Time with Grandparents – Because we can be flexible with our time, our kids have had the pleasure of being able to spend extensive time with their grandparents. Daytime lunches, bird house projects, cooking baking and so much more.
Book Sales – We love hitting the book sales first thing when they open as that is when the selection is best!
One on One Time – I can easily adjust our schedule to allow for one on one time with each of the kids. Or make it so they can have a lunch date with their dad.
Free Play – Sometimes things are just too fun to stop. So much can be gained from allowing the kids to have time to play.
Public School is Off – Can't tell you how many times I forgot the public schools would be off. Then my kids want to play with their friends so we flip turn upside down so they can get time with them!
Juggling Multiple Schedules – We can't always predict what will pop up in our lives. Sometimes we have to shift and juggle to accommodate unexpected schedule changes.
High School Electives – Choosing these is a task all their own, and if they are things the kids become passionate about that may need us to allow for extra time and attention.
Just Dance – Sometimes you have to drop everything and dance. Dance out the stress. Dance out the wiggles.
Early Graduation – Your child can add more in to their schedule so they can graduate early.
Naps – If we need them, we can take them.
Mealtime – We can eat separate from each other.  Each child can eat when they are hungry or need to, instead of having a fixed breakfast and lunchtime.
Eat and Work – You can eat while working.
Focus Time – When your kids are younger and can't sit still or focus as long, you can adjust accordingly.
Time When Things Run Long – Clean up time, lesson takes longer time, it was hard to focus time. Sometimes things just take longer than planned.
Forgotten Supplies – How often have you gone to do a craft project, or science experiment and found you were missing something? You can move it to another day or run to the store to get what you need.
Getting Dad Involved – You can set specific subjects for Dad to help with. Or he can jump in when you are having trouble. I remember my husband having to jump in and help our oldest with Algebra. I was spent, she needed a new perspective, and we were able to shift things so he could do that.
Other Teacher's – I made time one year so that my dad, who was good with electricity, did a whole unit with my oldest on electricity.
Toddlers – Need I say more? Sometimes they just muck up the plan!
Extra Time for Long Projects – Things like paper mache, wood working, and extended craft projects.
Teaching Subjects To Multiple Kids – You can alter your time by teaching multiple kids the same thing. This can help you save time for other things.
Teaching Subjects To One – On the flip side you made need the extra time to teach each child individually.
Ease in Scheduling Appointments – Having daytime hours can make it easier to schedule the doctor, but that also means you need to be flexible enough to alter your homeschool schedule.
Kids Teaching Kids – Sometimes it can make it faster, and sometimes slower, but allowing for the kids to teach each other sometimes is good for the one teaching and the one learning.
House Chores – Sometimes there is just more to do around the house. We have set aside extra time during a day to do a good clearing out of toys, or scrubbing bathrooms.
Knowing Everything Doesn't Have to Get Done – It's ok to not finish every problem or every lesson. (In our state there is a percentage that is required). For instance, some kids don't need to do all 20 review math problems every day. Assign just the odds, or just the evens instead.
The Kid's Reasons
Video Game Time – For our son, flexibility in homeschooling means more video game time.  Time to meet new friends online, explore new games, and learn the intricacies of computers.
Sleeping on their own terms – I never thought I would be that parent to allow for later bedtimes, later wake up times, and altered sleeping schedules, but it is definitely a benefit. Our 14 year old son has recently taken to rising with the sun to complete school work, then crawling back into bed for an early morning nap. It works for him right now, and loves that he is free to do so.
Time to train the dog – My youngest has a great love of animals. She spends numerous hours each week working on training our dog to jump (including making jumps for him), to roll over, play day, etc.
Trampoline time, anytime – For years our kids have loved the trampoline. It sits in the backyard, and is the most used, best purchase we have made! Countless hours of jumping, fort building, and ball game playing have commenced throughout our days.
Double Chocolate Muffins – Since the kids make their own breakfast, our son loves being able to take the time to make his favorite muffins.
Barn Time – My youngest loves to ride, and wants to spend time at the barn. Being able to do schoolwork on her time has made it possible for us to fit in riding lessons and barn time.
Batching Subjects – My son has been thrilled this year to have the freedom to do all of his history (math, English) in one day, instead of a little each day.
Reasons from Other Seasoned Homeschool Moms
Laura at awefilledhomemaker.com and awefilledveteranswife.co – "We were a Military family until my husband retired. So flexibility was a MUST. Since his retirement it is still extremely important since he has C-PTSD and we also have a child with Asperger's. Being flexible has allowed us to get the therapies we need, specialized services, and to just be able to meet everyone's needs while continuing to provide the absolute best education for our children."
Renée at greatpeaceacademy.com – "Being a mom of one child I've found that flexibility is key to allowing him opportunities to be around others and develop friendships. If I hold tight to my pre-planned day I won't have room for last minute invites to field trips, a get together, or unexpected activities. While my plan might get accomplish, in the end, it's my son who suffers. Flexibility affords me to option to move the plan to fit the unexpected."
Nadine Dyer – "Being flexible is important because our kids are humans. They change, they shift, their interests and abilities and struggles change. If we aren't flexible enough to shift with them, then we just shift apart. I've had to bend and change a lot in my time as a homeschooler."
Chelli Lee Guthrie – "Less lines at Disney World cause you can go during the off season!"
Tiffany at HomeschoolHideout.com – "Flexibility in our homeschool allows us to put away the books for the day when Grandma randomly drop by with donuts. It lets us to enjoy spring flowers and late night bonfires in the fall. We get to live every moment to the fullest, not worried about everyone else's schedule. (Goodbye bedtime!) It lets us to live life to the absolute fullest degree while still learning about the world around us."
Ashley at somerandomlady.com – "

I need to be flexible in planning our homeschool because I'm just one person making decisions for the five of us. I can consider the needs and wants of everyone, but I can't anticipate every situation. Something is bound to pop up!"

Sheila at brainpowerboy.com – "Being flexible in your homeschooling means that you can learn as life happens. Life isn't on a schedule. Things change quickly. If you allow flexibility to enter into your homeschooling life you can follow passions, live life as it happens, and learn from the experiences it brings. This ultimately allows the whole family to learn much, much more."
Whatever the reason may be, the bottom line is that one of the biggest benefits of homeschooling is flexibility. No matter what style of homeschooling you choose, knowing when to be flexible is a great skill (and option) to have!
What reasons would you add in favor of flexible homeschooling?