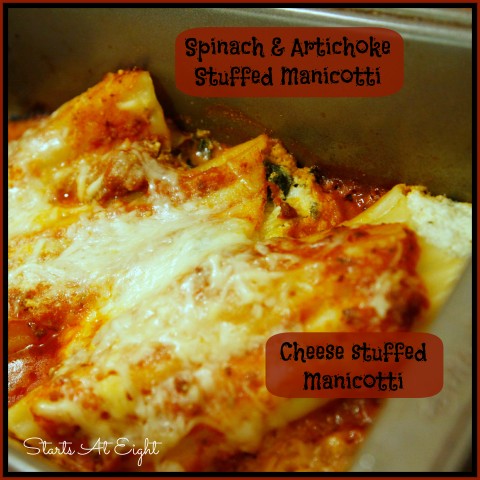 We recently decided that instead of buying the "not so fabulous" frozen ravioli in the store, we would stuff our own manicotti. I remember doing this early in our marriage, before kids and overly busy lives. Now that they are getting older and we are learning to carve out more family time, more down time, we are trying more and more new recipes.
Two Manicotti Recipes to share with you:
Cheese Stuffed Manicotti
Ingredients:
14-18 uncooked manicotti
3 1/2 cups (two 15 oz. containers) ricotta cheese
2 cups shredded mozzarella cheese
3/4 cup grated Parmesan cheese
2 eggs
2 Tbsp. chopped fresh parsley
1/2 tsp. salt
1/4 tsp. ground black pepper
1/8 tsp. ground nutmeg
1 jar spaghetti sauce
Directions:
Pre-heat oven to 350 degrees F.
Bring a pot of water to a rapid boil.
Add pasta and return to rapid boil.
Cook uncovered for approximately 5 minutes.
Remove noodles from boiling water and place in a bowl of cold water.
In a large bowl combine ricotta cheese, 1 1/2 cups mozzarella cheese, 1/2 cup Parmesan cheese, eggs, parsley and seasonings.
Cover the bottom of a 13×9 inch pan in spaghetti sauce.
Spoon cheese mixture into each manicotti tube and place in pre-sauced pan close together to they don't open up and spill their filling out into the dish.
Pour remainder of sauce over filled manicotti and sprinkle with the rest of the Parmesan and mozzarella cheeses.
Cover with foil and make 35 minutes, or until hot and bubbly.
Spinach and Artichoke Stuffed Manicotti
For the Filling:
6 oz chopped spinach
1 clove of garlic, minced
2 Tbsp. olive oil
2 cups ricotta cheese
15 oz. can artichoke hearts, well drained and chopped
1 cup Parmesan cheese
Salt & Pepper to taste
Heat olive oil in a large frying pan.
Add garlic and cook for 30 seconds.
Add spinach.
Stir gently until spinach is wilted.
Drain excess liquid from the pan.
In a large bowl combine spinach with the rest of the ingredients.
For the Pasta:
20 uncooked manicotti
16 oz. of pasta sauce
1/3 cup Parmesan cheese
Preheat over to 350 degrees F.
Boil pasta until just shy of al dente. (Like in directions above for cheese manicotti)
Cover the bottom of your 13×9 pan (can also use casserole dish) with sauce.
Spoon fill each manicotti tube.
Place in pre-sauced pan close together to they don't open up and spill their filling out into the dish.
If you want it really cheesy you can cover the top with shredded mozzarella.
Cover and bake 35-40 minutes.