My mother-in-law appeared with cupcakes recently.  Which may not be any big deal on most days, but this time she said she had used a new frosting – Cream Cheese Cookie Dough Frosting!  All I can say is that she had me at cookie dough!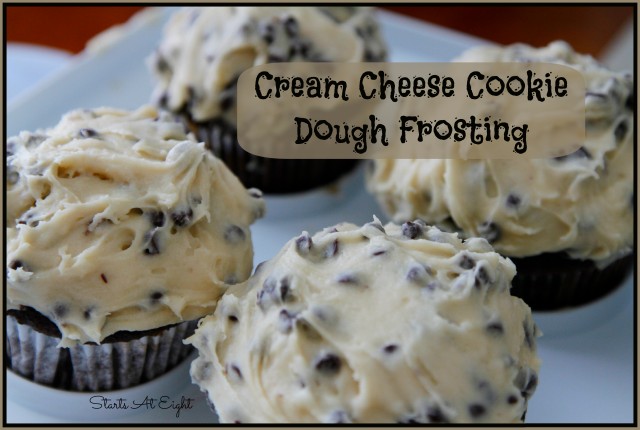 Cream Cheese Cookie Dough Frosting
Ingredients:
4 oz. cream cheese, softened
1 tsp. vanilla extract
5 Tbsp. butter, softened
1 envelope Dream Whip (comes in a box where baking supplies usually are in the grocery store.  It is a whipped topping mix)
2/3 cup brown sugar
2 Tbsp. milk, more if needed
1/2 cup flour
2/3 cup mini chocolate chips
3 cups powdered sugar, more if needed
Directions:
Cream softened cream cheese and butter together in a large bowl.
Add brown sugar, vanilla, and Dream Whip – evenly beat together.
Add milk, flour, powdered sugar – beat to evenly incorporate until smooth
Stir in mini chocolate chips
NOTE: We have a friend who is quite the baker herself.  She LOVED this recipe and suggested using it as cannoli filling, which she has done and says is fabulous as well!