Did you know that more than half of all student-loan borrowers are now delinquent in their payments? I have one child preparing for her college years and two more in the wings. We always talked about saving for this day, but didn't really put anything into action. I don't want to make that same mistake with our other two children. We need to have a College Savings Plan in place, and functioning, so that we can help our children gain a solid education and minimize the amount of debt they will incur.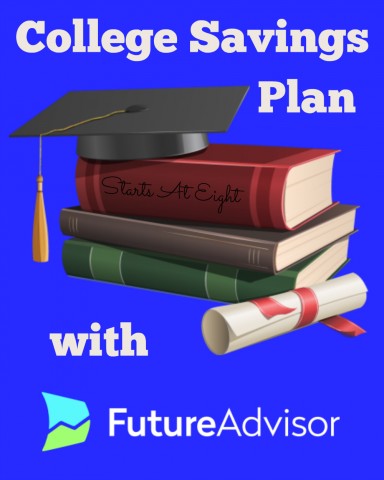 We have a teen who is preparing to start community college in a year. While community college is more affordable than other options, it is still an added cost. A cost that we as parents want to shoulder so our child won't head into her young adult life with mounds of college loans to pay back. In 2014, the average college graduate owed $33,000 in student loans. That is more than triple the average graduate's debt 20 year ago!
Starting out with such a large amount of debt can have a negative impact on career choice, quality of life, and even the ability for our daughter to some day own a home. We see people all the time who come out of college with a degree, and debt. Then they can't get a job in their field or a decent paying job so they take a job just to have one, but spend forever saddled with trying to get out of their initial college debt.
Since we didn't actually save ahead, it will be harder for us as parents to accomplish the goal of helping our daughter gain a college education without the debt. To help us rectify this situation with our other two children I found FutureAdvisor.
College Savings Plan with FutureAdvisor
FutureAdvisor is an investment advisory firm that uses software to actively monitor and manage your accounts from a household-wide, long-term perspective. They pride themselves on being a full service college savings management plan. By doing this for free their hope is that you will be so impressed with what they can do that you will let them manage your other accounts too (like other investments and retirement).
Want to know the totally cool part?
FutureAdvisor is FREE!  The do not charge a management free!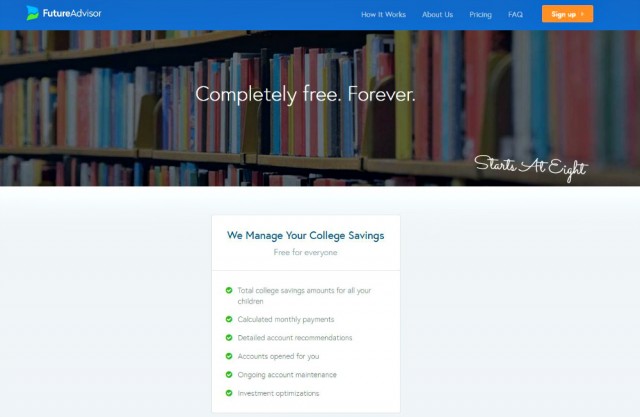 I know, I know, you think I am kidding, but I am not! FutureAdvisor will customize a savings plan that is right for you and your family. Completely FREE. Forever.
Want to get started?
Head over to FutureAdvisor and Get Started for FREE Today!!
Want to know more about this College Savings Plan?
This program from FutureAdvisor is called Diplomas without Debt. The goal is to get your children a college education without all the debt by implementing the best savings plan for you and your family. Their team of experts will ask you questions to help them understand what you are looking for, and then help you set up and manage the accounts.
There are several kinds of savings accounts – 529s, Coverdells, UTMAs. Understanding and choosing amongst these can be confusing.
Let FutureAdvisor help you choose the right account to match your goals – for FREE! You can also find out more by reading their informative FAQ page.
It was easy to set up an account.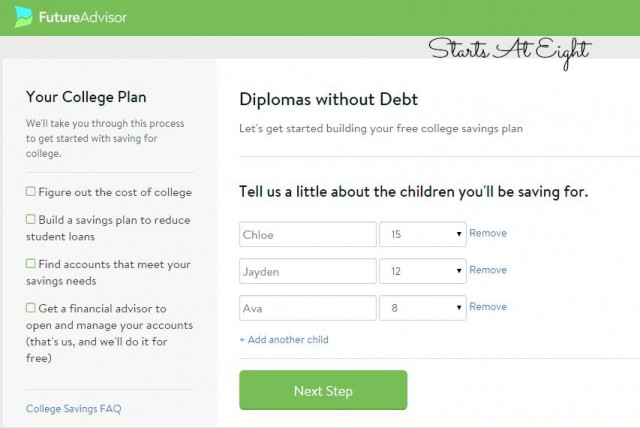 Then answer some questions about our children and our goals for the money we save.
Once you have set up your FutureAdvisor account and answered some questions, they do the work for you! You don't have to worry about making adjustments, or knowing the tax laws, they will monitor everything to be sure you get the most return for your money.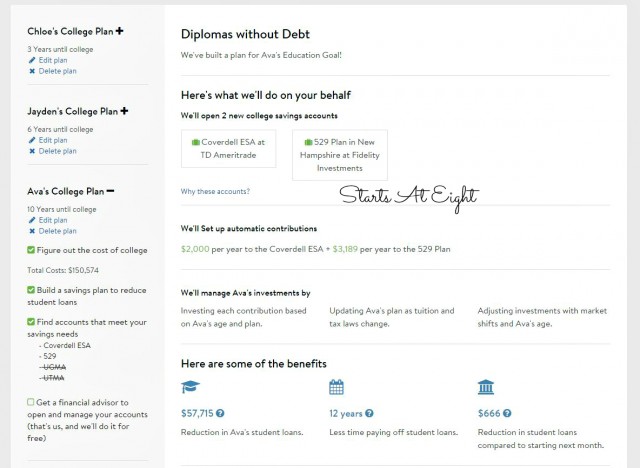 Using the Diplomas without Debt program is simple, free, and easy. The only fees investors pay are to the underlying funds, and FutureAdvisor will automatically find you the best prices.
Ready to start your College Savings Plan today?
FutureAdvisor is just a click away! You can start the process in minutes to give your children a solid, debt free start to their adult lives!
Disclosure: This post was produced with support from FutureAdvisor in conjunction with Kasai Media.