This Chicken Noodle Soup recipe is one my husband and I modified from my mother's recipe.  It makes a large amount of soup, enough that we can feed our family of 5 on it around 5 times.  We make it and then separate it into containers to be placed in the freezer.
Making large batches of soup ahead and freezing them allows us to have quick and easy meals over the winter that are healthy and inexpensive.  Some of the other soups we make are Italian Wedding, Beef Barley, and Smokey Corn & Potato Chowder.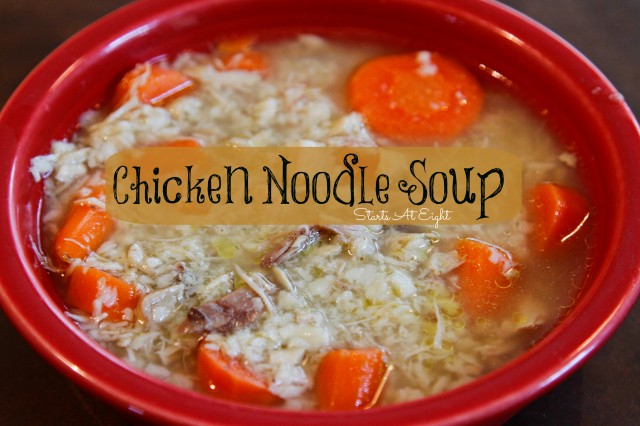 Chicken Noodle Soup
Ingredients:
2-3 Tbsp. Mortons Nature's Seasons
7-9 Bay Leaves
1 Large Onion (puree)
2 Tbsp. Soy Sauce
3 Tbsp. Chives
2 bags of Full Carrots (diced or chopped into slices)
2 Small Celery Stalk Bunches (puree)
32 oz. Small Soup Noodles
2 Tbsp. Chicken Soup Base
2 Whole Chickens (10-12 lbs)
Directions:
Place Mortons Nature's Seasons (or similar spice blend), bay leaves, onion (puree), soy sauce and a small amount of water in a large kettle.
Wash both chickens.
Remove the giblets and cook them in a separate pot.   This creates extra broth to add to your soup.
Place both chickens in the large pot from Step One and fill with enough water to completely cover both chickens.
Cover large pot and bring to a boil.  Then turn to medium high.  Keep at a small boil until chicken is tender.
While the chickens are cooking dice the carrots and puree the celery.  Both will be added after the chicken is taken out.
When the chickens are cooked remove from kettle, let cool and then pick apart.
At this time add the celery, broth from the giblets, Chicken Soup Base and carrots to the large kettle.
Once the chicken is cut up and added, add the noodles and chives.
If you find the soup to be too thick you can add some water to desired consistency.