Each year around this time we really being to see the effects of homeschool curriculum planning for the coming year.  From Homeschool Conventions, to planning sales, photos of all the new curriculum purchases and the scores of new people asking the important questions about how to go about doing it.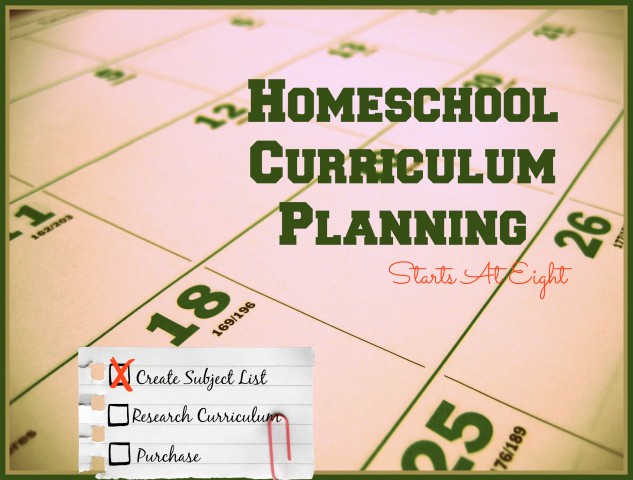 As you may very well know already, everyone is different, therefore your planning process may look different. But I will share with you what mine looks like and you can pick and chose what works for you.
Homeschool Curriculum Planning in 3 Steps
Create A Subject List
One of the first things I do is to think about the subjects I am trying to cover, and make a list. This looks different for different stages in my childrens' homeschool journeys. For instance my soon to be third grader will be adding cursive handwriting into her school days. This was not something she previously had in her subject list.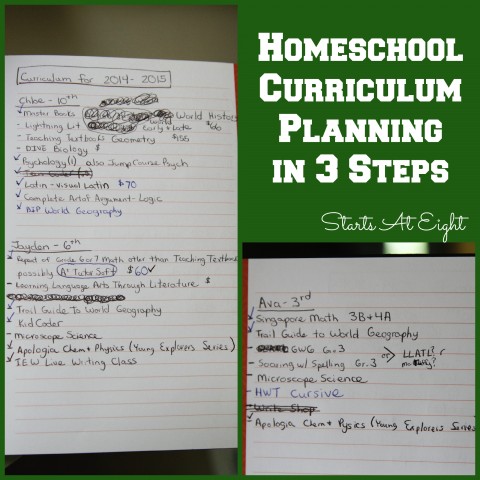 Also my high school aged student will have different electives that she will be taking for 10th grade, as she has completed other electives during her 9th grade year. For 9th grade she took things like Java Programming and Photography. In 10th grade she will have things like Sociology and Psychology.
You can check out what we have used for curriculum over the years at my Our Curriculum Page which is broken down by year and grade level.
If you have a would be high school student you may also want to consider creating a 4 Year High School Plan to give yourself an idea of what you need to cover and when is a good time to do so. I created the 4 Year High School Plan in a customizable spreadsheet for you to download, change, print, and save for yourself.  I also have some great Pinterest Help for Homeschooling High School, including boards for curriculum, testing, raising teenagers, and more!
Research Curriculum
After I have created a list of subjects to be covered, I begin filling in a  more formal chart with curriculum or resource options for each one.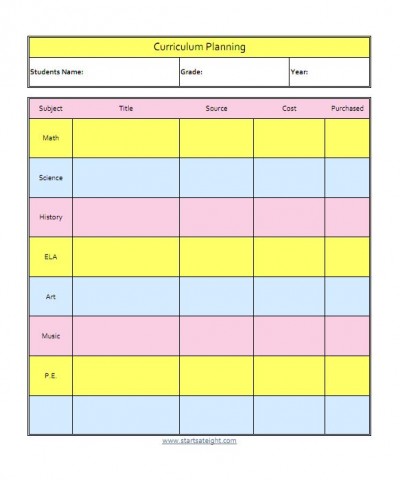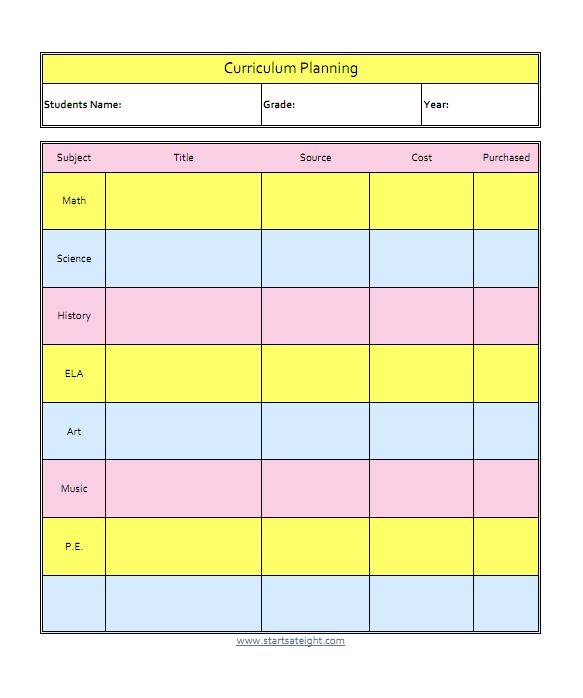 I created a FREE Homeschool Curriculum Planning Chart over at Hip Homeschool Moms, along with a list of questions I ask myself when homeschool curriculum planning for the coming year.
Some may be the same as the previous year.  For instance both our 5th grader and 9th grader have previously used and continued to use Teaching Textbooks for math.  For our 9th grader she will continue this pattern into her 10th grade year, thus I would simply fill in Teaching Textbooks next to math in my subject list.
For things that I am unsure of I may write down multiple options with links to find them, cost, etc. and then spend time researching until I come to a decision on what will work best for us.  In What Happens When…You Need to Choose a Homeschool Curriculum I talk about things you may want to consider things like learning styles and cost.
You may also find yourself in a situation where a Curriculum Isn't Working for you and you need to change it up for the following year, and that is ok too.
Purchase Your Curriculum
Once you have decided on curriculum choices you can keep your eyes open for deals.  Maybe there is a local used curriculum sale, or a company is offering a discount.  You can also borrow from other homeschoolers or check things out from the library.  Our local library carries some curriculum books and resources (like the Life of Fred books, and The Story of the World). I also will enter giveaways for curriculum I am interested in – hey you never know when you might win one! 🙂
Other Homeschool Curriculum Planning Articles:
If you are in need of help I do offer Homeschool Consulting Services in which I can help you find a curriculum that is a good fit for you.  Or help you work out a homeschool plan for your family.