The Little House on the Prairie series is a timeless treasure for kids of all ages. It offers many insights into the late 1800s in a relatable and interesting way. For the holiday season we read A Little House Christmas and recreated activities from the book for our "little girl" book club.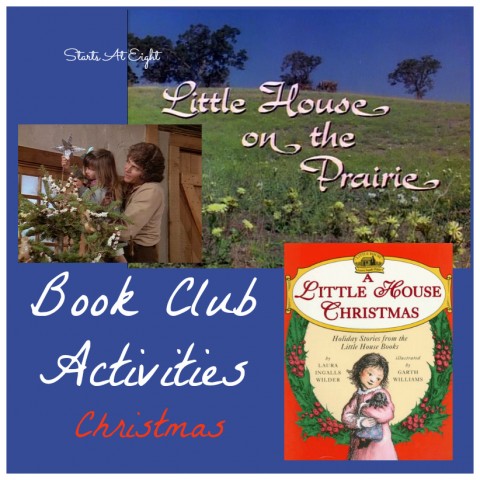 A Little House Christmas
covers Christmases with the Ingalls family in the Big Woods, on the Prairie,  and on Plum Creek.
Maple Sugar Candy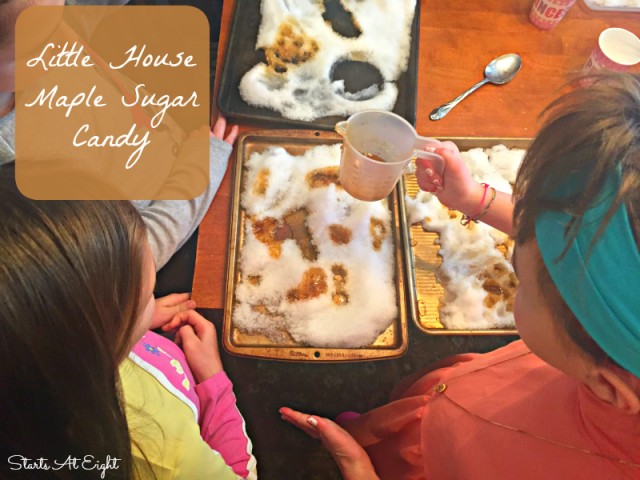 This one was a big hit. We even used mini paper cupcake liners
to place some of the mix in so the girls had an easy way to take a sample home!
Supplies:
2 cups pure maple syrup

1 tsp vanilla extract

saucepan (non-stick works best)

candy thermometer 
Instructions:
Cook syrup over very low heat until it begins to boil, stirring frequently.
Continue boil until it reaches 233°F on the candy thermometer.
Remove from heat and cool for approximately 60-70 minutes, or until the temperature on the candy thermometer reads about 110°F
Add the vanilla extract and heat until smooth and fluffy.
Shape this mixture into small patties, or pour onto pans of clean snow as Laura did.  (We found letting the mixture get a little cooler before pouring worked best.) If you have no snow, you can blend ice cubes until they are crushed, then place crushed cubes into a pan before pouring the maple candy.
Store in airtight containers to prevent the candy from drying out.
Button String
Making Baby Carrie's Button String is a simple and creative project for young kids. You can make them as simple or as ornate and patterned as you would like. We happen to have a large bin of buttons from a grandparent who worked in a button factory so I thought this would be a fun one to do.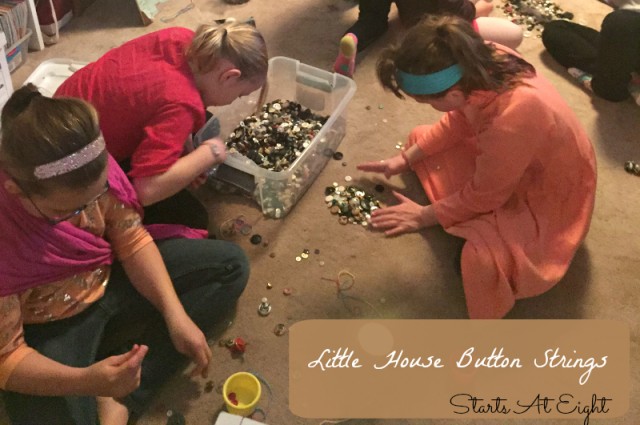 Supplies:
Instructions:
To create these, all I did was thread needles with any length of thread that each child wanted. (I doubled the thread so it would be sturdier.) I used a button of their choice to knot at the bottom of the string to hold all the other buttons on. Then I set the girls in front of the buttons and let them create! When they were finished I tied each one off with a button knotted at the other end.
Popcorn & Cranberry Garland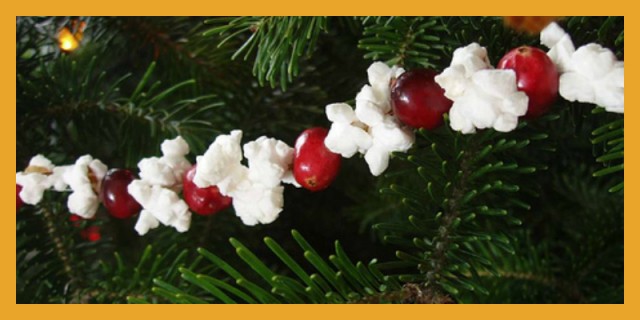 I found a great tutorial for this called Stringing Popcorn & Cranberries 101.
Other Little House Resources
My Little House Crafts Book – With this book you can share a part of Laura's pioneer days by learning how to make the same things that she and her family made for their little homes on the frontier. Inside this book are easy, step-by-step instructions for 18 crafts taken straight from the pages of Laura's Little House books.
The Little House Cookbook – More than 100 recipes introduce the foods and cooking of Laura Ingalls Wilder's pioneer childhood, chronicled in her classic Little House books.
Little House Paper Dolls – You can buy a set or check out these FREE Paper Doll options.
Lesson Activities to go with Little House books
All Things Little House – FREE lapbooks and unit studies from Homeschool Share