As a mom who is staring down her last year of homeschooling her children (my 3rd and final child is entering 12th grade), I can honestly sit here and tell you I could not have done it without outsourcing, especially in the high school years. I don't know everything, and I don't feel capable of teaching everything (or learning everything so I can teach it). Using live online high school courses is one of the ways we have been able to outsource throughout the high school years.
Be sure to keep reading to find out how you can SAVE $150!
Disclaimer: This post is sponsored by Stepmojo. All opinions are my own and I was compensated for my time in writing this. Please see my FULL Disclosure Policy for more details.
Benefits of Live Online High School Courses
1. Tackle Subjects You Can't or Don't Want To
As I said before, live online high school courses can help fill gaps you may feel you have. Whether that is because you don't feel confident teaching a subject, don't have the time to personally teach your high schooler, or simply don't want to for some reason.
2. Interaction with Others (Teachers and Students)
Using live online high school courses, as opposed to pre-recorded or video based courses offers a crucial element of interaction with others. Not only does your student get to build a relationship with their teachers, but they get to work alongside other students attending the class. We have found live classes to be so much more engaging for this reason.
3. Fostering Independence
Outsourcing some of your student's work allows them the opportunity to take charge of their education. While you can be sort of a birdie near by in case they need something, using live online high school courses offers your student the chance to work independently.
4. Expanding You Child's Knowledge Base
I am always telling my youngest (who tends to get tunnel vision, adopting the my way or the highway train of thought) how there isn't necessarily one right way to a problem. That just because something works for me, doesn't mean it will work for you. Outsourcing can help offer your kids a different perspective. For instance, the style in which you teach something might not be working for your child, having someone else step in could bring new thoughts and methods to help your child learn.
Using Stepmojo for Live Online High School Courses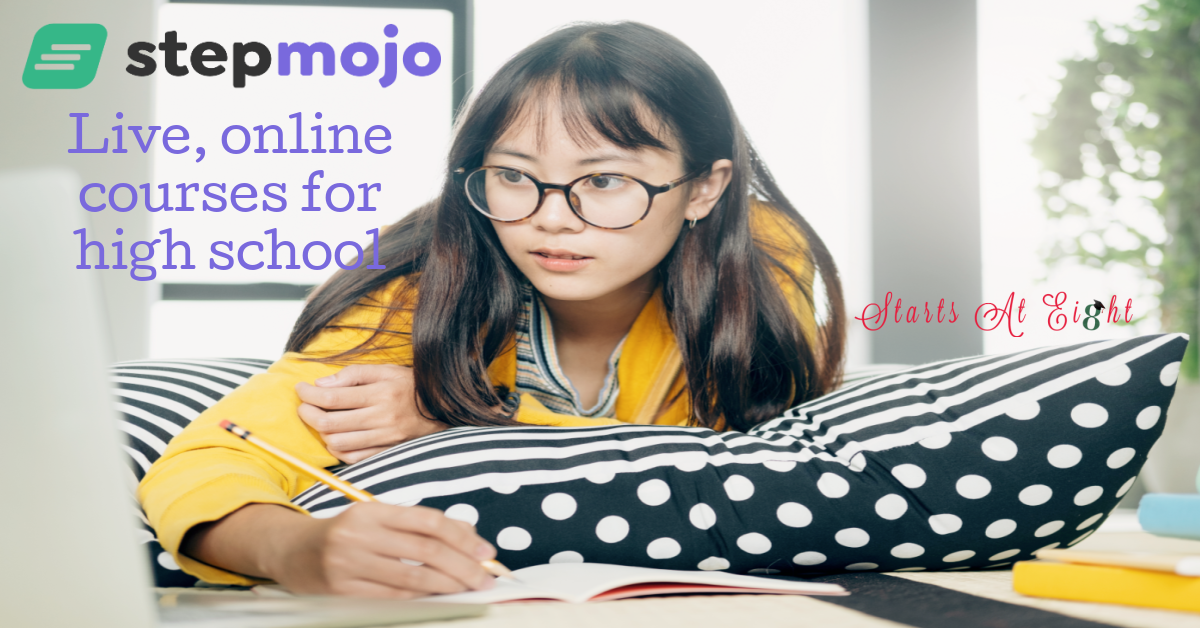 Stepmojo offers high-quality, live, high school level courses from great institutions and educators with extensive experience leading effective, safe and engaging virtual classrooms.
The courses are set up on a semester schedule, multiple times per week, allowing students to regularly interact with their teacher, have rich discussions with their classmates, and receive personalized feedback and support.
2022 Stepmojo Fall Courses
Core STEM classes:
Algebra 1
Algebra 2
Geometry
Physics
AP STEM Classes:
AP Calculus AB
AP Computer Science A
AP Computer Science Principles
AP Physics 1
STEM Electives:
Animation
Python Programming
Game Design
Stepmojo Registration Discount
The regular price of a Stepmojo Course is $450. BUT everyone who signs up prior to Aug. 1, 2022 gets an automatic discount of $100 off!!
PLUS use this coupon code (50startsateight) for an additional $50 off!! (This coupon code expires 9/1)
More Outsourcing Options