It's summer time! Kids everywhere are excited to be out of school and look forward to their freedom. The first part of the season is exciting. They may get to go to summer camp and maybe you are planning a family vacation. But when those activities are finished, they are faced with a lot of long summer days with little to do.  Here are some fun Summer Boredom Busters in the form of some great backyard games to get your kids out and moving!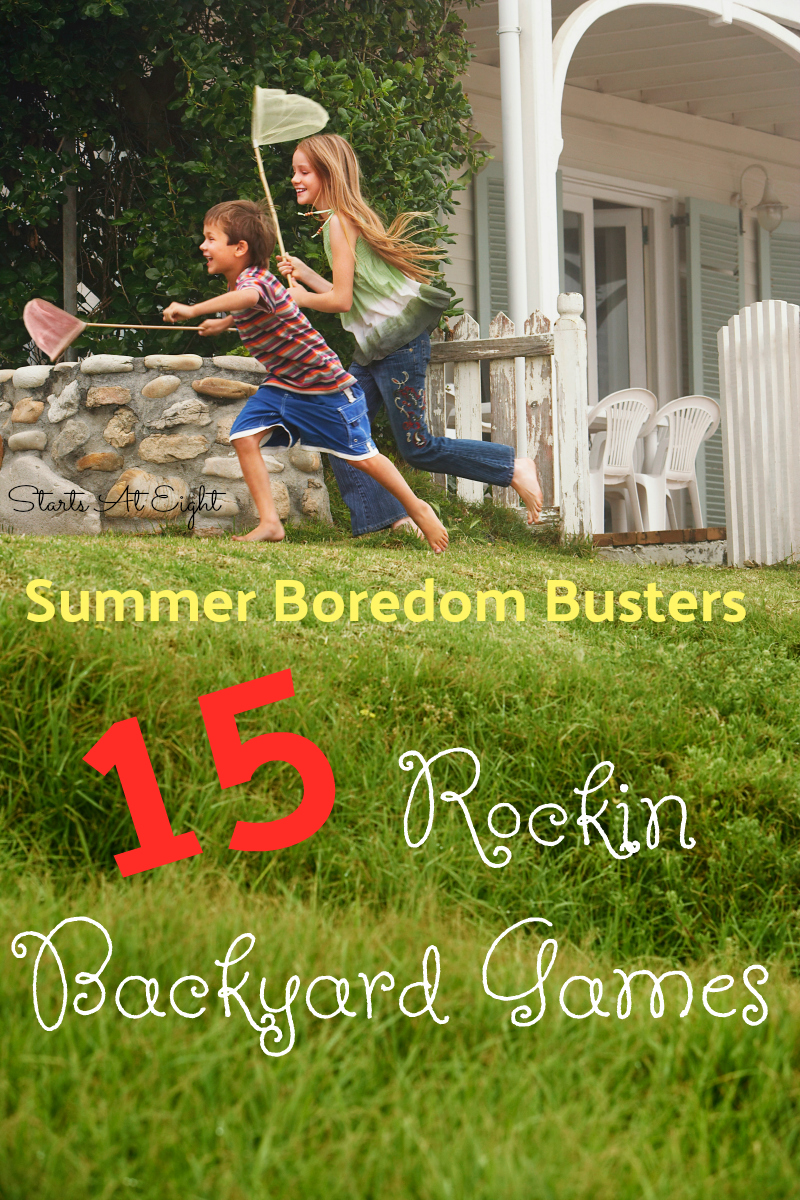 Summer Boredom Busters – 15 Rockin Backyard Games!
Below you will find some ideas to keep your kids busy, happy, and active all summer long. Get them off the video games and outside having fun!
1. Water Balloon Dodge Ball
Run to the Dollar Store and grab some water balloon kits because this game will keep kids moving and cool all summer long! Split into two teams, stand on opposite sides of the yard and try hit the other team with a water balloon.  Once you are hit you are out.  The last one standing wins!
2. Cornhole (Bean Bag Toss)
Cornhole, also known as Bean Bag Toss, is a game that combines throwing a bean bag onto a platform 15 feet away. There are ways in which you can score points, the goal is to get your bean bag into the top hole.  First person to 12 or 21 wins.


3. Backyard Twister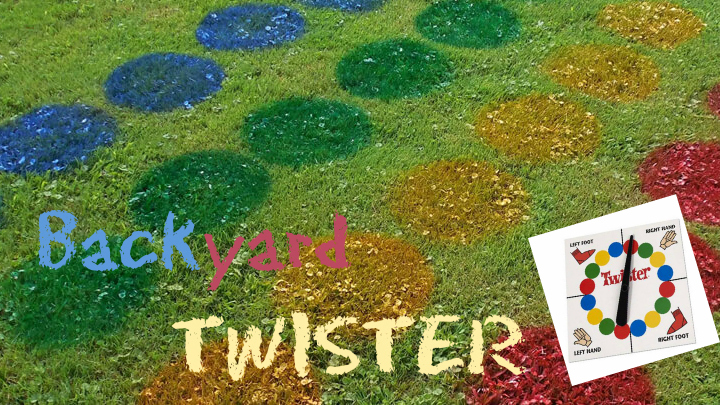 Twister is a fun game for kids of all ages. But this version takes fun to a whole new level. Use paint (or contractors marking spray) to put 10" dots of paint on the lawn to make your twister board. You will need 4 colors to make 6 circles in a line of each color. For a pattern, you can cut a 10" circle in the lid of a pizza box.
To make the spinner, draw an X on a paper plate, and write (or dot) a single color to each section. Roll e piece of paper that is cut to two inches tall to form your stick and put a hole in the center of the X. Save about an inch of the paper roll to fold over and tape to the back of the plate. Now cut an arrow from cardboard, and put a hole in the end to slide over the paper stick. Make sure the hole is large enough to allow the arrow to spin, That is all you need. Even teenagers love playing backyard twister.
4. Ladderball
Ladderball can be played with 2 or 4 people, with each person taking a turn at throwing a string with a golf ball on each end. Each run of the ladder your a tossing at is worth varying amounts of points.


5. Instead of Hot Potato Try COLD T-Shirt!
On a very hot summer day, this is a fun game, guaranteed to cool things down.
Take some old tee shirts and wet them down. Fold the shirts, placing wax paper between each shirt. Then place them in the freezer overnight. (You can place them in a large plastic bag if you like.)
Outside, give each child a frozen, folded shirt. The first one to thaw the shirt enough to get it on wins! There is no better way to cool off. (Please Note: they are to put the frozen shirt on over the shirt or bathing suit they are wearing.)
6. Bocce Ball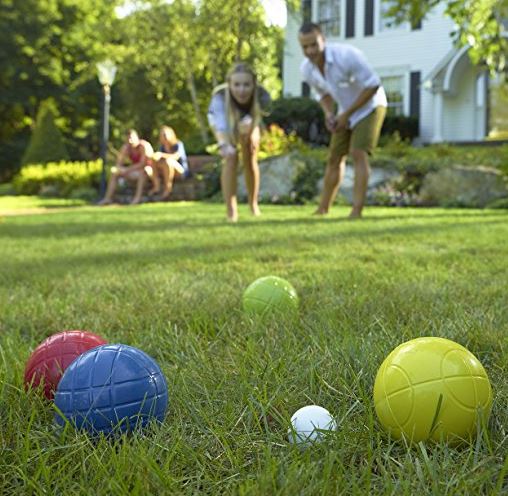 Bocce is played with a target ball and the winner of the round wins who can get their colored ball closest to the target.  You can play on a traditional Bocce Ball court or anywhere in an open space
7. Hot Cars and Cold Water Race
Each child is given a hot wheel car and a water gun (fully loaded).
Line the cars up and use chalk to draw a finish line.
At the word "GO" the child uses the stream of their water gun to move their car to the finish line. The first one across wins.
No touching the cars with your hands! If it flips, you must use the water gun to try to flip it back over.
8. Badminton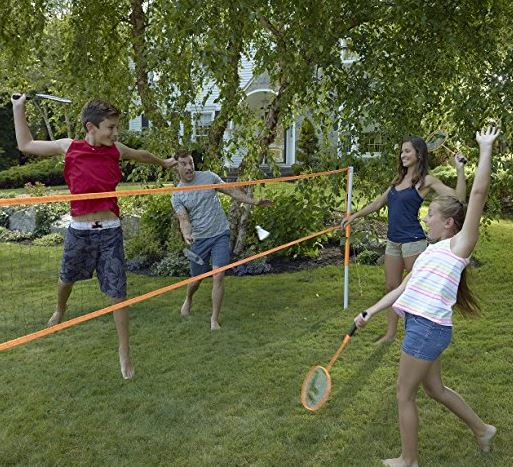 Grab an inexpensive net set and get playing this fun and active game! Using badminton racket's and a birdie you can gather up players and play a friendly rally by challenging the other team to get 50 consecutive hits or a competitive game seeing who can get to 21 first.
9. Sprinkle, Sprinkle, Splash
Played like the game "duck, duck, goose" all the kids sit in a circle on the grass. The difference is, the person who is "it" has a cup of water. As they pass, they sprinkle a drop or two on the children and say "sprinkle" until they decide who they want to splash. They yell splash and dump the water on the child who then chases them around to the open spot. It is then their turn to sprinkle.
10. Air Scoop or Velcro Toss
These ones can travel easily with you and can be enjoyed by as many players as you have scoops or paddles!


11. Disappearing Bottle
This game is loads of fun for kids and it will keep them busy for hours. It seems simple but it is harder than you think. Use a clear plastic two-litre bottle. Make sure the cap is white, or the color of your pool tiles or liner. Fill the bottle with pool water. Line the kids up with their backs to the pool. Toss the bottle in. At the splash, the kids turn around and jump in, The first one to find the bottle wins. The color of the water and the bottle are almost invisible in the pool. Add the splashing and moving around of children and you have a very active and fun game.
12. Bopping Heads
This is a game much like Whack-A-Mole. The kids are in the pool and one kid is "it". "It" has a pool noodle. The children go under water and then pop up anywhere they want. But if the get hit with the pool noodle when their head is out of the water, the are "it" and change places – and go again. Note: you can use any long pool toy for the "hammer" even an inflatable so no one gets hurt.
13. Croquet
Croquet is a classic lawn game that is similar to Mini Golf.  This game doesn't need to be left setup in your yard at all times, and the playing course can easily be setup at anytime.   Croquet includes 8 croquet mallets, 8 balls approximate size of a tennis ball, and wire arches.   Croquet can accommodate up to 8 players but can be played with as little as 2 persons.  The goal is to hit your ball through the arches to the end of the court and then back again to win.
14. Solo Cup Water Races
This can be done in a pool or in the backyard. Take a few pieces of string and string them tightly across the pool or the backyard. On Each string, place a plastic Solo Cup with a small hole cut in the bottom for the string. Give the children each a water gun – fully loaded. The children squirt the water into the cup and it moves on the string. The one who moves their cup to the end of the string first wins.
Note: You can use any cup for this game as long as they are all the same size and the string is placed in the same position. Even empty pudding cups work, but Solo Cups work best.
15. Giant Lawn Games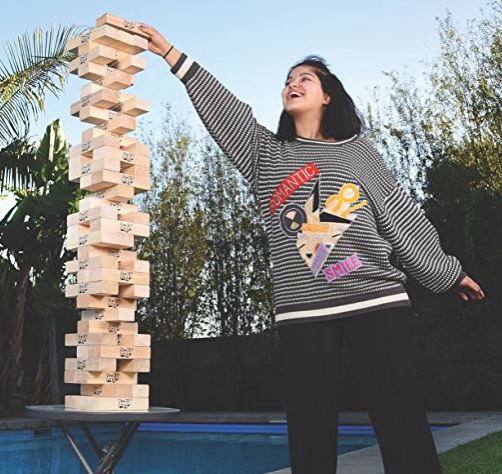 Chess – This can be played with giant chess pieces, or gather up a ton of people and play human chess!
Jenga – Giant Jenga! Over 5 ft. in height!
Yahtzee – Need we say more?  Get active by throwing the super sized dice outside when it's your turn instead of playing Yahtzee as a boring coffee tablet game.  Get over-sized dice to play Yahtzee or any other giant dice game version of your choice.  Grab a set of over-sized dice and play any dice game outside!
Summer time is the perfect time to add some twists and turns to indoor or outdoor games. From tug-of-war over a blow-up child's pool, to water balloon dodgeball, there are plenty of backyard games to play!  Just make sure your kids have a safe place to play and keep a stack of old towels handy and let them have the summer adventures they will never forget.
Note: if you are doing these activities for a party, consider setting up a candy buffet in the yard, and don't forget to make goodie bags for the winners of the games. Consider using a wholesale candy store!
More Summer Fun