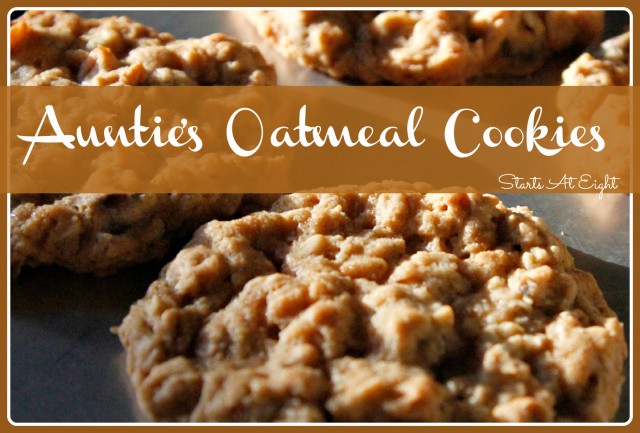 Auntie's Oatmeal Cookies
Yield:
approximately 4 dozen oatmeal cookies
Ingredients:
1 cup (2 sticks) margarine or butter, softened
1 cup brown sugar, firmly packed
1/2 cup granulated sugar
2 eggs or 4 egg whites
1 tsp. vanilla extract
1-1/2 cups flour
1 tsp. baking soda
1 tsp. ground cinnamon
1/2 tsp. salt
3 cups uncooked oatmeal
1 cup of your choice of "stir ins" (chocolate chips, toffee chips, butterscotch,raisins, nuts)
Directions:
Heat oven to 350 degrees F
In a large bowl, beat together margarine (or butter) and sugars until creamy.
Add eggs and vanilla; beat well.
Add flour, baking soda, cinnamon and salt; mix well.
Add oats and your "stir-in" of choice ( I like toffee the best. Sometimes we will do 1/2 toffee (or butterscotch) chips, 1/2 cup chocolate chips).
Drop by rounded tablespoons onto an ungreased cookie sheet.
Bake 8-10 minutes for a chewy cookie oatmeal cookie or 11-12 minutes for a crisp oatmeal cookie.
Cool for 1 minute on cookie sheet and then remove oatmeal cookies to a wire rack.