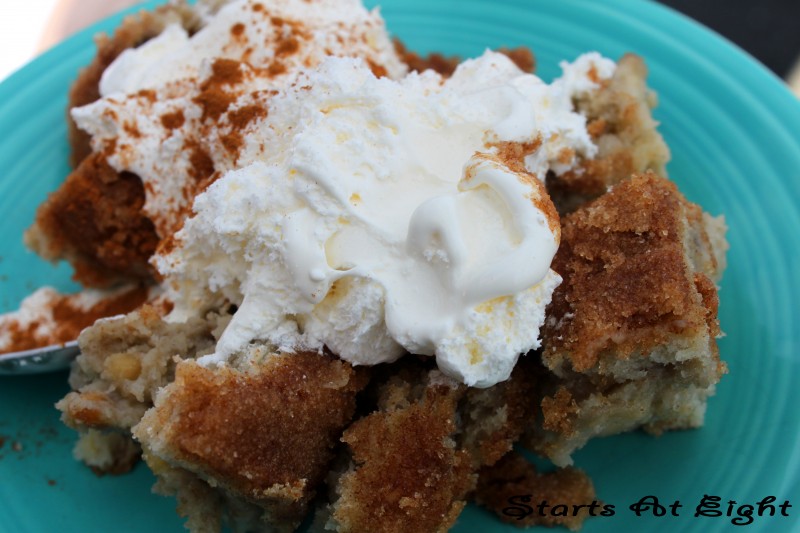 Accra Banana Peanut Cake **
Servings:
One 13 x 9 pan, cut as small as large as you want the servings to be
Ingredients:
1 1/4 cups butter, softened
2 cups sugar
4 eggs, beaten
4 1/4 flour
1 teaspoon salt
4 teaspoons baking powder
1/2 teaspoon baking soda
8 bananas, mashed
1/2 cup unsalted peanuts, coarsely chopped
1/2 cup sugar (for sprinkling)
1 teaspoon ground cinnamon
Directions:
1. In a large bowl, cream together the butter and sugar. Add the eggs a little at a time and beat to combine.
2. In a separate bowl, stir together the flour, salt, baking powder, and baking soda.
3. Stir the flour mixture into the butter mixture alternately with the bananas and peanuts.
4. Pour the batter into a lightly greased 13×9 inch pan. Bake at 350 for 30 minutes, or until a wooden toothpick inserted in the center comes out clean.
5. Remove from the oven and allow to cool on a wire rack.
6. Sieve together the half cup sugar and cinnamon powder. Sprinkle this mixture over the top of the cake as soon as you remove it from the oven.
**
This recipe came from
Cultures of the World – Ghana
by Patricia Levy and Winnie Wong