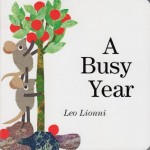 Ava and I have been reading A Busy Year by Leo Lionni
.  This book is a fantastic base for digging into both the seasons and months of the year, as well as a great story to work on story sequencing.   I compiled some fun activities to reinforce these concepts.
4 Seasons Printables:
Printable on the way a tree (apple tree) changes during each season.
More Seasons Printables from Enchanted Learning.
Free 4 Seasons Printables from the Happy Housewife
Months of the Year Printables:
Use this great cut/paste activity sheet to match the month to what happened in A Busy Year. (The Spring, Summer, Fall Winter coloring sheet was done separately and just added on.  You can do a google images search for seasons coloring and pick any that you like the best.)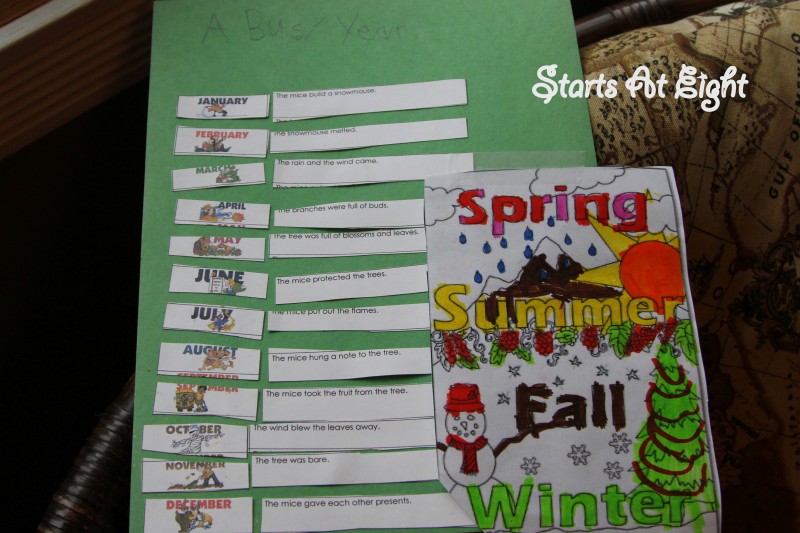 Cut and paste the scrambled months of the year in order.
Months of the Year Song:
Busy Year Discussion Questions:
Here are some basic discussion questions to use with your child.  Some are straight forward comprehension questions and others rely on the child to think a little bit deeper:
Where do Willie and Winnie live?  (McBarney Barn)
How did the twins feel when they heard Woody talk? (surprised)
In this book what is the weather like in March? (windy and rainy)
Why does Woody like the rain? (Trees need rain to grow)
What is your favorite type of weather?
Woody says that May is "my month!"  What does Woody look like in May? (he has blossoms and leaves)
What is your favorite season or month? Why?
How do Willie and Winnie help Woody in July? (They use a hose to keep the fire from getting to Woody)
Tell about a time when you helped someone.
Where do the twins go in August? (to the seashore)
What does Woody have int September? (fruit)
What type of fruit do you think it is? (any fruit that grows on trees and looks similar, ex. apple)
What happens to Woody in October? (leaves blow off)  How do the twins feel about this? (sad or worried)
What presents did Willie and Winnie give to Woody for Christmas? ( flower seeds to plant, bulbs, manure)
---
There are many other books by Leo Lionni.  Ava and I read and enjoyed many of his other books.
---
Fredrick was Ava's favorite and she was thrilled that it was one of the ones done in the video Swimmy…and more classic Leo Lionni stories.