Two kid pleasers you don't want want to miss! The Berenstain Bears Keep the Faith and 101 Bible Stories- Creation to Revelation.  These two children's books are brought to you by Zonderkidz.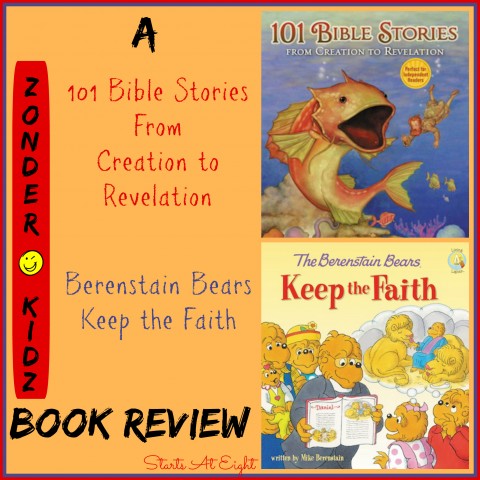 The Berenstain Bears Keep the Faith
When Brother and Sister Bear's friend Ferdy Factual tells them he doesn't believe God created the world, the Bear cubs don't know what to think. What does it mean to have faith? Can Preacher Brown help?
It has been our pleasure to introduce a new Berenstain Bears book in our home.  Keep the Faith introduces the concept that there are those that believe in science and not in God.  Rather than do an extensive debate about the subject it gently brings up the idea and then offers support as to why the bears would still hold their belief in God to be important.
101 Bible Stories From Creation to Revelation
These bit sized stories with an accompanying illustration for each is a great way for young readers to hear and understand some of the most prominent stories from the Bible.  Each story is one page in length and features a picture depicting the main character or event of the story.  Whether reading it themselves or you reading it to them, these stories are short to easily hold their attention, as well as to make them easy for children to understand.
Two things I noticed are that 101 Bible Stories From Creation to Revelation includes stories from both the Old and New Testaments, and the illustrations were done in a beautifully, realistic way.
---
*This post contains affiliate links. See my Disclosure Policy for more details.