Henry Ford developed the automobile and thus changed the way all people worked and lived. If you are history savvy, you know his creation of the automobile moving assembly line, combined with raising the workers' wages up to $5.00 per day for an eight hour shift, put the world on wheels and helped create the middle class in America.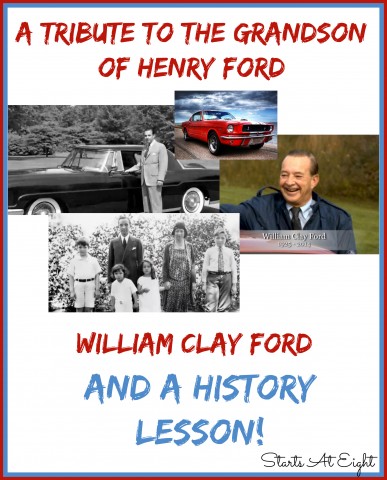 1. Early Life
William Ford, or Billy, lived a life charmed by the success of his grandfather's business. He was his grandfather's darling and learned to drive when he was only ten years old. Tales are told of early driving adventures behind the wheel with his grandfather, at least one of which led to an encounter with the police and a scolding from his grandmother when he returned home.
William is the small curly-headed boy 2nd from the left
William had an eye for design and creativity, much like his father. This was something that would serve him well in his future in the car business. In fact, his first artistic masterpieces were created while he was sitting beside his father's desk, using watercolors to create images of fine autos.
Public school would not do for a member of the Ford family, so William attended a private school in Michigan and a prep school in Connecticut before moving on to Yale University, where he graduated with a B.S. in Economics in 1949, just two years after his grandfather's death.
2. The Family Business

Photo by Steve Arnold
The Ford Motor Company was the result of the dreams of Henry Ford. He founded the company in 1903 and introduced his famous Model-T in 1908. Henry Ford's vision was simple: to create affordable cars and a company that provided stable wages for skilled workers. Although most young people today only connect his name with the many Ford vehicles on the road, specifically the Ford Mustang, Henry Ford's greatest fame in his day was the unique vision that molded every decision he made. His profit-sharing policies for employees was an incentive to remain loyal to the company and to live a decent life, two things about which Mr. Ford was adamant. Henry Ford consideration for his customers were reflected in his vehicles – Ford vehicles were the first to have seat belts.
3. William's Involvement in the Business
Although William was destined to spend most of his life under the shadow of his older brother, Henry II, he made his own distinctive mark on the Ford Motor Company. From overseeing design details to serving as Vice President of the Board of Directors, Bill spent six decades investing in his grandfather's business. The family's role in the company was important to Bill and was something that his grandfather would have been proud of. When Executive Director Henry II sought to make the company go public, younger brother Bill fought to keep control of the company in the family. Eventually, Bill got his way, keeping 40% of the company shares in the family, more than the 25% his brother had in mind.

Photo via Wikimedia Commons
At the 100th anniversary of Ford Motor Company, William reiterated his grandfather's values in his remarks, commenting on the great pride the family had in the company and the vision to work together and manufacture quality cars. His son, William Clay Ford, Jr., is the current Executive Director of Ford and carries the responsibility of a tremendous legacy into the future.
Photo and Video tribute to the Life of William Ford:
Author Bio:
Rebecca Fletcher, a self-proclaimed car fanatic, can't pass up an opportunity to attend a car show, Formula 1 race or a classic car fair in her charming, 1950's-era town. When not writing for HR Owen or attending a car event, Rebecca spends her spare time biking, swimming, cooking supper for her family or enjoying the great outdoors hiking with her 5 brothers.