Monday: Today was a modified museum and music lesson Monday. Poppy kicked it into grandparent duty today!  He had to take Jayden, a friend, and Ava to the RMSC.  Jayden had his 2nd science class this week.  This one centered around Solids, Liquids, and Gases.  Both he and Ava came home with this "goo" they made.  The idea was for them to decide if it was a solid, liquid or gas and explain their choice (with the teacher telling them there was no wrong answer).  To be honest, I am not even sure!  While this was going on I was at the orthodontist getting my braces off!  Yeah, 11 months and I am not straight teethed and metal free!  I met up with my dad at the RMSC so he could head home.  Then the kids and I shared lunch with our friends, and explored the dinosaurs before we had to head to music lessons.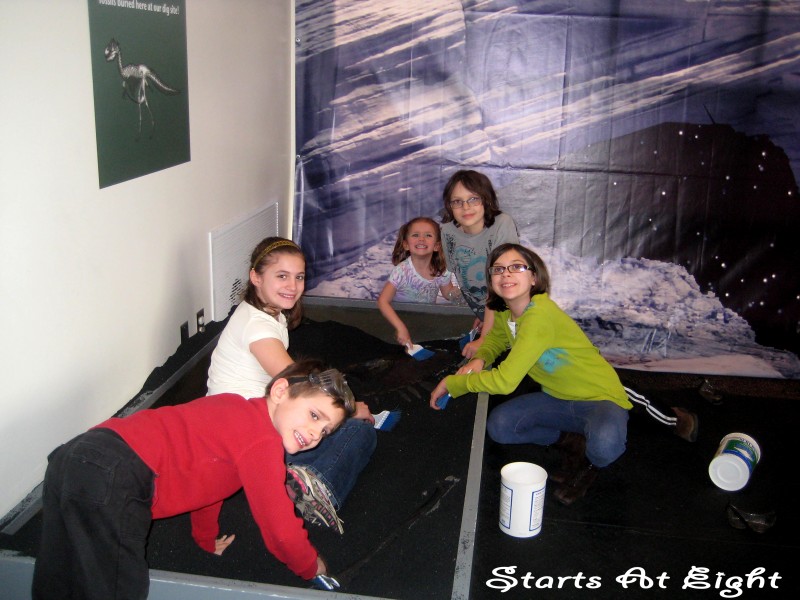 Tuesday: Given all the appointments I had this week I did not schedule any formal work for the kids.  I was feeling stressed and backed up so we decided to take it down a notch this week.  Poppy came over to watch the kids again while I headed out.  Jayden and Poppy put the train track together and mounted it to the wooden board.  A little drill bit, and some tiny nails, and now the track is secure.  The next step is for Jayden to paint the water on the board, and they also have to run the switches and wire to the track.
Wednesday: We missed story time with Mr. Mike two weeks ago due to illness, and last week I could not remember the story he read!  We were all very happy to be able to attend this week.  Mr. Mike shared his favorite book with us called Bark, George by Jules Feiffer. This is a great story to go through animal sounds. It seems as though George the dog has swallowed many different animals and thus he cannot bark, but instead makes a noise like each one of the animals! There is a surprise at the end that I don't quite get, but it makes for a funny ending just the same!
Thursday: Today I felt as though I could just "be" with the kids.  It is so rare that we do not have scheduled work, or scheduled activities.  Chloe had science lab in the morning, but then the rest of the day was ours.  I played dinosaurs with Ava.  I snuggled up on the couch with Jayden.  I worked on Chloe's upcoming review of How to be God's Little Princess.  I so often feel pulled in a million directions between housework, school work, blog stuff, taxi service, wanting to read or just do for me, that I know I lose some of the joy.  There were multiple moments today where I felt joy, contentment, and peace with the chance to slow down and just "be".  Hmmmm maybe that should turn the light bulb on and maybe I should strive for more of this in the future!
I am also linking this post to The Friday Blog Hop over at Mama to 4 Blessings.