Monday: Our bi-weekly Museum & Music lesson day! We were very excited for this one because the Colossal Dinosaurs Exhibit has come back to the RMSC.  Ava is still pretty dinosaur obsessed and she was thrilled to see the T-Rex move and roar.  In the photo below she is checking out the stegosaurus but right after that got upset because he was too loud!  In the bottom photo Jayden is "roaring" back at the apatosaurus.  As with the last time this exhibit was here, it is a short lived excitement and then the kids are ready to move on.  Jayden enjoyed playing with the inside metal structure dinosaurs they had.  He found it interesting to see how these creatures were actually moving.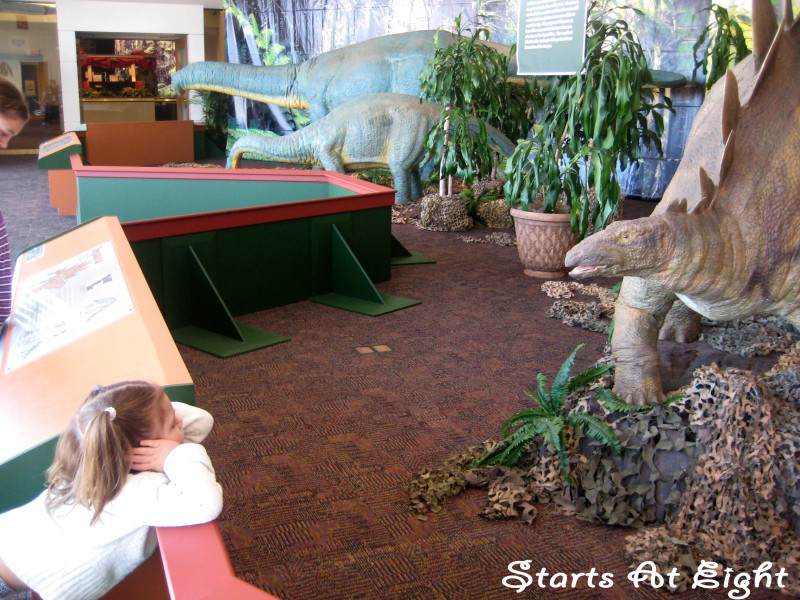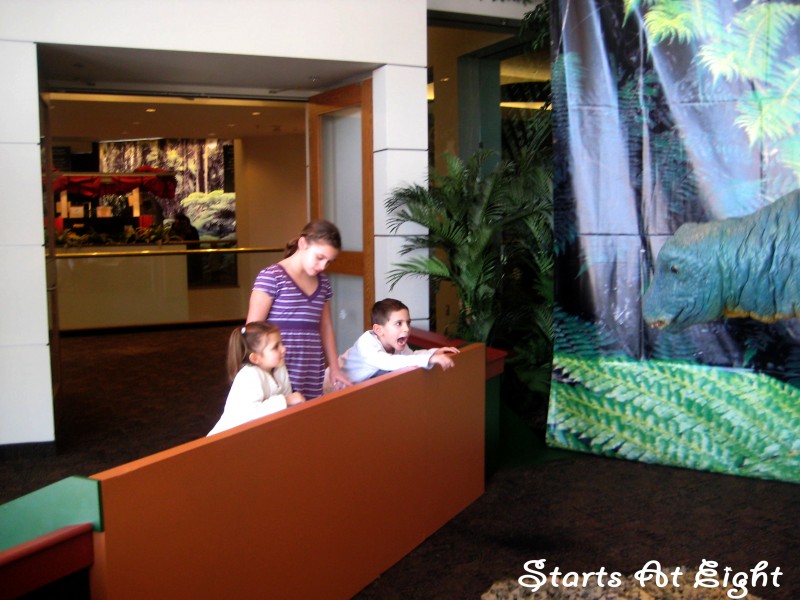 Tuesday: Our busy work day fell on Tuesday this week due to our Monday Museum & Music lesson day. Ava and I spent some time working on her Girl Scout Thinking Day activities that we missed due to troop illness. We had fun thinking about the different jobs that men and women can do and she enjoyed making her paper plate mask of me.
Wednesday: Even though Mr. Mike was out with the flu this week, a fun time was had by all at story time. The woman who filled in chose a clever theme: The saying about March goes "In like a lion and out like lamb". In keeping with this theme she chose three books to share with us:
1. In Like a Lion Out Like a Lamb, by: Marion Dane Bauer
2. No Sleep for the Sheep, by: Karen Beaumont
3. Sheep in a Jeep, by:
Thursday: Chloe had another Middle School Science Lab this morning. She came home excited about the Crime Scene Investigation they had done. She commented about how easy the microscopes were to use. After explaining one of them in detail I was thinking maybe I should find out what make and model they are and buy one. I have been looking for a microscope that would be good for the kids to have at home and Chloe went on and on about the ease of using the ones they have in the lab.
Besides lab for Chloe, ice skating for both big kids and a Daisy Girl Scout Meeting for Ava (which ended up getting canceled), I had a review that needed to be completed and posted. Our three kids had the chance to try out Time4Learning for 30 days in exchange for me writing a review for my blog. You can check out my review and let me know what you think.