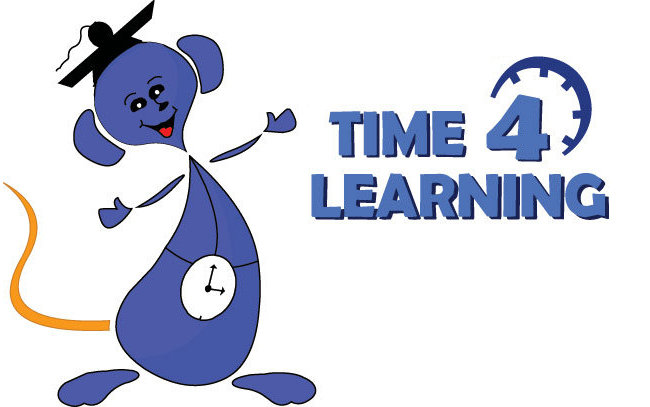 Over the past month we have been given the opportunity to try out Time4Learning. Each one of my children were given accounts that were set to their grade level. The first thing I liked right off the bat was that if we were working in a level and felt it did not suit our child, we could have it changed. I found this to be true with Ava. She is an age 4 preschooler, but works more at a Kindergarten level. After a day or two of the pre-K I realized it was not challenging enough for her. She loved doing the activities but I did not feel she would be gaining any new knowledge. A quick e-mail to the support team at Time4Learning, and within hours her account was changed to Kindergarten.
Our style of learning leans more towards the school at home, curriculum side, and I lay everything out ahead for each year. If I were to use Time4Learning it would be as a supplement, not as our primary source of education. For this reason alone I am not sure I would spend the money each month to maintain a service like this. However, after having a month to try it out, I might consider it for at least one of my children, and I will tell you why I would or would not for each one of my children.
---
Chloe is 11 and in the 6th grade. She is not terribly interested in playing computer or video games. She would much rather do something crafty, or read a good book. For this reason the program was interesting to her for the first day or so, but then the excitement waned and she went back to drawing pictures, and reading in her "free" time. The other reason I would not jump to keep this for a child of her age (at least as a primary source of education) is that it lacks in science and history content for the last couple of years. Of the activities that Chloe completed I was very pleased with the content the program was covering. There was lots of great practice with new grammar concepts that Chloe was working on in the Language Arts portion of her grade level. I liked the progression that each of the grade levels took from one concept to another with quizzes throughout.
---
Jayden is 8 and in the 2nd grade. He lives for video and computer games! He was overjoyed to give Time4Learning a try!  Out of the 3 children he spent the most time doing the learning activities and playing on the "playground".  The playground is the fun and games portion that you get to go to when you have completed a set amount of time on your lessons.  For instance, if you can set the lesson time for 30 minutes and the playground time for 15 minutes.  This means that after spending 30 minutes on lessons, your child would get 15 minutes of playground time.  These limits are easily set and changed by logging in to your parent account. When I changed Jayden's time to include more lesson time and less playground time, he was not as interested in spending the lesson time to get the playground time. Given his affinity for computer game playing, his tendency towards that won out and thus he went back to playing other games. I imagine the result would be different if this were our "schooling". I would then insist he work through the allotted number of lessons each day and thus he would get more use out of the program.
---
Ava is 4 and is in preschool. We started her with the preschool levels. I was amazed at how many activities they had for this level! It was set up in a different style than the kindergarten and up. It was more a simple games style to all the activities. Ava really enjoyed the preschool level but I was concerned that she was not going to be stretching her mind. After switching her to the Kindergarten level I was happier with the content but disappointed with the lack of choices and free flowing activities. I think if she could have had access to both the preschool and Kindergarten levels it would have been a better mix for her. Both fun, free flowing early learning games and a little more structured, mind stretching activities. It would have been the best of both worlds scenario. When switched to just the Kindergarten level after having the preschool level, Ava was not as happy with the more structured flow of the activities. She would happily do a small amount, but then would have liked to have gone back to the preschool set up. I was disappointed in this because I wanted her to stretch her brain, but would also have liked the option of playing the preschool games as well.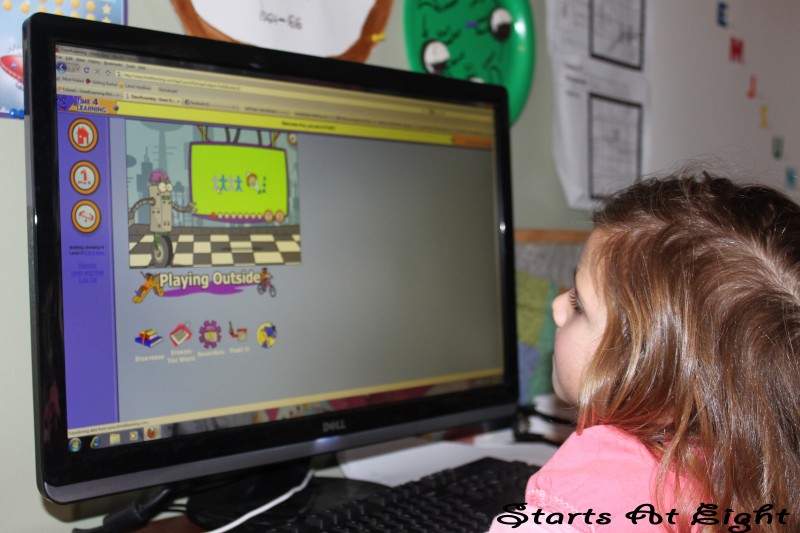 My bottom line comes down to money spent for time used. While this is an inexpensive option as a comprehensive curriculum, it is not the option I chose. While I like the idea of having "less" to do since this is your main curriculum and it grades and tracks for you, I am still more comfortable using the system that I do for my primary curriculum. Thus to justify the cost of this as a secondary, sometimes used, just for fun (mind you educational fun) option is not an option for us at this point.
---
Since posting my original review of Time4Learning (above), I have had the opportunity to begin a trial of a similar online learning site. This has brought about a few new points of interest for me in regards to Time4Learning.
The first point that stands out for me is in regards to the changing of academic levels for each child. Time4Learning requires that you submit a request to change your child's level. While they were prompt (within 24hours) with changing to the level I requested, it would be much nicer to have the control to change the level yourself. Especially for my 4 year old this would have been nice due to the fact that academically she was above pre-K, but she really preferred the free game style of the pre-K section. If I could have easily switched between the two on my own, it would have made for a more ideal situation for her.
The second point that stands out has to do with the speed of the site. While using Time4Learning, I never once even gave a thought to the speed of the site. Upon trying out this other site, it made me realize I had taken the speed of Time4Learning for granted. Time4Learning was always up and running with speed and ease. I have not always found this to be true on the new site we are trying.
Lastly, Time4Learning covers a large range of ages and abilities. This is great in a home with multiple children at different levels. The drawback is the separate cost for each child, with little discount for subsequent children. I felt this way from the beginning but the more free access style of the other site really drew this point out again. In this world of homeschooling you can get nickeled and dimed to death! In my opinion it would be more cost effective (to us, the user) if Time4Learning offered greater discounts to families with multiple children signing up for accounts.
---

****Disclaimer****
I was given a 30 day trial of Time4Learning with the understanding that at the end of the 30 days I would provide a review of the program here on my blog. My opinions of Time4Learning are my own and have not been influenced by anyone else.