Many years ago when I started blogging I had lots of trouble coming up with topics I thought were worthwhile, or even topics at all.  As the years have progressed I have more ideas than I can possible write about!  Even so I keep brainstorming blog ideas, and making lists, notes, etc. for new themes,  and post topics.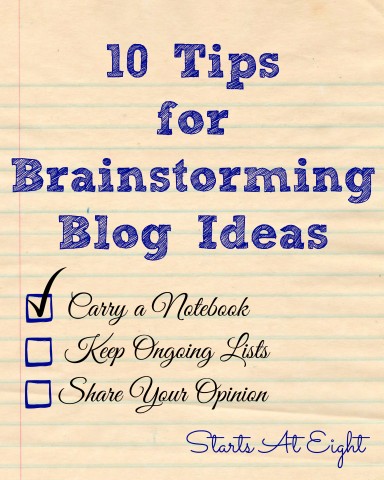 Tips for Brainstorming Blog Ideas:
Carry a notebook – I carry a spiral notebook and pen in my purse, that way whenever an ideas strikes I can get it down on paper before I forget it.
Use a dictation device for hands free brainstorming.  When I am driving and can't write I use Dragon Dictation on my phone so I can simply talk my ideas into it for later.
Keep ongoing lists – In my notebook I will keep topic lists, or I will write one idea per half page so I can continue to brainstorm on the topic until it feels like enough content to become a post.
Look at at your life – blog about things you do or use, things that like and don't like.
Get personal and talk about the struggles you face – I am betting there are others that feel the same and would benefit even from just knowing they are not the only one.
Share your opinion – we all have them!  Find your voice and use it!
Use your gifts, talents, areas you are interested in or feel knowledgeable about (gluten free, vegan, writing, teaching, sports, dyslexia, adoption, large families, only children, working mom, etc).
As I once heard someone say, "Blog with the Target method."  Which means whatever season Target has rolled out in their stores, use that as a starting block.  (4th of July, Back to School, Halloween, etc).
Blog around the Seasons and Holidays – this is along the lines of the above Target method.  Use the seasons and holidays to your advantage.  Create a variety of posts for each season and holiday such as crafts, DIY projects, recipes, early learning printables, related books, activities, history and more.
Take to the kitchen – Use your favorite recipes to create a food/recipe page on your blog.  From beverages to desserts and everything in between!
---
*This post contains affiliate links. See my Disclosure Policy for more details.