Throughout our years of homeschooling I have often found it difficult to find solid, comprehensive curricula for music and art.  They have always been the first subjects to fall out of our homeschool plans.  Having to search and piece things together was always so time consuming, and things like reading and math always took first priority.  I have always longed to do more with music in our homeschool than just learning to play an instrument. Thus, I am so excited to have found this new Zeezok Music Appreciation Curriculum!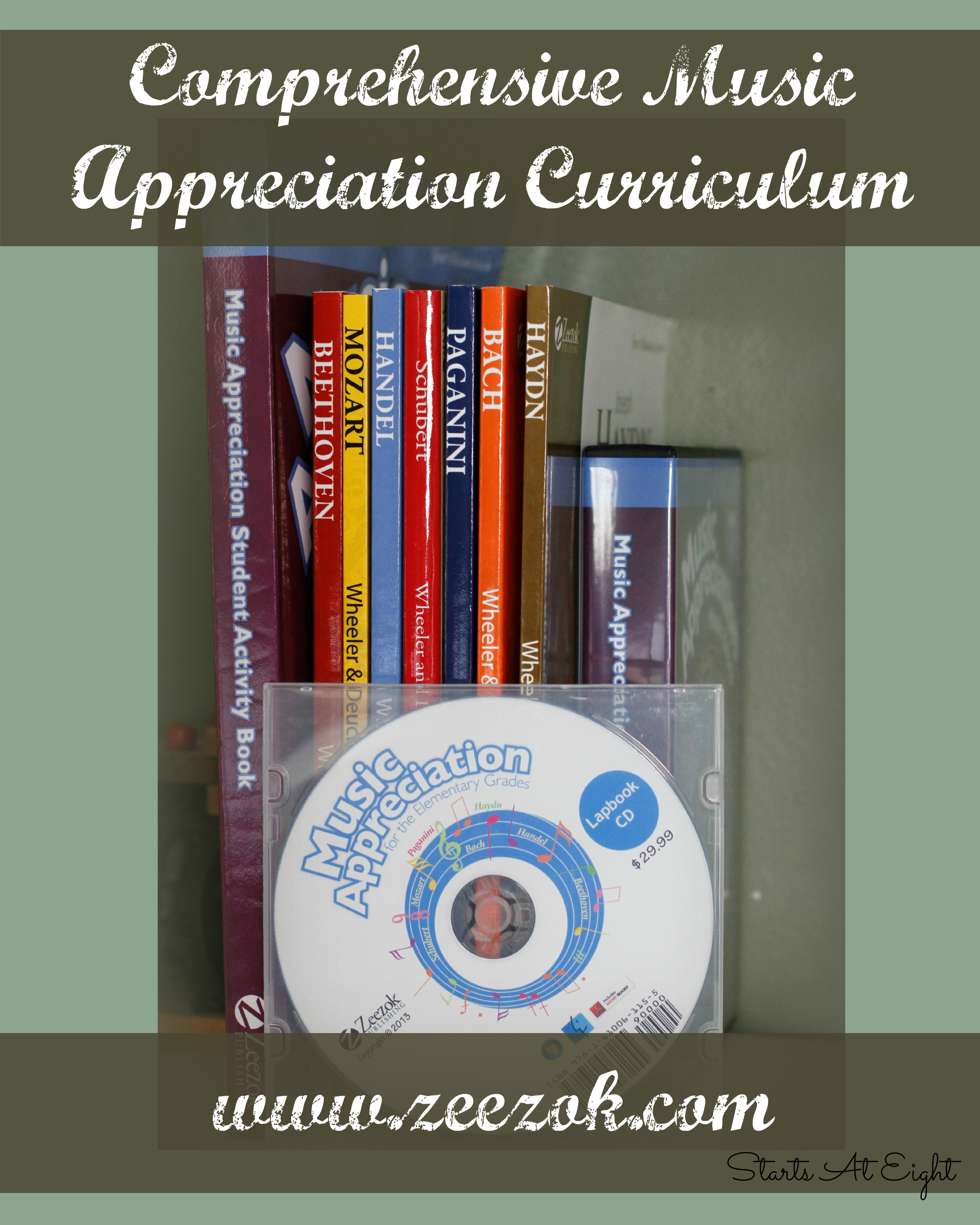 Zeezok's Music Appreciation for the Elementary Grades is a one stop shop for Music Appreciation Curriculum.  No hunting at the library to find the biographies, or searching the internet to hear the music, it is all included with this curriculum!  This was a huge relief for me, as I don't mind doing this some of the time, but in general I am much happier to have all books, resources, answers, etc. done and in place for me.
The Zeezok Music Appreciation Curriculum Book 1 –   covers 7 composers: Bach, Handel, Beethoven, Schubert, Mozart, Haydn, and Paganini.  Each composer is laid out to span 4 weeks, but there is plenty of material to make it last much longer than that, as well as plenty of flexibility to add or subtract as needed.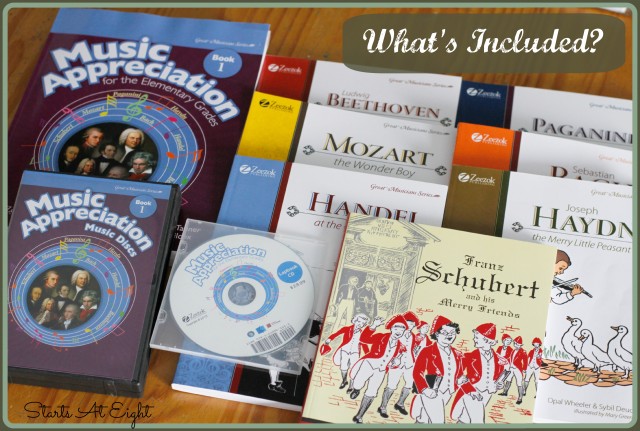 7 composer biographies
5 music cds containing music from the 7 composers
1 full color student activity book which includes everything that is needed to meet national music appreciation standards as well as suggested schedule and answers
1 Lapbook cd containing all the printables to create the corresponding lapbook components
Zeezok offers these resources all as one set, or you can buy pieces individually based on your needs, budget, etc.  They also offer a Music Appreciation Bingo Game, and a Music Appreciation Coloring Book. You can receive a 10% discount on all orders Feb. 17 to March 21 with coupon code ihomeschool.
Joseph Haydn Composer Study:
Each Composer Study begins with a Weekly Lesson Outline that offers you a suggested layout of the reading, listening, and activities to cover over the 4 week span.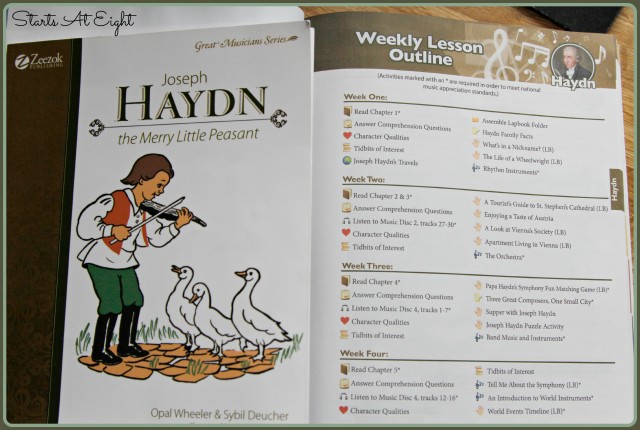 We began each week by reading the composer study biography.  I found that while my 11 and 7 year could manage to read the book on their own, it was best if I read along with them to help with pronunciation, especially with so many German places and people named in the Haydn book.
Then they would complete the Comprehension Question sheet  that was included as part of each week.  We found my seven year old has an easier time if she read the questions ahead of time so she could be listening for the answers as we read.  I really appreciated having set questions for each section as a way to review the reading and know they had both paid attention and understood what we were reading.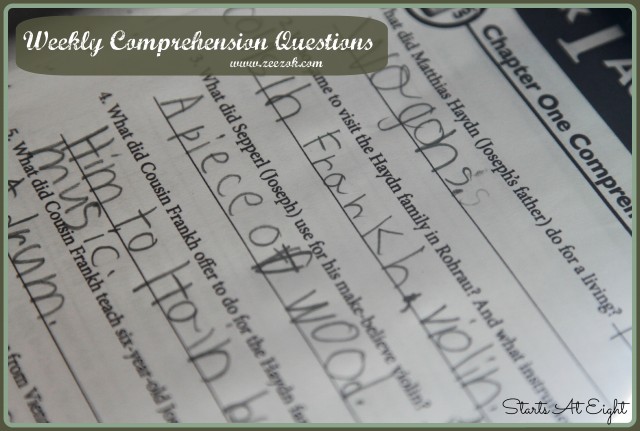 One of the highlights of each week for me was the Character Qualities.  There were several character qualities listed such as creative, leadership, adventurous for Hadyn.  Each one was listed with the page numbers where you could find examples of this quality in Haydn.  These offered not only great practice at going back and reading for details, but also gave us a chance to discuss specific character traits and examples of how/what they would look like in a person's life and if we thought each one was a positive trait and why.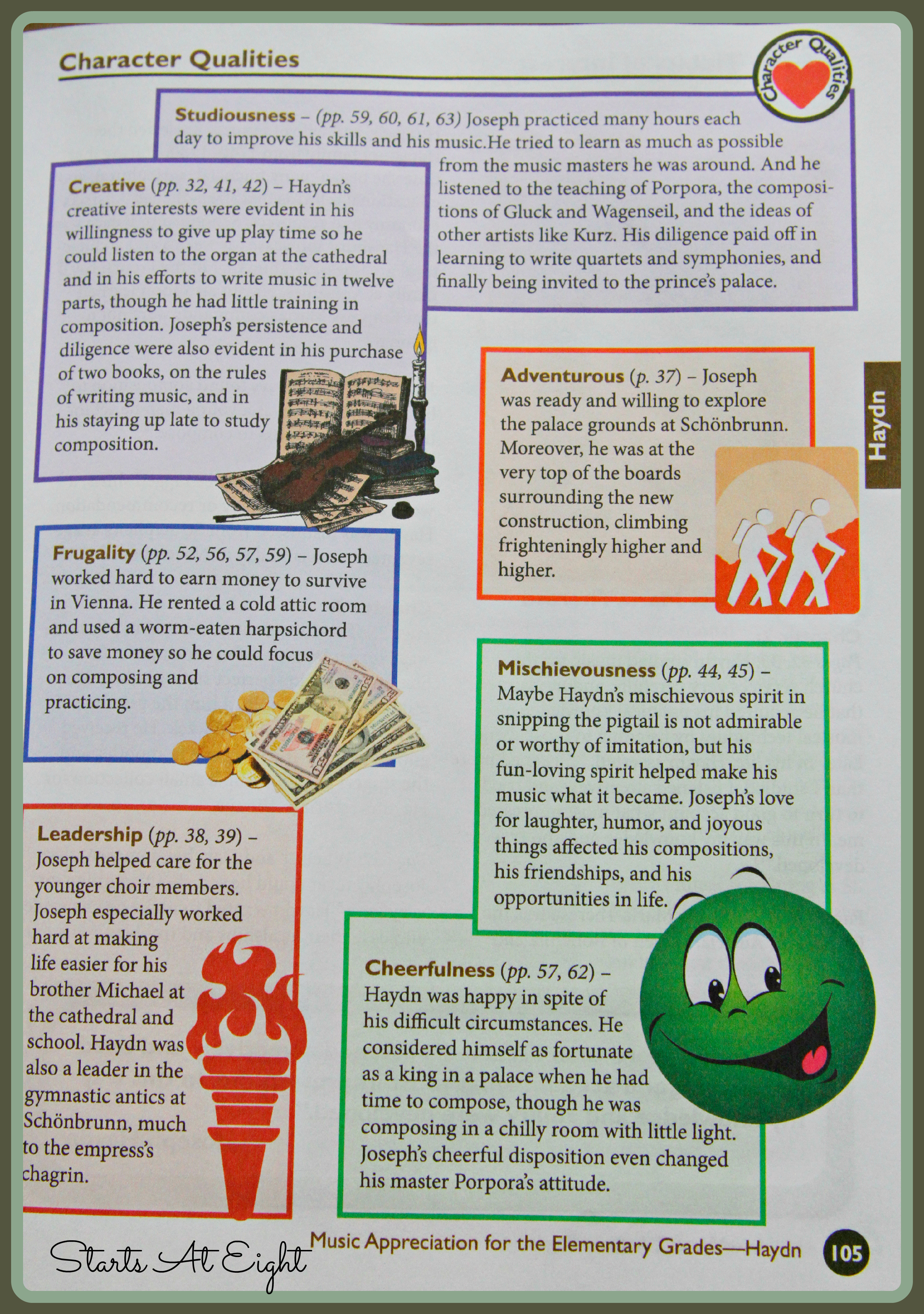 Composer Study Lapbook:
The lapbook cd was such an enriching bonus to the already comprehensive reading, listening, and activities provided.  We chose to do the lapbook at the end of our composer study instead of alongside the weekly activities.  It allowed us a time to review the material we had learned, listen to the music again, and really enjoy creating a keepsake of all that we had done.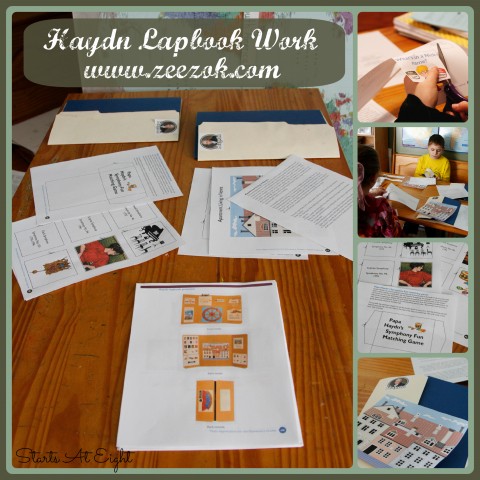 The lapbook provided a way for the kids to create something to share from all that they had learned. The featured pieces of the lapbook included some information that was similar to some of the activites in the workbook as well as more in-depth details and fun was to present the material.  One of our favorite activities was the Music Matching which is a matching game to help the kids recall the names of they symphonies, along with the story or meaning of that given symphony.
Our Video:
We created a video to share with you that shows some of the components of the Music Appreciation for the Elementary Grades Curriculum.  You will get a chance to hear us reading, see our lapbooking, and even enjoy some of our favorite Music Matching game while hearing some of Joseph Haydn's famous pieces.
I highly recommend this comprehensive Zeezok Music Appreciation curriculum if you are looking for a solid music program that covers not only the music, but the rich history of the composers from their lives to their geography, along with learning about the music and instruments involved. This program offered us a chance to really connect composers and their music with the life and stories that inspired them, all with little to know digging and preparation on my part!
 Places To Connect With Zeezok: