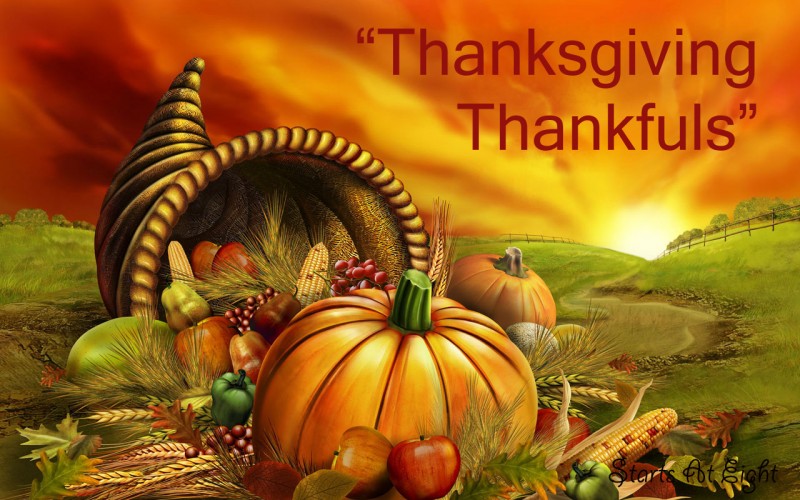 Last year at this time  I started a daily status on Facebook for something that I was thankful for.  The challenge was to post a new/different "Thankful"  each day of the month in honor of Thanksgiving.  I had not given it too much thought this year until one of my Facebook Friends sent me a private message:

"Remember last year you started the Daily Thankful post. You going to do it this year too? And when did it start? Nov. 1st? We loved it last year! 🙂  It was nice; a few people in my family loved posting and we got a lot of laughs too! 🙂 It's nice to notice and appreciate everyday things and gripe less. (sometimes it's easier to gripe- about 95% of Facebook is.) Like a smile, it was catchy…thanks for the idea again!"

I am so pleased and flattered that someone really enjoyed this enough to remember it this year and inquire about it!  Seeing as I have developed my blog since this time last year, I decided that I will do a dual posting.  I am starting what I call the "Thanksgiving Thankfuls" for the month of November.  Every day for the month of November, leading up to Thanksgiving, I will not only post my thanks for the day here on my blog, but as a Facebook status as well.  I hope that any and all that feel inspired will join in and spread the wealth.  Post it as your Facebook status, add it to your blog, or even leave me a comment with what you are thankful for today!  On each Thursday, instead of my "It's the Little Things Thursday" post,  I will add a Mister Linky here for you to link your own "Thanksgiving Thankfuls".
Just before this post was to be going up (Friday October, 29th), I noticed an interesting
INVITATION
over at Ten on Ten.  It falls so nicely in line with my "Thanksgiving Thankfuls"  that I decided to add it in.  I can't promise a photo for every day, but it does add an interesting aspect to things I am thankful for, so I will do as many as I can.
"Each weekday during the month we will be posting a single image from both of our days.  A moment that might seem ordinary to some but to us a chance to pause and enjoy the blessings and gratitude we have for the lives that we have been given.  Once a day a wordless way to note our gratitude.  If you would like to join us please do. On each Friday for the month of November a linky will be posted for you to sign, feel free to link it to your favorite moment from the week so that all of us can enjoy. Get creative and have fun!"