We used to homeschool year round, and not year round with ample breaks, but what felt more like all the time! As the kids have gotten older I have learned to schedule a homeschool year that gives us ample breaks, and the summer off!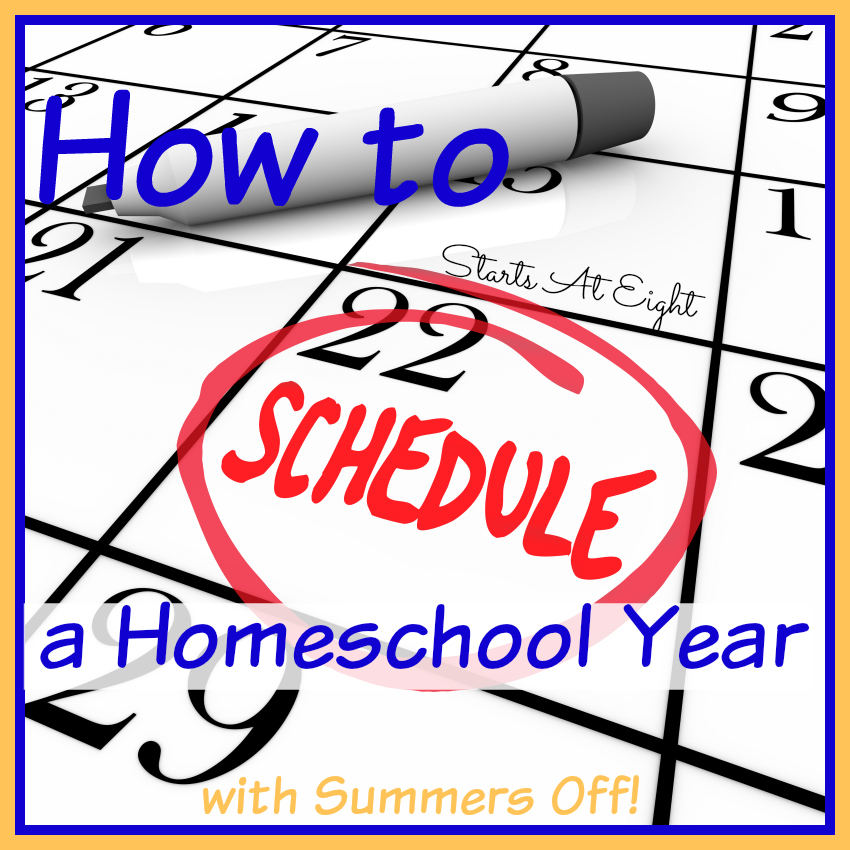 I have been homeschooling for over 10 years now. I have one graduating from homeschool high school this year and moving on to college. I have been around the block and back trying different curricula, schedules and more. When the kids were younger I worried about Summer Slide – which refers to the potential loss of knowledge over the summer. What I have found is while that might be somewhat true with the younger kids who are learning the building blocks of things like math and grammar, in the older years my kids have benefited more from a true break than continuing to hit the books.
Benefits of Having the Summer Off
While you may be skeptical, let me give you a few reasons why we have found taking summers off to be the way to go!
1. The Kids Need a Brain Break
As my kids have grown into the middle and high school years it has been more important to give them a brain break than to be working them over the summer. While they are still reading here and there, the knowledge that they have no "school work" to complete is such a relief for them.
2. Mom Needs a Break
Honestly, I am tired. My brain is tired. Parenting and housekeeping is a tough job, but add in homeschooling and working part time from home and it feels like TWO full time jobs! When the nice weather starts to roll around here in NY I am ready to take a break from all that schooling at home entails for me.
When I was in high school I remember being so frustrated that I had no time to read the books I wanted to read because the school load was so heavy. I find myself feeling that way while schooling the kids. I have no time or energy for the little things I want to do. Summers off give me the chance to read for me!
3. Summer Opportunities
During the summer the town, school, club sports, and neighborhood kids all have schedules that change. If my children are still doing school work they miss out on opportunities. From things like fun day camps and activities offered through community education, to play dates and outings with their friends, schooling during the summer interferes with that.
Downtime is also one we love to engage in during the summer: Staying in their room until 11, staying up late to watch a movie or play a video game, lazing around in the pool all afternoon are all things that having the summer off brings. My husband has been joking with me that we need to purchase another website name, like "Starts At Nine" (or ten) since I have been sleeping in and relaxing in the morning too!
How to Schedule a Homeschool Year with Summers Off
Now that I have told you why we take the summers off, let me tell you how our schedule looks to accommodate this. When we start off school in September we push pretty hard right through until Thanksgiving. Staying focused and being diligent during this time of year allows us more freedom later in the year.
2016-2017 School Year Weekly Schedule
First Quarter
Week 1 – September 12
Week 2 – September 19
Week 3 – September 26
Week 4 – October 3
Week 5 – October 10
Week 6 – October 17
Week 7 – October 24
Week 8 – October 31
Week 9 – November 7
Second Quarter
Week 10 – November 14

OFF Week of November 21st

Week 11 – November 28
Week 12 – December 5

OFF Weeks of December 12, 19, & 26

Week 13 – January 2
Week 14 – January 9
Week 15 – January 16
Week 16 – January 23
Week 17 – January 30
Week 18 – February 6
Week 19 – February 13
Third Quarter
OFF Week of February 20
Week 20 – February 27
Week 21 – March 6
Week 22 – March 13
Week 23 – March 20
Week 24 – March 27
Week 25 – April 3
Week 26 – April 10

OFF Week April 17

Week 27 – April 24
Week 28 – May 1
Week 29 – May 8
Fourth Quarter
Week 30 – May 15
Week 31 – May 22
Week 32 – May 29
Week 33 – June 5
Week 34 – June 12
Week 35 – June 19
Week 36 – June 26

OFF UNTIL SEPTEMBER
This year the kids worked so hard that we were able to finish right after Memorial Day! So while this schedule shows us going through the end of June, it is possible for us to finish earlier if we don't hit any snags or set backs. You could also choose to take less than 3 weeks at Christmas to have a break elsewhere.
In New York State where we are required to submit Quarterly Reports I would submit November 14, December 20, May 15, and July 10. If you live in NY be sure to see more about fulfilling the Homeschool Regulations in New York State.
Other Articles of Interest