I just have to say a few words about our experience making these before I give you the recipe. First off, for those that do not know me well, I am NOT a baker or a chef! I do put a meal on the table every night and make basic cookies, cakes, etc., but I do not like to. So where my daughter Chloe got that gene, I am not sure.

She recently took a fleet of cookbooks out of the library again in hopes of making something new. Meringue Clouds are the first thing she decided to try. After 2 different sugars (we did not pay attention to the term superfine sugar), 3 tries, and 3 failures she had pretty much given up. I convinced her to ask our friends (who happen to be great chefs/bakers). Of course the mother said one thing and suddenly it all made sense! "You cannot not have ANY, even a little, of the yolk in the mixture." Apparently Chloe figured that little point was mute before. So she attempted again with the help of our friends and found success with the finicky meringues.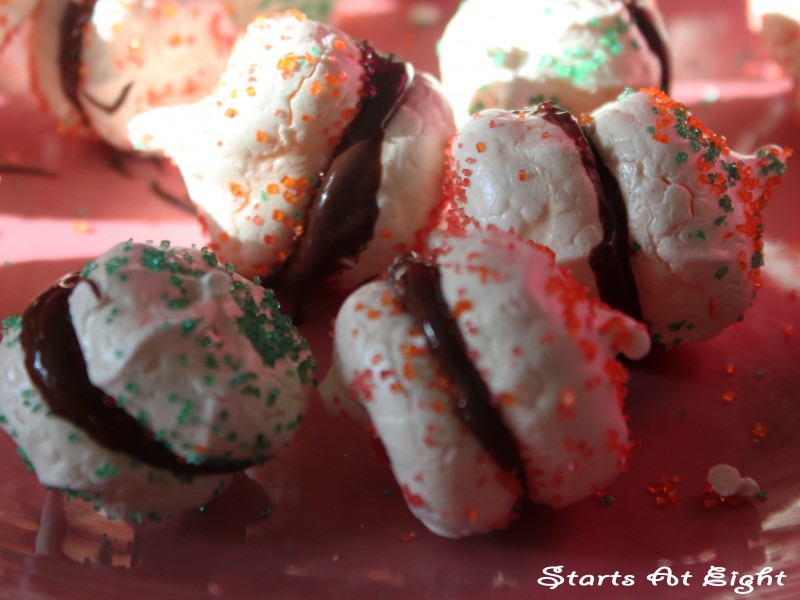 3 large egg whites, at room temperature
pinch of salt
*3/4 superfine sugar
**2 ounces bittersweet chocolate, melted and slightly cooled

Preheat the oven to 225 degrees. Line two large baking sheets with foil.

In a large bowl, beat the egg whites with an electric mixer until frothy. Add the salt, increase the speed to medium-high, and beat until the whites begin to form soft peaks. Add the sugar about 1 tablespoon at a time and continue beating until stiff peaks form.

Spoon meringue into a large pastry bag (we used a plastic bag that we cut the bottom corner off of and put in a plastic tip) with a star tip. Pipe 1 1/2 inch rosettes onto baking sheets.***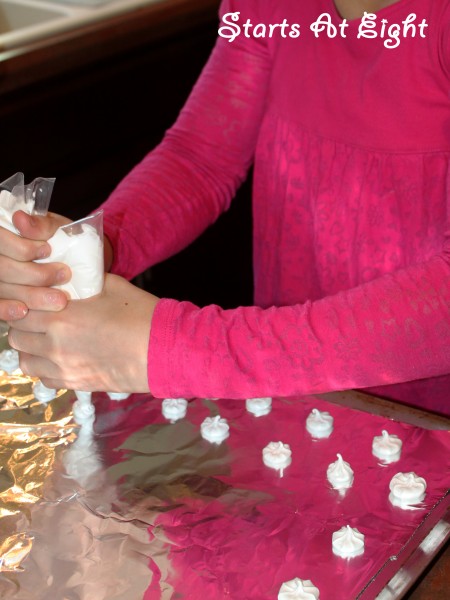 Bake for 1 1/4 to 1 1/2 hours, until the meringues are firm to the touch and barely beginning to color. Set the baking sheets on wire racks to cool.

To fill the cookies, brush a thin layer of melted chocolate over the bottom of one meringue. Place a second meringue, flat side down, and press together gently to make a sandwich.

* You can use granulated sugar if you beat it longer. You can also turn granulated sugar into superfine sugar by putting it into the blender first.
** We used semi-sweet chocolate chips
*** We also used the colored sugar sprinkles for decoration on the meringues. We added these before they were placed in the oven to bake.