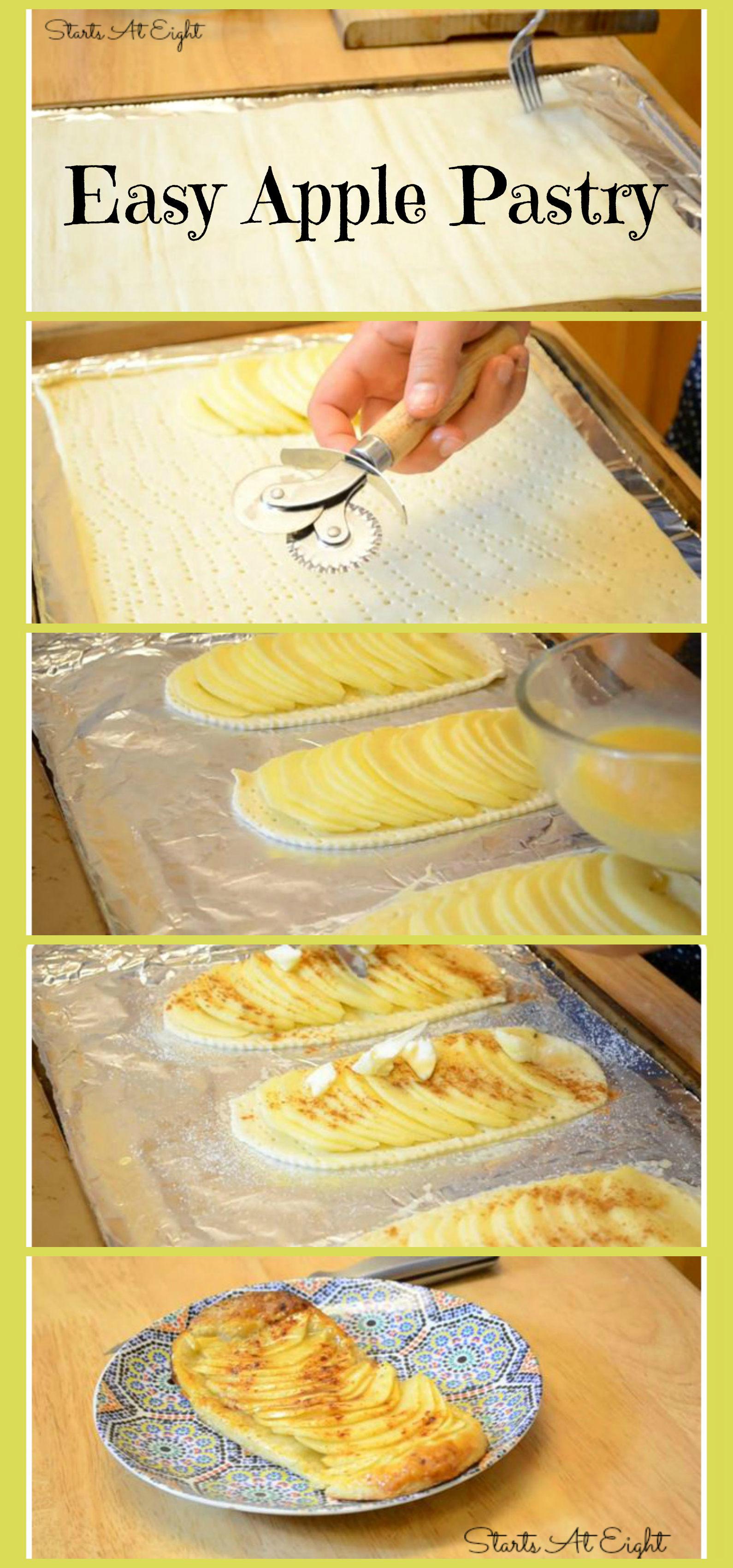 Today I am going to show you how to make one of my favorite, super easy deserts called Tarte Fine aux Pommes, it usually means thin apple pie (Easy Apple Pastry).
Ingredients:
5 cups puff pastry
2 apples
1/2 cup of brown sugar
Some cinnamon
1/2 cup of butter
1 egg and 2 Tbsp water or milk for Egg Wash
Directions:
Before I go any further I want to talk a bit about puff pastry. Puff pastry is like a magic ingredient and I always have a couple of rolls in my in my freezer, there is no need to make it yourself because the quality is really good.
Start by rolling out the puff pastry on a thin sheet of aluminium foil; use a fork to make some holes all over the pastry.
Preheat your oven to 400 degrees.
It is now time to prepare the apples, all you have to do is peel, core, and cut them in half.
After preparing the apples you need to cut them into thin slices.   It is really important that you cut the apples thin.  If you cut them thin you can make sure that they will cook evenly inside that delicious puff pastry.
After you chopped the apples, simply place them inside the puff pastry.   After you finish placing them in the puff pastry, use a cookie cutter to cut the pastry around the apple, the edge size should be about 1 inch.
The final step involves brushing the apples with some egg wash which gives you some golden brown edges.  Then add  brown sugar because it is a lot healthier than regular sugar. Also add a little bit of cinnamon and finally, some small pieces of butter.  (Some people like to add apple sauce in the pastry before adding the apple.)
It is now time to place it into the oven, make sure to keep them in the oven for about 20 minutes until they start to look golden brown.  You could also brush the apples with a little bit of honey mixed with a little bit of orange blossom water.
You could serve this Easy Apple Pastry cold or warm. As an added delight you can serve it with some delicious strawberry & raspberry ice cream.
puff pastry ………………………………………… 830 Calories
apples …………………………………………………………. 150 Calories
brown sugar ………………………………………. 105 Calories
butter ………………………………………….….. 125 Calories
Author Bio: Linda Rosario is a food lover from chefneeds.com – Quality equipment, at the best prices for the restaurant or home kitchen.