We always enjoy reading books that relate to some of our major holidays. From ones that are fact based to ones that tell a heartfelt story, and of course the silly ones too!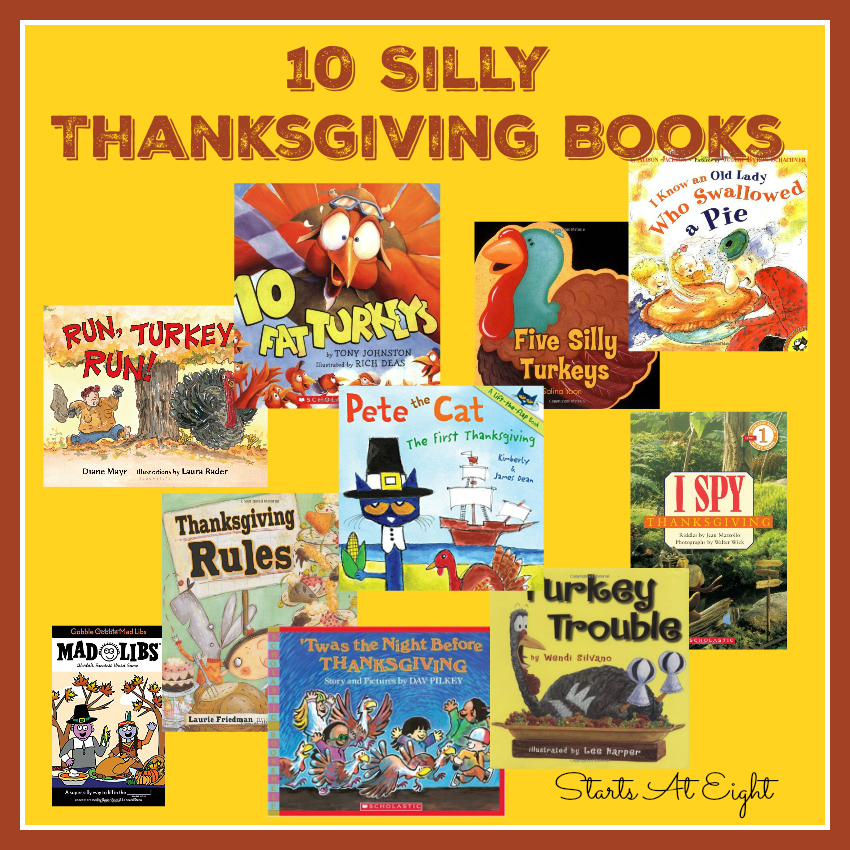 Silly Thanksgiving Books
"I know and old lady who swallowed a pie, a Thanksgiving pie, which was really too dry."
And with that the feast begins! After the pie the old lady swallows a whole squash, all of the salad, and the entire turkey too!
A Thanksgiving take on a Christmas classic.
The day before Thanksgiving, eight boys and girls take a field trip to a turkey farm. They have fun playing with eight exuberant turkeys but are shocked to learn that Farmer Mack Nuggett plans to kill all the turkeys for Thanksgiving dinners. So the children decide to smuggle all the turkeys home, and all their Thanksgiving dinners become vegetarian this year. The turkeys' lives are saved!
Use this awesome Lines of Time activity for 'Twas the Night Before Thanksgiving.
This silly rhyming story about ten turkeys teaches children how to count backwards.
"Looky!" says a silly turkey swinging from a vine.
Gobble gobble wibble wobble.
Whoops! Now there are nine.
Toddlers will love the silly Thanksgiving turkeys in this fun counting book full of silly turkeys doing very silly things!  From twirling on a dance floor to being chased by a bee to tanning in the sun, these are no ordinary Thanksgiving turkeys.
Thanksgiving is only a day away. Can Turkey find a place to hide from the farmer searching for a plump bird for his feast? If the farmer doesn't fall for his tricks, there's only one think left to do . . . run, Turkey, run!
Turkey is in trouble. Bad trouble. The kind of trouble where it's almost Thanksgiving . . . and you're the main
course. But Turkey has an idea–what if he doesn't look like a turkey? What if he looks like another animal instead?
Percy Isaac Gifford's Official Thanksgiving Decree: I officially command you to eat EVERYTHING you see! Percy knows just what to do to get the most out of this delicious holiday. And so will you if you follow his ten simple rules. From "the early bird gets the turkey" to "life is sweeter when you eat sweets," his rules will help you eat your way through the big meal.
Gobble Gobble Mad Libs features 21 original stories all about Thanksgiving! Featuring hilarious stories about preparing and eating dinner, Thanksgiving traditions, Black Friday shopping and more!
A Thanksgiving themed search-and-find I Spy reader!
Pete the Cat makes everything fun! Starring in the school Thanksgiving play would make even the coolest cat nervous. But when Pete the Cat gets onstage, he makes learning the story of the first Thanksgiving fun. This book contains thirteen flaps that open to reveal hidden surprises!
Do you have any favorite Silly Thanksgiving Books? Please share them with us by leaving a comment!
More Thanksgiving Activities