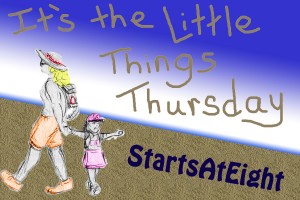 I could really use a "Little Thing" this week.  The one that stands out for me happened this past weekend when Chloe headed off to spend the night at a friend's house.  It was a last minute invite on Friday while we were eating dinner.  After Chloe got packed she came downstairs and told my mom it felt as though she had packed to be gone for a week.  Jayden heard and asked with great concern "You are going to be gone for a week?"
I don't think she heard him or answered him because as we were rushing out the door he asked me the same thing.  I told him she would be home the next day after gymnastics and he seemed relieved.  He begged to go with me to drop her off but I told him no.  So we found him standing on the front step waving goodbye and yelling that he loved Chloe!  So sweet, I know.  What went even farther to melt my heart was that you could see Chloe genuinely felt bad.  She opened up her window to wave and yelled out "I love you Jayden!" in return.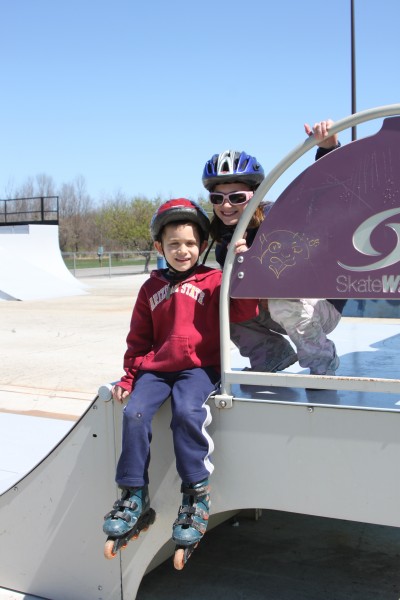 Then after bedtime he came trodding down the stairs asking if Chloe had called yet.  Normally she calls to say goodnight when she is away.  He was pretty sad lipped about it so I tried to call her but never got an answer.  It was already 10:45pm by this time and I figured they were all asleep.  (Which I found out the next day they were!)  Jayden sadly trotted back to bed.
In the morning I called to check in with her and Jayden wanted to talk to her.  To my surprise he gets on the phone with her, says "Hi, Chloe.  I love you." and hands the phone back.  All the fuss, for that.  🙂  I am so pleased in these moments to find that despite all the bickering and nastiness, that they still love each other.
Please join me in celebrating the "Little Things" that make this crazy journey called "Motherhood" all worth it in the end!  Add your link to the Mr. Linky and then leave me a comment. I would love to hear from you!
Mister Linky's Magical Widgets — Easy-Linky widget will appear right here!
This preview will disappear when the widget is displayed on your site.
For best results, use HTML mode to edit this section of the post.