[image width="300″ height="200″ frame="simple" align="left"]http://www.startsateight.com/wp-content/uploads/2010/04/Button-Logo3.jpg[/image]
This week for my It's the Little Things Thursday my focus is on Chloe.  She has done multiple "little things" over this past Easter weekend that stand out for me.  To start out with, over the past few weeks she has spent countless hours locked in her room working on a "surprise".   She hand made Easter baskets for Ava and Jayden out of cardboard boxes and used her own money and some hand me down toys to fill the baskets with candy and toys for the two of them.

The second thing she did was on Easter morning.  Last year, I set Easter baskets on the kitchen table and hid a few eggs around the house for the kids to find.  So this year Jayden kept telling Ava that maybe the Easter bunny would have baskets and hidden eggs for them again.  Needless to say, the Easter bunny did not disappoint!  Joey and I filled and hid 19 eggs, little did the kids know it was some of the candy they had collected from the Easter egg hunt at my parents house the day before!  In the morning, Chloe made Jayden stay upstairs so he wouldn't get a jump on where all the eggs were.  When Ava got up and they went in search of eggs, Chloe came up with only one egg so that Jayden and Ava could have all of the fun!

I can't tell you how touched I am by these acts of kindness and consideration that I see in Chloe.  I hold on to them dearly through the times when she is making me crazy!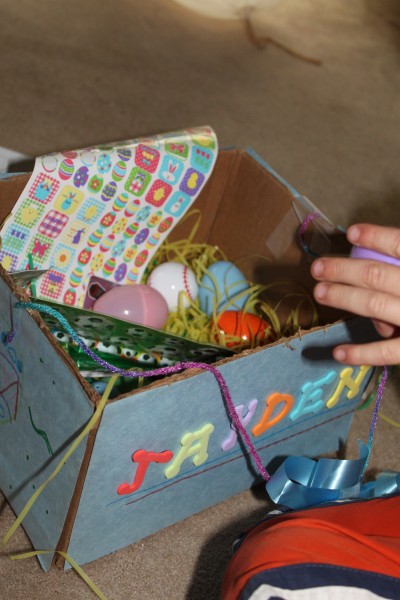 Please join me in celebrating the "Little Things" that make this crazy journey called "Motherhood" all worth it in the end!  Add your link to the Mr. Linky and then leave me a comment.  I would love to hear from you!