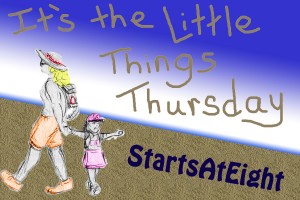 It has been awhile since I have done one of these posts.  I have not only been busy and not feeling very inspired, but also discouraged that my "baby" has not caught on at all.  Two weeks ago I posted  about what love and selflessness Jayden showed to Chloe after she lost all her money on her birthday.  That would have made a fantastic Little Things post but I chose not to post it as such.  This week my Little Thing is about what Chloe did for Jayden.
This past weekend was our Neighborhood Garage Sale.  Every year Chloe is so excited to walk around and see what treasures she can find for herself.  This year Chloe returned home from her first trip out to some of the garage sales with something for everyone, but her.  A Moulds Buffalo Bills jersey for Joey, a glittery cowgirl costume for Ava, and fuzzy socks for me.  When she headed out a second time it was with Gommy.  I received a phone call from my mother asking me about a scooter for Jayden.  You see, Chloe received a Razor scooter from Santa this past Christmas and Jayden has wanted one ever since.  While my mom was giving me the details on the scooter, I hear Chloe in the background saying, "Just tell her I am buying it for Jadyen".
Jayden was gone at soccer practice when she arrived home.  She lovingly cleaned off the scooter, and strategically set it up in the garage so he would see it upon arriving home.  She included the following note: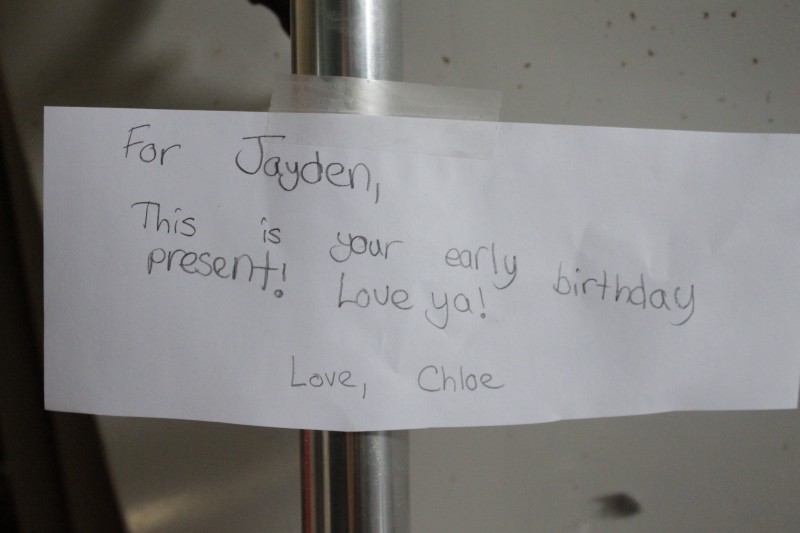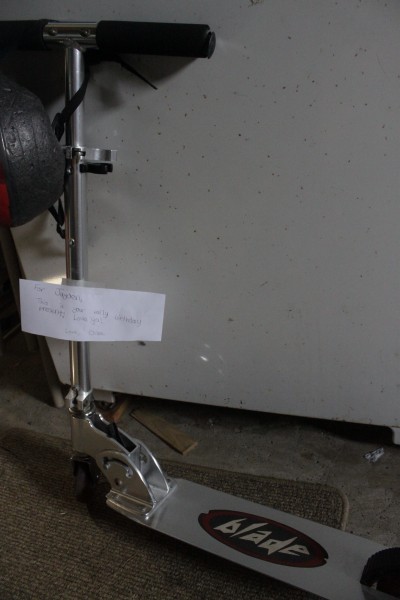 He couldn't be more thrilled to have his own scooter.  I guess one good turn deserves another!
Please join me in celebrating the "Little Things" that make this crazy journey called "Motherhood" all worth it in the end!  Add your link to the Mister. Linky and then leave me a comment. You can also copy my button to include in your post and on your site.  I would love to hear from you!
Mister Linky's Magical Widgets — Easy-Linky widget will appear right here!
This preview will disappear when the widget is displayed on your site.
For best results, use HTML mode to edit this section of the post.