Monday: We started our Map Drawing with lines of latitude this week.  This step seems to be easy for the kids so we will move on to longitude next.  Check out my Hip Homeschool Hop post from Tuesday to see more details about this.
Tuesday: Tuesday was a special day for Chloe.  Poppy finally helped her install the electric in her dollhouse, as well as build the porch and the stairs.
Wednesday: We missed Mr. Mike at story time this week.  He was home sick so we had a story with Ms. Rebecca who read us How I Became a Pirate by Melinda Long.  Argh!  It was a jolly good time!  Then we had our usual lunch at the mall food court, but only with Poppy because Gommy had somewhere else to be.
Thursday: The kids have mastered The Presidents Song in just over a week.  Even Ava manages to get through a bunch of the names.  Now all I have to do is master them!  Next week in my Hip Homeschool Hop I will talk about this and have a video of them singing it.  How come they can absorb so much so quickly?
Since the kids did such a good job reading this summer, we have a variety of coupons for free things at various businesses.  We loved the fact that the library gave out useful things instead of just cheezy little toys this year.  Today we went miniature golfing and had frosties.  All for free!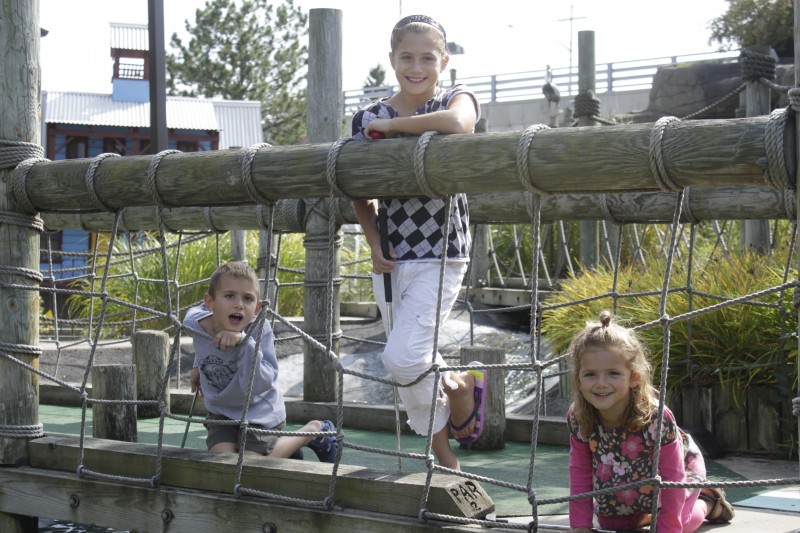 Friday: Today we are finishing up the week light; Spelling tests, math work, and our first memorization from First Language Lessons for the Well-Trained Mind – Level 3. Here is the poem:
The Land of Nod
by  Robert Louis Stevenson
From breakfast on through all the day
At home among my friends I stay;
But every night I go abroad
Afar into the land of Nod.
~
All by myself I have to go,
With none to tell me what to do
All alone beside the streams
And up the mountainsides of dreams.
~
The strangest things are there for me,
Both things to eat and things to see,
and many frightening sights abroad
Til morning in the land of Nod.
~
Try as I like to find the way,
I never can get back by day,
Nor can remember plain and clear
The curious music that I hear.
For more Weekly Wrap-Ups head over to Weird, Unsocialized Homeschoolers