If you haven't tried cooking in an Instant Pot you have been missing out! It is easy to make great tasting soups in your Instant Pot. This Instant Pot Chicken Vegetable Soup recipe is super easy to make.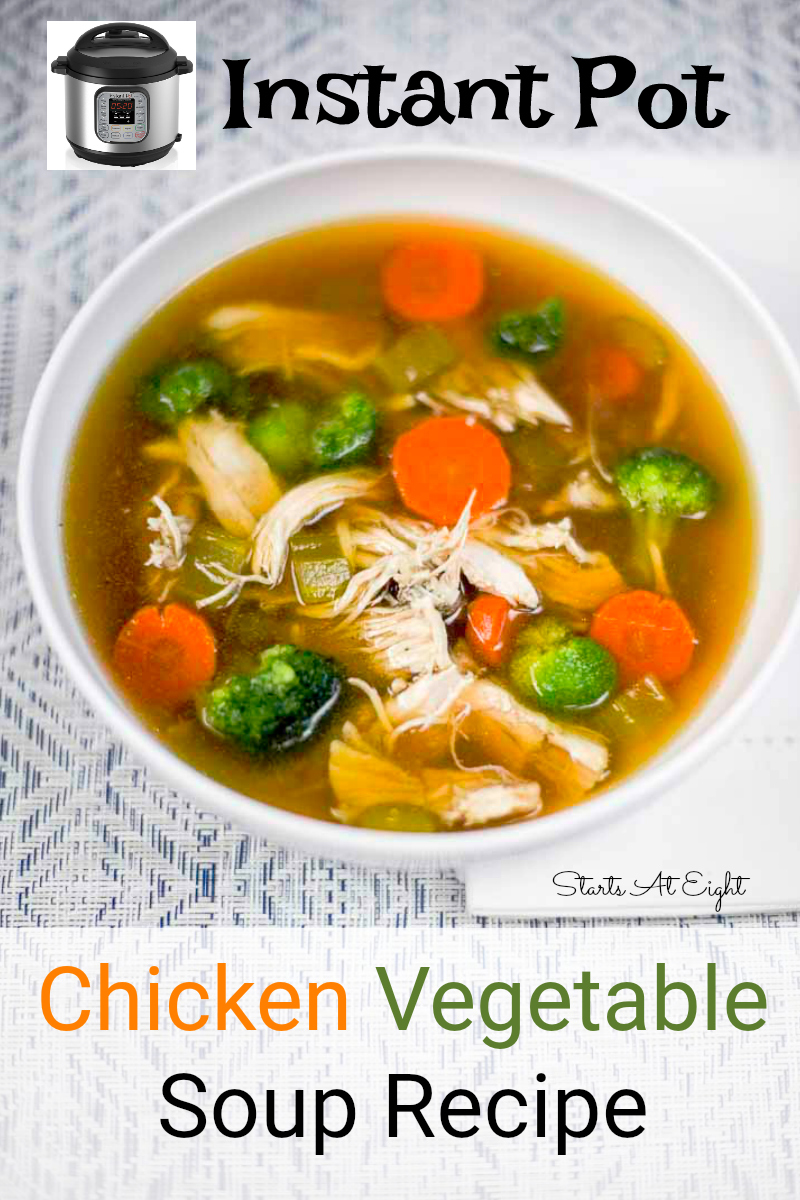 With an Instant Pot you can put together a delicious hot soup that tastes like you cooked all day! This Instant Pot Chicken Vegetable Soup is a light and hearty soup that is perfect for folks that want to eat a high protein meal with vegetables. So if you are a whole 30 person this recipe is for you!
Instant Pot Chicken Vegetable Soup
Ingredients:
1 cup chopped onion (we puree ours because hubby doesn't like the texture)
2 teaspoons minced garlic
1 tablespoon vegetable oil
1 pound chicken breast
32 ounces low sodium chicken stock
2 bay leaves
1/2 cup chopped celery
1/2 cup chopped carrots
1 cup frozen chopped broccoli
** If you want to add some noodles or rice to this recipe you could do that as well.
Directions:
Set the Instant pot to saute.
Add vegetable oil and allow it to heat up and saute the onions and garlic. Saute onions and garlic until it was translucent. Turn off saute feature.
Add the chicken breast, low sodium chicken breast, and bay leaves. Place the lid on the Instant Pot.
Select manual pressure for 15 minutes on high. When the Instant Pot is done, do a quick release on the pot.
Add in the vegetables, and set the Instant Pot on a high manual setting for five minutes. When the second cooking is done release the Instant Pot.
Taste, and adjust seasonings with salt and pepper if desired.
More Soup Recipes:
Author Bio: Stephanie Manley writes for CopyKat Recipes, if you enjoy a particular dish in a restaurant, you can get the recipe to make it at home. You may want to try her recipe for Instant Pot Beef Stew.