Homeschooling with toddlers (who by nature, tend to be super active) is quite a challenging task at times. However, one of the wonderful things about homeschooling with toddlers is that they will be home with the family most of the time.
It is the major reason why a majority of parents homeschool with their toddlers underfoot, but the logistics involved demand that parents organize fun and simple activities that their toddlers can engage in to help keep them productively busy.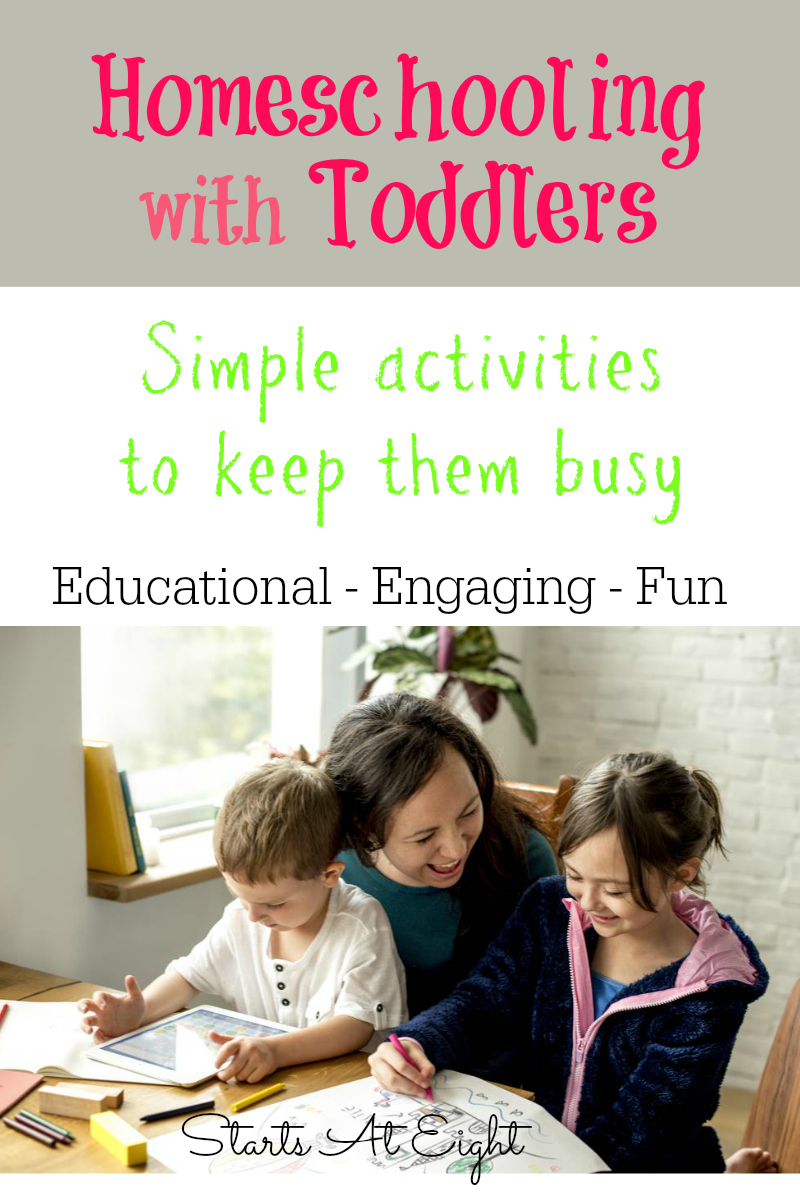 This article strives to explore some of these activities so that parents can successfully use them in their homeschooling efforts. Homeschooling provides a family learning environment that facilitates great benefits to toddlers, such as building family relationships, and striving to "keep up" or "be like" their older siblings. Younger kids can learn so much from being around the older ones.  The following are some fun and simple activities that your toddler can engage in when homeschooling:
Snack Foods
You can sit your toddler down in a high chair and give them plenty of healthy snacks to eat like raisins, cheerios and bananas. These foods are enjoyed by toddlers the world over.
Snacking on such finger foods will serve to entertain toddlers. It will keep them pre-occupied for a significant amount of time. This will give you adequate time to proceed with a lesson with the older children.
Collection of Big Boxes
Toddlers love boxes, it is a known fact. You can pick up a variety of box sizes for this purposes. Large boxes can act as play houses while small ones can function as storage for toys.
You can keep boxes of various sizes in the house for your toddler to close, open, climb inside and generally play with as you homeschool the older children.
Also along these lines are stacking toys and large building blocks. You can also give them small bins and toys to fill up and empty out.
Sensory Bins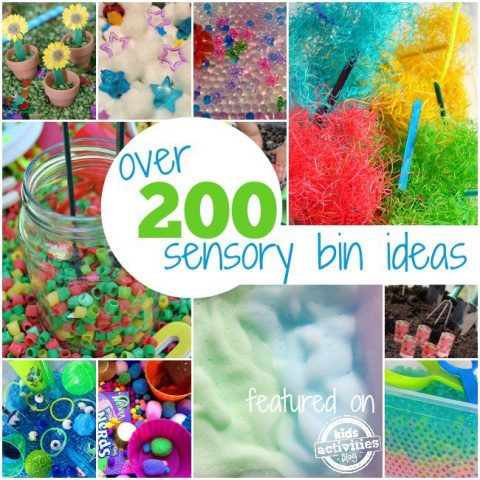 Sensory bins are buckets of objects and filler that toddlers can play with. You can get sensory bins and fill them with water, rice, birdseed, craft sand or even pom-poms. You can optionally add spoons, measuring cups and some toys. However, this activity will require you to be keen on whatever your toddler is putting in their mouth.
You can go the extra mile to create sensory bins that are theme based. Sensory bins are very exciting and are guaranteed to keep your toddlers very pre-occupied.
Water Play
You can give your toddler water to paint with. Provide them with colored construction paper, a small glass of water and a paintbrush. The water makes the paper darker, making it appear as though they are painting.
Alternatively, you can fill up one of the sinks in your home (the kitchen sink and a stool often work well) with water. Give them some soapy bubbles, plastic dishes and a wash cloth. Let them "wash" some dishes, or clean some toys. Give them fun cups and bath toys to play with.
Edible Finger Paint
You can provide toddlers with edible finger paint so that they can paint their table or high chair tray.
Stir 4 tablespoons of sugar and 1/2 cup cornstarch together. Add 2 cups of cold water and heat over medium heat until the mixture is thick (the mixture will further thicken as it cools).
Divide into four or more containers, and add food coloring as desired.
You can also just add a bit of food coloring to rice cereal, vanilla pudding or even yogurt and let them have it!
While the toddler is painting and smearing his or her high chair tray, you will be left free to teach other older children without much of a disturbance.
Spoons, Pots & Pans
Give your toddler spoons, pans and pots to play with. They will enjoy banging the pans and pots like drums.
The toddlers can also use spoons, pans and pots for pretend play.
Crayons
You can tape a plain paper on a table and find large crayons that your toddler can use to color with. This coloring serves to develop the motor skills that your toddler will require to write with in future.
This is also great for large boxes! Kids love to create on surfaces they think are forbidden. Giving them a large cardboard box to play in and make as their fort will provides loads of fun!
For a more mess free option you can purchase Color Wonder supplies.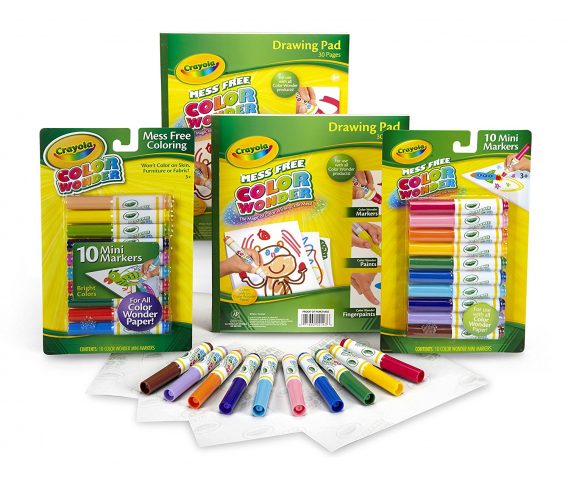 Magnets
Provide your toddler with a cookie sheet and some magnet letters. This is a great table activity to keep them busy. There are tons of magnetic fun sets you can purchase for toddlers as well.


You can also create a fun DIY Word Wall with magnetic letters and words.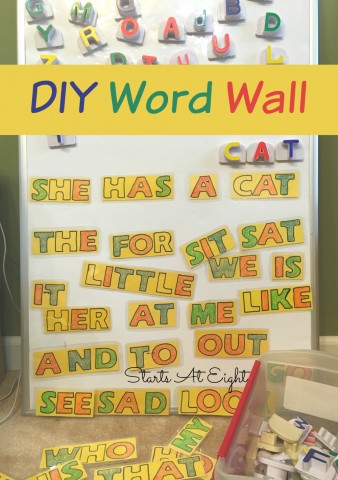 Special Toys
You can have a bin whereby you keep special toys next to your homeschool area. These special toys should only be removed out of the bin when the older children are being homeschooled.
These special toys can comprise of board books, large beads, puzzles and electronic toys.
The toddlers will be very entertained by these special toys to give you the quite time you need for homeschooling.
All these activities (both educational and fun) can act as fun distractions for toddlers during homeschooling to give you ample time to teach the older children and still keep your active toddlers exploring and happy!
Author Bio: Nancy Shaw is the founder of HiFiveBaby where she writes about common problems encountered by parents and how to deal with them, motherhood in general and FAQs about babies, toddlers and kids. She provides scientific and medical basis and also her personal experience as a mom to a wonderful toddler. Now you can explore the joy of parenthood with ease! You can also find her on Twitter